'Only God can make a tree': The Catholic behind the famous Arbor Day poem
It might interest you to know that at least three of the 12 people who have rest areas named after them on the New Jersey Turnpike have some historical association with this magazine. The Vince Lombardi rest area, near Exit 18, is named for the Jesuit-educated Hall of Fame football coach, who, among his many other accomplishments, was a lifelong subscriber to America. The rest stop near Exit 7 memorializes our 28th president, Woodrow Wilson, who played a major role in a minor diplomatic kerfuffle that got America briefly banned in Ireland. And the stop between Exit 8 and Exit 9 is named for Joyce Kilmer, a poet and essayist whose byline appeared in these pages six times in 1915 and 1916.
Most folks won't recognize Joyce Kilmer by name, but his most famous poem may ring a bell. Many sixth-graders still memorize its 12 simple lines, just as I did, words that will no doubt be heard again at thousands of modest ceremonies this Arbor Day (Don't bother Siri: Arbor Day is April 28). The poem is titled "Trees."
I think that I shall never see
A poem lovely as a tree.
A tree whose hungry mouth is prest
Against the earth's sweet flowing breast;
A tree that looks at God all day,
And lifts her leafy arms to pray;
A tree that may in Summer wear
A nest of robins in her hair;
Upon whose bosom snow has lain;
Who intimately lives with rain.
Poems are made by fools like me,
But only God can make a tree.
I confess that I like the poem. I say "confess" because it's supposed to be embarrassing that I do. Most modern critics consider Kilmer's work naïve and saccharin; fine for grade schoolers, but not the sort of thing Serious People read, let alone recite. Not just modern critics either: Ogden Nash, the mid-20th-century master of light verse, once famously parodied "Trees" with a similarly-structured homage to billboards.
Yet John W. Donohue, S.J., wrote in this space in 1993, that while "even mild academic critics turn into werewolves when they consider the popularity of 'Trees,' which Kilmer wrote when he was 23, it is quite possibly the best-known American poem of this century." "Trees" is worth remembering, then, if only because it's a significant pop cultural artifact. But there are other, less familiar, more important reasons to remember the poem, as well as the poet. For one thing, this manifestly theistic work is that of a former atheist whose Christian faith and literary vocation were forged in the crucible of his daughter's losing battle with polio. "If what I now write is considered poetry," he said, "then I became a poet in November 1913," which just happened to be the month and year in which Kilmer became a Catholic.
For one thing, this manifestly theistic work is that of a former atheist whose Christian faith and literary vocation were forged in the crucible of his daughter's losing battle with polio.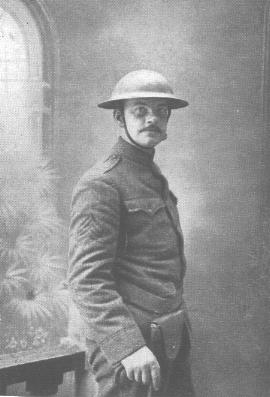 The faith that had rescued him from his despair also led Kilmer to enlist in the army just a few weeks after the United States entered World War I. One hundred years ago this spring, Kilmer wrote his last words for America, traded in his pen for an M1903 Springfield repeating rifle and sailed for France with New York's Fighting 59th. As important as his faith had been to him at home, he wrote in a letter to his wife, "I think since I have been in France it has done more for me. It has carried me through experiences I could not otherwise have endured. I do not mean it has kept me from fear—for I have no fear of death or wounding whatever. I mean that it has helped me endure great and continual hardships…. I cannot forget what made me live through them and bear myself like a man."
An eyewitness report from the Second Battle of the Marne, reprinted in America in 1918, says this: "The battalion advanced into the woods to clear the spot of the enemy. In the course of this advance, I suddenly caught sight of Kilmer, lying on his stomach on a bit of sloping ground, his eyes just peering over the top of what appeared to be a natural trench. We called to him, but received no answer. Then I ran up and turned him on his back, only to find that he was dead with a bullet through his brain."
He was 31 years old.
We should remember Joyce Kilmer not just on Arbor Day, but on Memorial Day as well. And if one day your child comes home from school, eager to recite the few lines of Kilmer's she learned that day, be sure to tell her the rest of the story; how this simple, faithful poet gave his life for God and country, in a country not his own, beneath trees that only God had made.