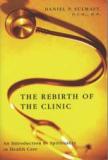 I plan to make this book required reading for my first-year students at Loyola University Chicago's Stritch School of Medicine. I also would highly recommend it to anyone facing serious illness. And frankly, that's all of us. It is a marvelous book that will change those who read it and, perhaps, do much to raise the tone of sometimes exasperating discussions about science and spirituality.
Why should medical students, physicians, nurses and other health care providers read The Rebirth of the Clinic? First, it offers a wonderful guide to healing that emphasizes a vision of health care as a meaning-filled practice based on human relationships. It is an antidote to the reductionist paradigm that turns human beings into nothing more than a collection of molecular and biochemical reactions to be studied, manipulated and controlled. It reunites soul and body.
Second, this book conveys a profound sense of what is at stake in seeking to heal persons who are afflicted with illness. Medicine, for Daniel P. Sulmasy, is a moral enterprise in which true care requires recognition of the human as a mix of the biological, psychological, social and spiritual. Without rejection of scientific progress or the need for a deep understanding and mastery of the translational science central to deciphering disease, Sulmasy points out the fundamental truth that illness is about more than molecules. When a person is sick, the story is filled with discarded and fractured issues of meaning, values and relationships.
Spirituality is not something that floats around disembodied from a person. It is in the nexus of a lived experience of meaning, values and relationships that we find what it means to be human, a definition that is ineluctably one that requires an understanding of ourselves as beings who are spiritual as well as physical. Those who seek to care for the sick not only can but must engage the spiritual. Presuming a goal where physicians and other health care givers seek to limit suffering and never to abandon those who come to them, Sulmasy firmly demonstrates that the moral imperative of healing is engagement in a reordering of right relationships. There are new relationships that come into being. There is a discovery of value even when disease progresses. And meaning is possible even when cure may not be attainable.
Third, Sulmasy helps those in health care to look at spirituality as not an esoteric practice for the few, but as part of their own lives as they care for the sick. Too much of the current interest in spirituality in medicine makes it sound weird and removed from normal human life—a bit like an assertion that doctors should wear crystals and amulets along with their white coats and stethoscopes. Spirituality for health care professionals is the same as for those they treat as patients. Although disease alters meaning, values and relationships, working with those who are sick also requires, for those who are caregivers, an engagement with these same three things. Thus, in Sulmasy's cogently reasoned view, spirituality exists for atheists, for those who adhere to particular creeds and for those who are unsure and agnostic.
Why would I recommend this book to those who find themselves in the midst of an illness?
First, for those people looking for care, it provides a guide to understanding their own experience of illness as part of the fabric of their lives, rather than as simply something to be fixed like a leaky fuel line or an aggravating transmission problem. It empowers individuals for whom cure may not be possible to seek healing in the context of their own sense of meaning, values and relationships, rather than pursuing false hopes in technology or some desperate search for a remedy touted on the Internet.
Second, Sulmasy's book, as the title implies, gives persons facing illness the motivation not to succumb to a medical system described by the French postmodern philosopher Michel Foucault: a clinic that would study and control them as diseased organs, objectifying humans into pathologic descriptions. Rather, arising from the ruins of the reductionist clinic that Foucault described, persons as patients in a reborn clinic engage in finding meaning and value in the relationships that develop in their own personal stories as they journey through illness.
Finally, what I like best about this book is its consistent expression and understanding of what it means to be human as one faces illness, either as patient or as health care provider. This understanding is not over and above scientific explanation but alongside the profound knowledge that has been gained in the last century or two of true progress in unlocking the basic mechanisms of disease. Sulmasy deliberately and painstakingly exposes the nonsense of any assertion that real medicine is about only what can be measured, predicted, modified and controlled. He exposes the crumbling Enlightenment fallacy that empirically derived knowledge is the only fount of truth. And, in an engaging style that is rigorously intellectual and personally revealing, this fine Franciscan brother and Johns Hopkins-trained physician specializing in internal medicine, who also holds a Ph.D. in philosophy, debunks claims that one can treat spirituality in the same way one investigates the efficacy of an antibiotic or some other form of treatment.
Measurement, scientific knowledge and tools of study like the randomized controlled trial are crucial to medicine, but that is not the whole of medicine. In forcing us to consider what happens to our sense of meaning, our values and our relationships in illness and when we care for the sick, Daniel Sulmasy proves that real medicine is soul medicine.