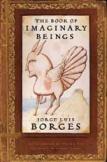 The Book of Imaginary Beings
by Jorge Luis Borges with Margarita Guerrero, Translated by Andrew Hurley, Illustrated by Peter Sis
Viking. 236p $25.95
Advertisement
Jorge Luis Borges, the Argentinian writer of short, elegant metaphysical fictional pieces, wrote in 1957 A Manual of Fantastic Zoology. In 1967 an expanded version was published under the title The Book of Imaginary Beings. Two years later a further, expanded edition appeared, an edition that Andrew Hurley, the translator of the present edition, criticizes for getting Borges's collaborator Margarita Guerrero's name wrong and for bad translation. Hurley excises the four extra beings included in that version, consistent with the last Spanish edition that appeared while Borges was still alive.
Borges (1899-1986) was educated in English in Geneva and had a varied career as a critic, literary writer and editor, teacher, lecturer and librarian (I speak of God's splendid irony in granting me at once 800,000 books and darkness, he wrote, referring to the blindness that overtook him in his 50's). His vast reading in religion, literature (especially Poe, Kafka, Kipling and Chesterton) and philosophy (especially Berkeley) heavily influenced his fiction, which often focuses on books in a self-referential way, yet not in the smirking style of much modern meta-fiction. This is because his fiction is about ultimate reality, not art itself.
One can see this even in The Book of Imaginary Beings, a modern bestiary (not limited to beasts), a trip (in Borges's words) to that zoological garden whose fauna is comprised not of lions but of sphinxes and gryphons and centaurs. Here are 116 such fantastical beings collected, arranged in alphabetical order, including the following well-known creatures: The Behemoth, The Brownies, The Double, Elves, Gnomes, The Golem, The Harpies, Lilith, The Pelican, Trolls and The Unicorn. In describing these beings Borges finds ample opportunity to speculate on the nature of the universe.
Thus there is much about religious belief in this book, for many of these beings play roles in the world's religious art. From the Christian tradition, Dante's Divine Comedy is represented by the monster Acheron, Cerberus, the Gryphon, the Minotaur and the Phoenix. Two creatures from C. S. Lewis's Perelandra also appear. This is, then, in a qualified sense, a book preoccupied with religion.
Introducing the imaginary being The Fastitcalon, for example, Borges writes, The Middle Ages believed that the Holy Spirit had composed two books. The first, as we all know, was the Bible; the second, the Universe whose creatures contain immortal teachings. To explain the lessons contained in the second book, bestiaries were compiled.
The culture of the Middle Ages was, as C. S. Lewis points out in The Discarded Image (in words that apply also to Borges), overwhelmingly bookish or clerkly. Lewis also notes that the Middle Ages tried to harmonize all its books into a model of the universe, that this model was intricate and beautiful, and that it gave profound satisfaction while it was still believed in.
Borges does not believe everything he reads in the books, but he is fascinated, has a wry smile, and weaves beautiful and intricate designs with what he has read, which seems to be everything. He smiles at what he considers the absurdities of the Middle Agesas we all know, he says with a wink to his fellow skepticsand also smiles at the equally absurd assumption that we moderns know so much more than they did. He says, referring to a theory of the four roots of things' of Empedocles of Agrigentum: We now know (we now think we know) that this doctrine is not true.
As André Maurois writes in his introduction to Labyrinths, Attracted by metaphysics, but accepting no system as true, Borges makes out of all of them a game for the mind. Borges is a pure skeptic, but is he pure enough a skeptic to be skeptical about the labyrinth of faith and doubt he has made of words?
The problem with a labyrinth, after all, is that you can get lost in it and never come out. Borges assumed life is a labyrinth, which is to say that there is no truth. But, is that a true statement? Or is Borges playing at being the metaphysical jester, the fool of the 20th century?
We have Andrew Hurley to thank for bringing The Book of Imaginary Beings back into print. His Translator's Note is an excellent introduction to Borges and his work, and describes the tangled history of this book's editions. Although he explains, as noted, the drawbacks of a previous Avon paperback edition, that edition does have the advantage of containing an index. The new edition lacks one, but Hurley's in-depth noteshe has attempted to find all of Borges's sourcesmore than makes up for this.
Peter Sis has provided striking and elegant artwork to accompany the text, but for my money I would have welcomed more Dürer-like illustrations, or engravingsa bestiary with detailed illustrations of the animals, as if they really existed and were posing for the artist. Sis' illustrations float in space with no roots, emphasizing the imaginary nature of the beings. While that makes sense for a book about imaginary beings, it leaves this reader unsatisfied.
Was Borges ever skeptical of his skepticism? I think he was. Paul Theroux writes, in The Old Patagonian Express, of a moment near the end of a visit he made to Borges: "As we turned the corner into Maipú, he [Borges] said, 'My father used to say, What a rubbish story the Jesus story is. That this man was dying for the sins of the world. Who could believe that? It is nonsense, isn't it?'"