Were Orthodox Christians massacred in Ethiopia?
UPDATE: Interviews conducted with witnesses and survivors by The Associated Press this week add more credence to reports of large-scale violence in Axum and around the Our Lady Mary of Zion Church, though dates and details noted in the initial reports of a massacre in Axum are in conflict. Survivors also told AP that Eritrean soldiers were responsible for the killings at the church and throughout the city. According to witnesses, hundreds were killed after seeking refuge at the church and many more may have been killed in the villages surrounding the city.
"People had fled inside the centers hoping to be saved, but they were slaughtered inside churches," a Roman Catholic priest from Tigray who asked that he not be named told The Associated Press. "It is an atrocity. While the target may not have been the heritage site, but the people fleeing there, the actions must be denounced in strongest terms possible." 
An excerpt from The AP report follows:
Eritrean and Ethiopian soldiers had arrived in Axum more than a week earlier, with heavy bombardment. But on Nov. 28 the Eritrean soldiers returned in force to hunt down members of the local militia who had mobilized against them in Axum and nearby communities.
The deacon [who asked to remain anonymous] recalled soldiers bursting into the church, cornering and dragging out worshippers and shooting at those who fled.
"I escaped by chance with a priest," he said. "As we entered the street, we could hear gunfire all over." They kept running, stumbling over the dead and wounded along with others trying to find places to hide.
Most of the hundreds of victims were killed that day, he said, but the shooting and looting continued the following day.
"They started to kill people who were moving from church to home or home to home, simply because they were on the street," another witness, visiting university lecturer Getu Mak, told the AP. "It was a horrible act to see." He watched the fighting from his hotel room, then ventured out as it eased.
"On every corner, almost, there was a body," he said. "People were crying in every home."
America's original report:
With journalists, aid workers and U.N. officials largely cut off and local internet and mobile services blocked, much remains unknown about what has been happening in Ethiopia's Tigray region over the last three months, but accounts emerging from farmers and villagers escaping the fighting between Tigrayan militia and central government forces are not encouraging.
U.N. officials have received multiple reports of sexual assaults and the executions of unarmed men and boys, and they report the discovery of at least 300 unaccompanied or separated children among the more than 57,000 people who have fled into neighboring Sudan. They believe hundreds more will be found among the hundreds of thousands of people displaced by fighting in the Tigray, Amhara and Afar regions.
John Shumlansky, the country representative for Catholic Relief Services, returned to Addis Ababa in mid-January after visiting the capital of Tigray, Mekele. He found thousands there who had fled the fighting with little more than what they could carry and the clothes on their backs, but he said some normalcy was at least returning to the city itself as banks and shops reopened.
Violence is continuing in Ethiopia's Tigray state. Can Catholic Church officials bring their diplomatic skills to bear to promote a peaceful resolution to the conflict?
"But clearly people are a bit traumatized by what happened," he said, "and they're trying to get their lives back...living with host communities at the moment, trying to figure things out until they can feel safe to go back to their homes.
"A lot of the big needs now are food, making sure they have shelter and that there is clean, safe water for people, hygiene." Complicating the immediate relief effort, he added, is "the Covid issue."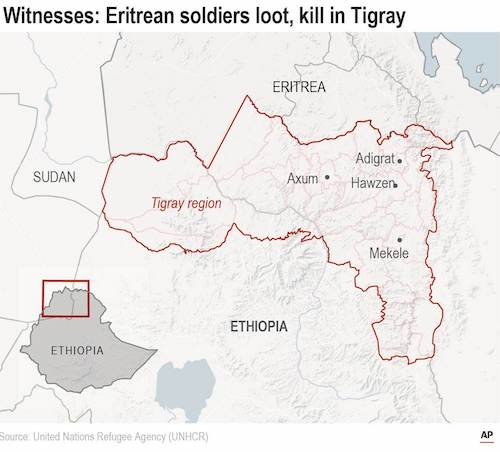 "People are still separating and trying to socially distance," but that "isn't always possible in these kinds of situations." Tigray, a largely agricultural region, was already a hunger hot spot before fighting broke out between government troops and Tigrayan militia in November. The region has been afflicted by the worst outbreak of locust swarms in more than two decades, according to the U.N. Food and Agriculture Organization. Officials worry that millions in Tigray now face food insecurity and hundreds of thousands could be at risk of starvation. C.R.S. will be part of a consortium of relief agencies charged with feeding as many as 1.5 million in Tigray over the coming months, Mr. Shumlansky reported.
There have been allegations of massacres of civilians by all sides in an escalating conflict that has included the Ethiopian and Eritrean forces joined against the Tigray People's Liberation Front. Among the most shocking are still unconfirmed reports of a slaughter of as many as 750 to 1,000 people on the grounds of the Cathedral of Our Lady Mary of Zion in Axum.
Laurie Nathan, the director of the mediation program at the University of Notre Dame's Kroc Institute for International Peace Studies, describes the report of a massacre in Axum as credible, though unverified. Accounts of the killing of noncombatants on the compound around the cathedral were first reported by the Europe External Programme with Africa, a Belgium-based peace building and refugee protection advocacy, on Jan. 9. The reported attack took place on Dec. 15.
Our Lady Mary of Zion is an especially sacred site to Tigrayans. According to local tradition, its Chapel of the Tablet is believed to house the biblical Ark of the Covenant. Accounts from witnesses report that community members went to the compound concerned that an approaching armed group intended to loot the chapel and remove the ark. After a confrontation, scores of these unarmed people were fired on by that armed group, composed, according to survivors, of Ethiopian federal troops and Amhara militia.
There have been allegations of massacres of civilians by all sides in an escalating conflict that has included the Ethiopian and Eritrean forces joined against the Tigray People's Liberation Front.
"It really does look like there was an atrocity and a massacre, but precisely the motivation and the details, I think we need to suspend judgment at the moment," Mr. Nathan said.
"We're not going to know" what happened in Axum, he said, "until it's the United Nations or reputable human rights groups that are doing a proper investigation."
In a letter to the U.K.'s Independent Catholics News, the Ethiopian Ambassador to the United Kingdom, Teferi Melesse Desta, denied not only an Ethiopian government role in the purported attack at Our Lady Mary, but charged that no such attack took place, calling those reports as "unfounded and based on unverified reports" from E.E.P.A. "and rumors from malicious 'international experts.'"
"These very serious claims are the results of a sophisticated disinformation campaign orchestrated by disgruntled political groups bent on stoking instability and using religion as a weapon to sow confusion amongst the international community, in an effort to derail the on-going reforms taking place in my country," Mr. Teferi said.
"Places of worship such as churches and mosques are protected by law and are considered part of Ethiopia's rich millennia-old cultural heritage. The thought of such atrocities happening in one of Ethiopia's most ancient and sacred sites is unthinkable. To date, there has been no physical evidence of a 'massacre' in Aksum."
Though other African states have experienced such violence as a result of tension between Christian and Muslim communal groups, Mr. Nathan believes the alleged killings in Axum are the result not of interreligious strife but of the ethnic and political crisis that has engulfed Tigray.
Ethiopia is about 62 percent Christian, mostly members of the Ethiopian Tewahedo Orthodox Church, and 33 percent Muslim, but "it's not likely at all" that Our Lady Mary of Zion "was targeted because of its Christian orientation," Mr. Nathan said. "What you're seeing with this church massacre is a reflection of the armed conflict between the Ethiopian government and ruling party on the one hand and the people of Tigray and the Tigray People's Liberation Front on the other."
C.R.S.: "A lot of the big needs now are food, making sure they have shelter and that there is clean, safe water for people, hygiene." Complicating the immediate relief effort is "the Covid issue."
Violence broke out in Tigray in November, when government forces sought to suppress the T.P.L.F. Prime Minister Abiy Ahmed moved against the militia and the governing class in Tigray after local officials there went ahead with a popular vote in contravention of the central government's decision to postpone national elections because of the coronavirus pandemic.
The prime minister justified the incursion as a response to a T.P.L.F. attack on an Ethiopian army installation. According to Mr. Nathan, the eruption between government forces and the T.P.L.F. is a reflection of growing tensions within Ethiopia between the central government and ethnic and regional power centers seeking greater autonomy. The T.P.L.F. is the military wing of a political bloc that had wielded considerable power in Ethiopia for decades, part of the reason Eritrea was eager to join forces with Mr. Abiy to take on its former adversaries in the border region.
Since Eritrea joined the offensive, its troops and associated militia have been accused of summary execution, rape and looting. Among the issues that remain to be sorted out when humanitarian access to the region is restored is the fate of thousands of Eritrean refugees in Tigray who were among the targets of the Eritrean incursion.
"It really does look like there was an atrocity and a massacre" in Tigray, "but precisely the motivation and the details, I think we need to suspend judgment at the moment."
U.S. State Department officials told The Associated Press that they have directly "pressed senior levels" of Eritrea's government to immediately withdraw from the embattled region. There were no details on how officials in Eritrea, one of the world's most secretive countries, responded to the Biden administration demand.
If a massacre is confirmed at Our Lady Mary of Zion, Mr. Nathan believes that Ethiopian government forces remain the likeliest suspect. "The attackers want to destroy Tigrayan culture," said Mr. Nathan, "and to pick on such a high-profile religious and spiritual target sends the message of terror, which is what was intended here."
Based on his experience during similar armed conflicts, militias "don't conduct themselves in this way without the consent of whoever provides [them] with weaponry."
Mr. Nathan advises the United Nations on conflict resolution and previously worked as the director of the Centre for Mediation in Africa at the University of Pretoria in South Africa.
"It's possible that you have completely criminal bands that act as militia that have no motive other than pillage and profit, but that is not what's going on in Tigray right now," he said. "A militia that attacks a church in Tigray is doing so in alliance with the government or Ethiopian Defense Force."
Ironies abound in the apparent eagerness of the prime minister to press the fight against the T.P.L.F. Mr. Abiy won the Nobel Peace Prize in 2019 because of his successful efforts to bring years of conflict between Ethiopia and Eritrea to an end. By most accounts, he is a devout Christian, and he was awarded a doctorate by the Institute for Peace and Security Studies at Addis Ababa University.
But he seems to have forgotten whatever he learned about conflict resolution the closer he has come to achieving the goal of suppressing Tigrayan autonomy. The prime minister has brushed aside offers to negotiate an end to the fighting. The once imposing T.P.L.F. militia—with as many 250,000 members it had been considered one of Africa's most formidable forces—has been dealt a serious blow by the central government's campaign; and members of the region's ruling class have been killed, arrested or thrown into flight, Mr. Nathan said.
"The attackers want to destroy Tigrayan culture and to pick on such a high-profile religious and spiritual target sends the message of terror, which is what was intended here."
Despite those apparent government successes, Mr. Nathan worries the struggle in Tigray may be nearer to its beginning than to its end.
"The Ethiopian defense has prevailed; they have effectively suppressed the revolt. They have decimated the Tigrayan forces," Mr. Nathan said. "But that's not to say that they've won the peace because the people of Tigray supported what their political party was doing. I think their level of hatred now towards the Ethiopian government is vastly greater than it was previously."
Even if the fighting can be quickly brought to a halt, he describes the conflict as "a manifestation of the deep crisis of the Ethiopian state," a struggle to achieve a "balance between central control and regional autonomy [that] has not been resolved adequately."
Now local and regional leaders call for a national dialogue to rethink the Ethiopian Constitution, according to Mr. Nathan, but "you can't have a national dialogue in a situation of acute instability, and certainly you can't in one of violence."
"For a national dialogue to proceed," he said, "individuals, groups, political parties need to be free to move, to assemble, to speak without fear of intimidation or repression or violence, and they're not close to that."
He worries that the violence in Tigray could be a harbinger of more to come.
Mr. Nathan suggested that as the international community presses for a cease-fire and the creation of humanitarian corridors to reach displaced Tigrayans and refugees, regional and international religious leaders should step up to take the lead in seeking a long-term solution. Even the Catholic Church, which has a small but vibrant footprint in Ethiopia, could make a stronger effort to promote peace beyond the usual issuing of appeals for calm and security, Mr. Nathan said.
He urged Vatican diplomats to reach out to contacts in the Orthodox Church and within the Eritrean and Ethiopian diplomatic corps. Christian groups have been historically perceived as dependably neutral in mediating such conflicts, and the Catholic Church in particular has had past successes in Africa, he said, noting its role in bringing an end to years of civil conflict in Mozambique.
"When a country is gripped in conflict and there are deep divisions, the church is one of the institutions that is capable of transcending those divisions," Mr. Nathan said. "The church is always able to say, 'We speak on behalf of all humankind, or at least all our constituents, regardless of their ethnicity.'"
As for immediate humanitarian aid, Mr. Shumlansky is confident that once the security conditions improve, C.R.S. will be able to tap into a reliable network of Catholic parishes and health services to distribute food and other emergency aid to help Tigrayans survive this catastrophe. "It's really a good network of people that we can work through," he said.
This report was updated on Feb. 1 to include a statement from Ethiopia's ambassador to the United Kingdom, Teferi Melesse Desta, and to emphasize that reports of a massacre at Axum remain unverified.
Correction: An attack on Ethiopian defense forces on Nov. 4 by the Tigray People's Liberation Front was described as "alleged." The T.P.L.F. has in fact not denied conducting the attack. America regrets the error. 
 
More from America: