What to Read the Day Before the Election (No Matter How You're Feeling)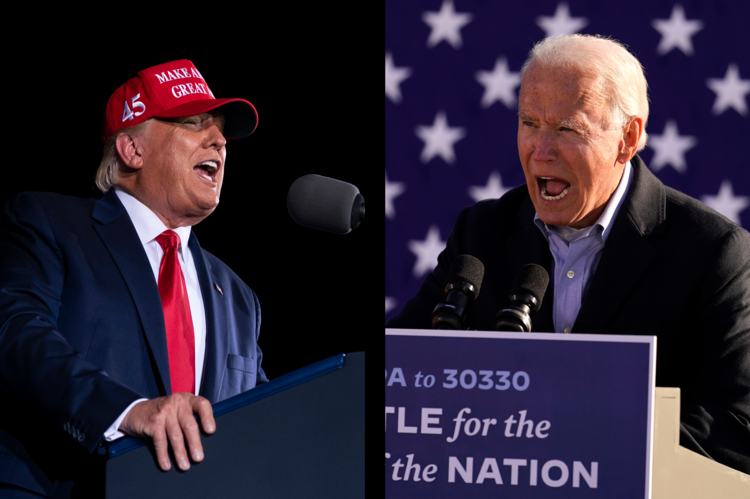 Left: President Donald Trump speaks during a campaign rally at Miami-Opa-locka Executive Airport, Monday, Nov. 2, 2020, in Opa-locka, Fla. (AP Photo/Evan Vucci) Right: Democratic presidential candidate former Vice President Joe Biden speaks at a rally at Community College of Beaver County, Monday, Nov. 2, 2020, in Monaca, Pa. (AP Photo/Andrew Harnik)
America's editors have selected some of our top stories about the election to appeal to whatever you might be feeling or thinking about on Election Day Eve. Check back tomorrow for more in-depth analysis. And, if you haven't already, go vote!
Read this if you…are anxious about the election
Read this if you…are still undecided
While polls show that there are fewer undecided voters this election than in previous ones, and millions of Americans have already voted, you (or your friends and family) might still be mulling over who to vote for.
Read this if you…want to hear the other side's perspective
Read this if you…want a broader perspective
Read this story if you…want to know what America thinks
---
Post-script: If you'd rather listen than read:
Voting Catholic is a new podcast from America Media that explores the top voting issues in the United States, from abortion to immigration to racial justice, by sharing the voices of experts and activists on the front lines.
Listen on Apple Podcasts
Listen on Spotify

On Jesuitical, a podcast for young Catholics, Ashley McKinless and Zac Davis interviewed Pat Conroy, S.J., the chaplain for the House of Representatives about praying for your "political enemies." And if you enjoyed Jeannie Gaffigan's article on how "real Catholics" vote, listen to her conversation with the hosts about the hard choice that pro-life Catholics face this—and every—Election Day.
Listen on Apple Podcasts
Listen on Spotify
Post-post script: If you'd rather watch than listen or read:
What does President Trump have to offer Catholic voters? | Behind the Story
What does Joe Biden have to offer Catholic voters? | Behind the Story