Voting Catholic: Is environmental justice on the ballot?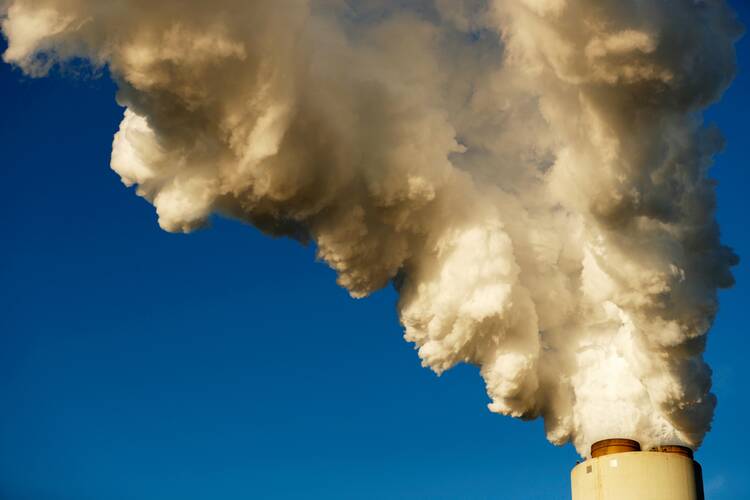 Smoke rises from Duke Energy's Marshall Steam Station in Sherrills Ford, N.C., Nov. 29, 2018. Governments have an unprecedented "moral duty" to take urgent action to combat climate change, Catholic development agencies said before the U.N. Climate Change Summit in 2019. (CNS photo/Chris Keane, Reuters)
Dan Misleh, executive director of Catholic Climate Covenant, does not believe in climate change. "I believe in God, something that I have not seen or directly witnessed—that's a belief," Mr. Misleh told Sebastian Gomes, host of the Voting Catholic podcast. "But climate change is scientific fact. I don't 'believe' in it. I know it. It's a fact."
Mr. Misleh spoke on these facts, celebrated Pope Francis' encyclical "Laudato Si'" and encouraged Catholics to take responsibility for the planet and mitigating climate change. The pope's "message is that there are three relationships that are out of kilter," Mr. Misleh said. "Our relationship with God, our relationship with one another and our relationship with nature."
"If we treat the earth as a dumping ground, we're probably going to treat our neighbors that way," he said. "It becomes a disposable society, a disposable planet, a disposable creation—we can simply do what we want with it. That clearly isn't sustainable, and it's not respectful of this gift that we've been given." The issue is one of integral ecology; everything is connected, Mr. Misleh said.
In terms of politics and legislation, the Obama administration made some progress in regulations and reducing emissions—which the Trump administration promptly rolled back. "This current administration has really done, frankly, enormous damage to the environment," he said. Relaxed standards for cars, power plants and pipelines—and withdrawal from the Paris Agreement—are a few of the decisions that color Mr. Trump's actions anything but green.
If we treat the earth as a dumping ground, we're probably going to treat our neighbors that way.
Mr. Misleh described Senator John McCain as a conversative politician who transcended party lines and understood the need to address climate change because of its impact on generations to come. Mr. Misleh says Catholics need to undergo an ecological conversion by meditating on their existence as "star dust," the "stuff of the universe" and discusses tangible ways people in the church can support and advocate for the planet.
"The way the world, or certainly this country is set up—we're fossil fuel-based," Martha Shulski explained in her discussion with Sebastian Gomes. "That's a really difficult thing to get away from," she said. "The solutions require policy at the federal, state and local level—that has also politicized the science of climate change."
Ms. Shulski said that her work as the state climatologist of Nebraska and as a professor of natural resources is guided by her Catholic faith. She talks to local communities in terms they can understand—for farmers in Nebraska, that means conversation about soil erosion and detrimental rain events. Throughout her career, Ms. Shulski has had to devote a lot of time to convincing people that the science on climate change is real. That means less time to talk about solutions.
But she has seen some who disagree with her begin to understand her work, and that gives her hope. For her, "the scale of climate change, how many people are currently and will be impacted...is a defining piece in this election." For her, environmental justice is a serious issue to consider.
The worst effects of climate change, Ms. Shulski said, "will be felt most strongly by the marginalized, poor, elderly, sick, people of color, tribal populations. All of these groups of people who are the least able to cope. I have a real problem with that."
To hear more from Ms. Shulski and Mr. Misleh on climate change and what people of faith can do about it, be sure to listen to Voting Catholic, a new podcast by America Media that helps Catholics discern how to vote in the 2020 presidential election.
Listen on Apple Podcasts
Listen on Spotify
Listen on Google Podcasts