Covid-19 hits African-American, Hispanic and Native American communities the hardest
The coronavirus epidemic claimed more than 120,000 lives by late June, and its effects have been felt in communities across the country—but not equally. Emerging data show that people of color, especially African-Americans, Hispanics and Native Americans, are dying at higher rates than white Americans. In particular, African-Americans are dying at a rate three times greater than their population share.
Contributing factors to the disproportionate health outcomes among people of color include diminished access to health care  and paid sick days, higher exposure to pollution, lower rates of employment in positions that could transition to telecommuting and a disproportionate share of jobs in food and grocery, transportation and janitorial positions deemed essential to the running of the economy during the crisis. Nearly a quarter of employed Hispanics and African-Americans work these front-line service industry jobs, compared with 16 percent of white Americans, putting them at elevated risk of infection and death from the coronavirus.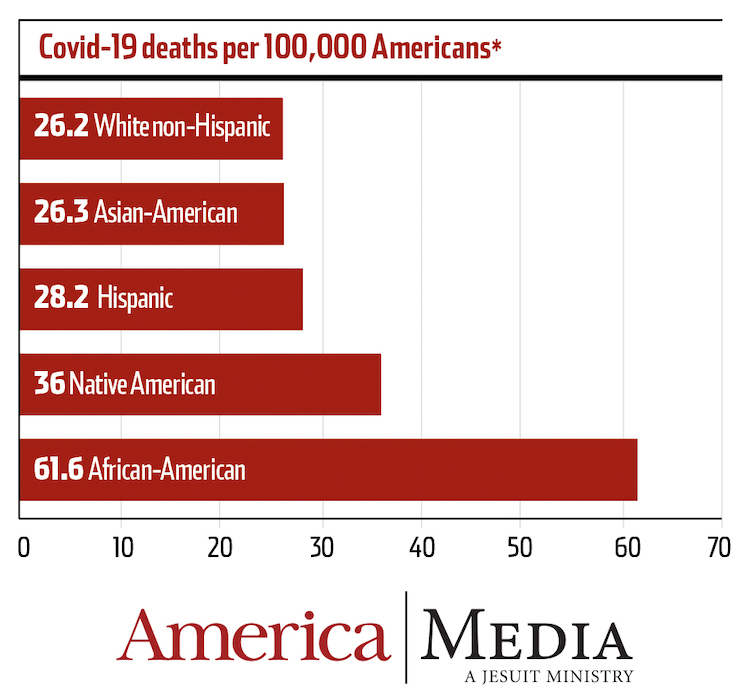 For many, housing conditions, whether in urban neighborhoods, agricultural communities or on Native American reservations, have made social distancing nearly impossible. Because of the lack of affordable housing, multiple generations sometimes have to live under one roof, heightening the risk of transmission among family members and particularly endangering older adults.
In large cities, pollution poses further health risks. Studies show that African-Americans and Hispanics bear a "pollution burden": they are exposed to far more pollution than they create, in part because they are more likely to live near power plants and heavy industry. The disproportionate exposure leads to long-term respiratory issues that can put them at higher risk of mortality from Covid-19.
Finally, ethnicity and race affect access to health care. Hispanics and African-Americans are far more likely than white Americans to be uninsured, but they also must contend with the biases of medical professionals. One study of implicit bias found that 70 percent of doctors showed a preference for treating white patients over African-American patients, subtle discrimination that can lead to fewer tests and subpar treatment and health outcomes.
---
By the Numbers: Inequities escalate risk
Compared with whites, Hispanics are almost three times more likely to lack health insurance; African-Americans are almost two times more likely to be uninsured. African-Americans are nearly 70 percent more likely to live in a zip code with a shortage of primary care physicians. Native Americans make up more than a third of the Covid-19 cases in New Mexico, but represent only 9 percent of the state's population.
---
Sources: American Public Media Research Lab; Centers for Disease Control and Prevention; The Atlantic: "Poor and Hispanic Workers Are Least Likely to Have Sick Days," March 5, 2014; Economic Policy Institute; U.S. Bureau of Labor Statistics; Science Daily: "Low-income, black neighborhoods still hit hard by air pollution," Aug. 10, 2019; Kaiser Family Foundation.