Post-Mugabe, human rights abuses continue in Zimbabwe. Will Covid-19 make things worse?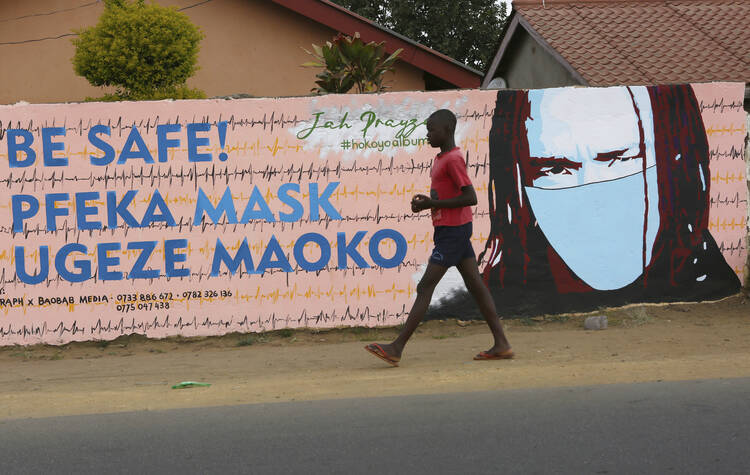 A young boy walks past a wall with graffiti urging people to wear face masks in Harare, on May 28. Manhunts have begun after hundreds of people fled quarantine centres in Zimbabwe and Malawi. Authorities worry they will spread COVID-19 in countries whose health systems can be rapidly overwhelmed. (AP Photo/Tsvangirayi Mukwazhi)
The recent passing of one of Zimbabwe's foremost human rights defenders, Mike Auret, has rekindled questions of the potential role of faith-based organizations in addressing the country's long history of human rights abuses. After leaving political life in Zimbabwe, in 2003 he emigrated to Ireland, where he died this past Good Friday.
For many years, Mr. Auret led the Catholic Commission for Justice and Peace and was at the forefront of documenting atrocities under Prime Minister Robert Mugabe in the 1980s that left more 20,000 people dead. That era still haunts the present administration as activists press government officials to acknowledge and atone for past human rights abuses.
In the post-colonial era they include the murder and attempted murder of opposition leaders and their supporters dating back to the 1980s and 1990s. In the early 2000s, under a controversial land reform program, violent farm invasions led to the killing of white farmers by ruling party supporters.
As under Mugabe, Zimbabwe's contemporary political elite continue to trample on civil libertie with what the same disregard of censure from both local moral authorities and international human rights organizations.
During the widely condemned Operation Clear the Filth in 2005, millions of homes were bulldozed under Mugabe's orders, justified then as an effort to demolish illegal construction and contain criminal activity, and during the run-up to the 2008 general elections the attempted murder of longtime Mugabe opponent Morgan Tsvangirai was accompanied by an escalation of political violence against the opposition.
Now the nation's contemporary political elite continue to trample on civil liberties, critics charge, with what appears to be the same disregard of censure from both local moral authorities and international human rights organizations.
After the fall of Mugabe in November 2017, incoming president Emmerson Mngagagwa made commitments to undo the dark past of the human rights violations of his mentor—he had served as vice president under Mr. Mugabe—pledging that he would be a "listening president" and that political violence and state-sponsored human rights abuses would be a thing of the past.
Instead, human rights monitors say, there has been an escalation of abuse. Human Rights Watch observes that "despite President Emerson Mnangagwa repeatedly voicing his commitments to human rights reforms, Zimbabwe remained highly intolerant of basic rights, peaceful dissent, and free expression in 2019."
Political abductions, torture of comedians who poke fun at the regime, shooting of demonstrators, and charges of treason and arrests of journalists all have become daily fare under Mr. Mngagagwa, according to local media.
Rights abuses have only grown more intense as social restrictions engendered by the Covid-19 crisis took hold in recent months. Lockdown violators have suffered under the heavy-handed enforcement by the state security apparatus. Many allege enforcement efforts have been unnecessarily violent and designed to intimidate dissenters, not protect public health.
During the Covid-19 crisis human rights monitors say, there has been an escalation of abuse in Zimbabwe.
The Covid-19 crisis comes as Zimbabwe already faces a host of other economic and social problems, including unemployment, steep increases in the cost of basic commodities, and fuel shortages and fuel price spikes—not unlike the fuel hikes that triggered mass protests and the shooting of demonstrators by soldiers last year.
Critics say the human rights abuses that have occurred during the Covid-19 lockdown may be an attempt by the ruling party to clamp down on dissent that could lead to a repeat of last year's countrywide protests. Human rights activists and faith-based agencies say that Zimbabwe's weak political and civil institutions have not been able to check the state's excesses.
"Human rights thinking has no tradition in Zimbabwe," said Oskar Wermter, a German Jesuit priest who has lived in Zimbabwe for more than 40 years.
"The black majority which came to power in 1980 has not learned much about human rights. A place like Silveira House"—the social development center of the Jesuits in Harare, Zimbabwe's capital city—"taught Catholic Social Doctrine, but this did not have much impact on the country as a whole," Father Wermter said.
Violations of lockdown restrictions or resistors to the compulsory wearing of face masks have been met with police and military brutality, prompting criticism from the United States, the European Union and local human rights lawyers.
In a statement released on May 20, the Law Society of Zimbabwe raised concerns about what they called a disturbing increase in abuses, calling on the "state to discharge its constitutional duties and credibly investigate and prosecute all cases of violence."
Human rights defenders say that it has become "life threatening" to be an activist in Zimbabwe.
The statement came days after the police said members of the force accused of brutally assaulting civilians would be subjected to internal police disciplinary processes. That meant security officers charged with offenses would not be appearing before a court of law.
"These [violations] constitute a reversal of our aspirations of a democratic country that respects the constitution and rule of law," the Law Society said.
Even as complaints of police brutality grew, the country's justice minister, Ziyambi Ziyambi, appeared to justify such human rights abuses when he told Parliament on May 21 that the civilians and legislators who had suffered assaults deserved that treatment because they had broken lockdown violations.
"It is a fact that the said individuals broke the law in that we have lockdown regulations that prohibit demonstrations," Mr. Ziyambi told local media. "So these individuals are wanted by the police so that they can be interviewed on why they broke the law.
"The same individuals are not cooperating with the police, but seem to be very happy to be at the hospital," said the justice minister, referring to victims who spoke with media from their hospital beds where they were being treated after an alleged kidnapping, assault and sexual assault at the hands of people suspected to be state security agents.
The police claimed that such reports of abduction and assault have been staged to paint a bad image of Zimbabwe's poor human rights record before the international community. But in a statement released on May 22, the Zimbabwe Heads of Christian Denominations, an ecumenical group that includes the Zimbabwe Council of Churches, the Zimbabwe Catholic Bishops Conference and the Evangelical Fellowship of Zimbabwe, lamented what it saw as growing impunity by the state.
Justice minister, Ziyambi Ziyambi, appeared to justify human rights abuses, telling Parliament that the civilians and legislators who suffered assaults deserved that treatment because they had broken Covid-19 lockdown violations.
"It is deeply disturbing that the country has so many cases of abductions and torture in the last few months, most of which have not been conclusively investigated," the church leaders said.
"What is further disturbing are the insinuations by some state agents that all these abductions are either stage managed or carried out by an unrecognizable third force without substantiating such claims with credible and irrefutable evidence."
Mugabe, noted both for his academic background and for fiery rhetoric that at times led to violent consequences, once joked that he and his ruling party had "degrees in violence." That legacy appears to have become entrenched in Zimbabwe's political culture even after his death, observers say.
"Robert Mugabe, though a Catholic and quite familiar with Silveira House and the Jesuits there, did not respect Catholic Social Teaching," said Father Wermter. "His was a Gospel of Power. The consideration of his and his party's political power overruled all moral and spiritual considerations.
"Mugabe used to say that his government was in power because it had won the liberation war, not because they had been voted democratically into power," Father Wermter added. "For a government with such a tradition—Mnangagwa is no different in this respect from his predecessor Robert Mugabe—giving up violence as a political tool is difficult," he said.
Dewa Mavhinga, the director of Human Rights Watch for southern Africa, agreed.
"The same system and governing party Zanu PF that presided over abuses with impunity since 1980 remain in charge today under President Mnangagwa," Mr. Mavhinga said. "The removal of Robert Mugabe did not change much because it is the same system that remains in charge and committing abuses.
"Zimbabwe authorities must allow independent investigations into abuses and punish perpetrators of abuses. The government spends huge amounts paying P.R. companies in Washington, D.C., in the hope that those companies will help image issues," he said, "but the truth is simply that no one in the international community will respect a country that allows abductions, torture and rampant rape of women."
As Zimbabwe's lawyers noted in their statement, Mr. Mnangagwa's current administration has not shown an inclination to shift from the reliance on human rights abuses that partly defined his predecessor's 37 years of uninterrupted rule.
"The Society is concerned that allegations of arbitrary use of violence and torture by security forces are becoming commonplace in our country," the lawyers said. "This poses a grave threat to our constitutional democracy." The association's own members have not been spared assaults at the hands of security forces.
Human rights defenders say that it has become "life threatening" to be an activist in the country.
"The biggest challenge for human rights defenders in Zimbabwe is the operating space," said Effie Ncube, the director of the Matabeleland Constitutional Reform Agenda. "There are still very limited spaces where activists can operate without fear of losing their lives."
"There are, however, ways to hold the state accountable," he said. "One...is civic education and exposure by the media while the courts, despite their known flaws, must also be utilized to expose the state's excesses," Mr. Ncube said. Activists in Zimbabwe complain that local courts have been slow in hearing cases against the state.
So far there appears to be little to provide comfort to violence- and poverty-weary Zimbabweans as they wait for elections in 2023, a national vote that has in the past been marred by violence and allegations of electoral theft. There are fears the current spate of human rights violations could be a harbinger of worse things to come.