Would you support a political candidate more if they shared your faith background?
I think Catholic values are the best ones a candidate could have, especially with regard to social justice. Catholics believe life issues are not just about abortion, but also the acceptance of the dignity of all persons from cradle to grave—including immigrants who seek help and safe harbor from America. I would be willing to vote for a candidate with a different faith if they were to hold those same values.
Marilyn Martin
Tucson, Ariz.
I would be more willing to support a candidate who supports issues that for me are faith-based: immigration, affordable housing for all, universal health care, climate change and gun control.
I do understand that, for me, these are as much religious issues as they are social and political issues. And I understand that people of other faiths—and people of no faith—frequently do support these issues while coming from a completely different place. To me, they are still doing God's work, whether or not they recognize it.
Christina Sahhar
Oceanside, Calif.
It is more important to me that a candidate is pro-life than a Catholic by name. In fact, it is a strong negative for me if a candidate is pro-abortion yet claims to be Catholic. If a candidate had no faith background, I would still want to know if they have sound values, rather than situational or utilitarian values.
Thomas Extejt
Toledo, Ohio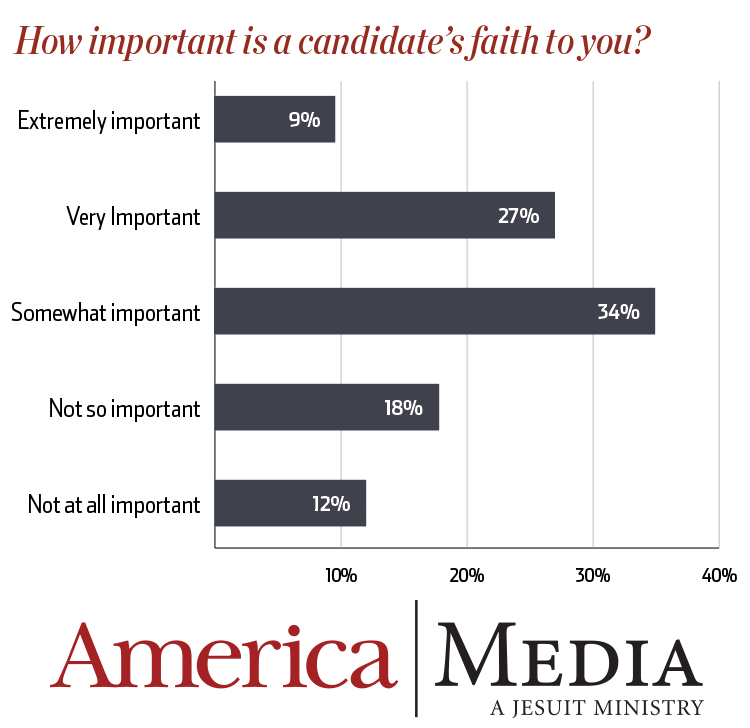 The faith background of a politician is not particularly important to me; it's their policies that have to speak to the way I interpret my own faith. So many candidates use their faith as a way to secure votes that it all seems so fake now—even from candidates who I'm sure do actually care deeply. I'm far more impressed by candidates who do not push their "religious-ness" in voters' faces each and every day.
John Elwell
Richomond, Va.
I am involved in many interfaith activities on a regular basis. The more I get to know people and learn about their faith, the stronger mine becomes, and the more we all discover we have so much in common. We all came to support each other when we experienced a synagogue shooting and a fire at a mosque. Faith is relevant; integrity and ethics are essential. Even those who profess no faith can have integrity and ethics and a tremendous desire to serve.
Carole Morales
El Cajon, Calif.
The candidate does not have to share my faith background. I would want a candidate that is sincere about their beliefs and also makes decisions after prayerful reflection.
We as a country, even though we have the separation of church and state, turn to prayer at significant moments in our day-to-day lives. I think that the president should be able to relate to these religious moments (such as a state funeral, a national tragedy, etc.) by drawing on his or her own religious background. When a president ends a speech by saying "God bless the United States of America," I want them to say it from their own experience of prayer, not just as a cliché.
Boreta Singleton
Bronx, N.Y.
[Want to discuss politics with other America readers? Join our Facebook discussion group, moderated by America's writers and editors.]