Trump administration reversals of longstanding U.S. policy aimed at mitigating 70 years of conflict between Israelis and Palestinians accelerated in August and September. Fulfilling a campaign pledge, the administration broke ground this year on a new U.S. embassy in Jerusalem, and in August it canceled its $350 million annual contribution to the U.N. Relief and Works Agency, known as Unrwa, creating a $217 million budget shortfall for the agency and an instant humanitarian crisis for a region already overloaded with them. By mid-September all U.S. assistance to Palestinians, including funding for a $10 million U.S.A.I.D. "coexistence" program that brought Israeli and Palestinian schoolchildren together, had been terminated.
The near-term impact threatens to be "catastrophic," said Hillary Dubose, the Catholic Relief Services Gaza representative, commenting by email.
Advertisement
The near-term impact threatens to be "catastrophic," said Hillary Dubose, the Catholic Relief Services Gaza representative.
"Palestinians are all deeply concerned about the wide-reaching impact that they expect the cuts will have," she said. "Everyone wonders how Unrwa schools will remain open, whether health clinics and hospitals will be able to meet the needs of the people, and many don't know how they will put food on the table of their family in the coming months."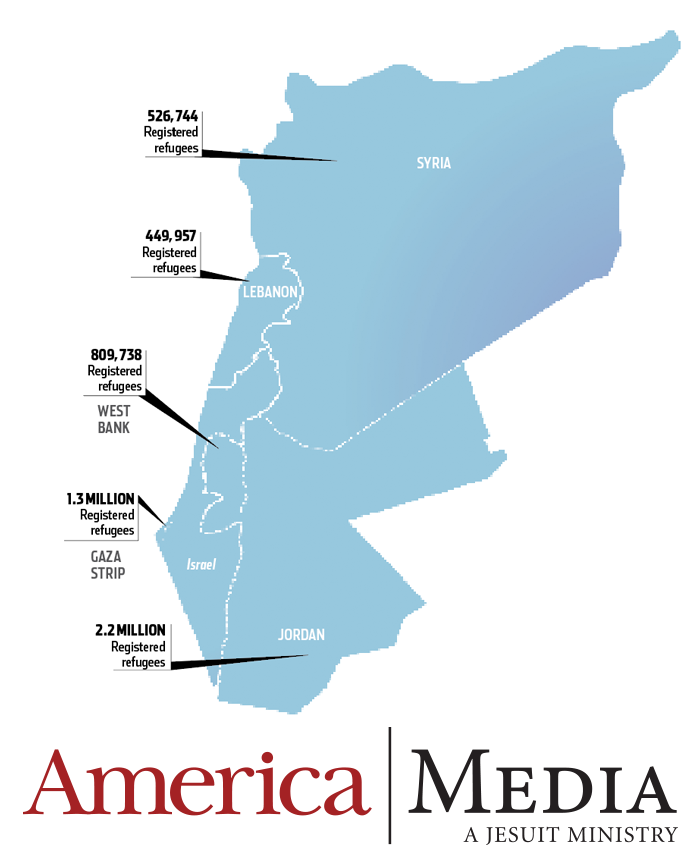 Describing Unrwa as an "irredeemably flawed operation," an assessment quickly rejected by U.N. officials, Heather Nauert, a State Department spokesperson, announced the decision to end U.S. funding on Aug. 31. She said, "The fundamental business model and fiscal practices that have marked Unrwa for years—tied to Unrwa's endlessly and exponentially expanding community of entitled beneficiaries—is simply unsustainable and has been in crisis mode for many years."
According to Ms. Nauert, the administration remained "mindful" of the impact "on innocent Palestinians, especially schoolchildren, of the failure of Unrwa." She said the administration would "intensify dialogue with...international stakeholders about new models and new approaches, which may include direct bilateral assistance from the United States and other partners, that can provide today's Palestinian children with a more durable and dependable path towards a brighter tomorrow."
Since the decision, Unrwa has rallied support from other donor nations and reduced its current shortfall to $64 million. But it is unclear what will happen in the future if the U.S. president follows his present course. The United States has long been the largest donor to Unrwa, an acknowledgment of its humanitarian and stabilizing role. Unwra serves some five million Palestinian refugees, which it defines as "persons [and their descendants] whose normal place of residence was Palestine during the period 1 June 1946 to 15 May 1948, and who lost both home and means of livelihood as a result of the 1948 conflict."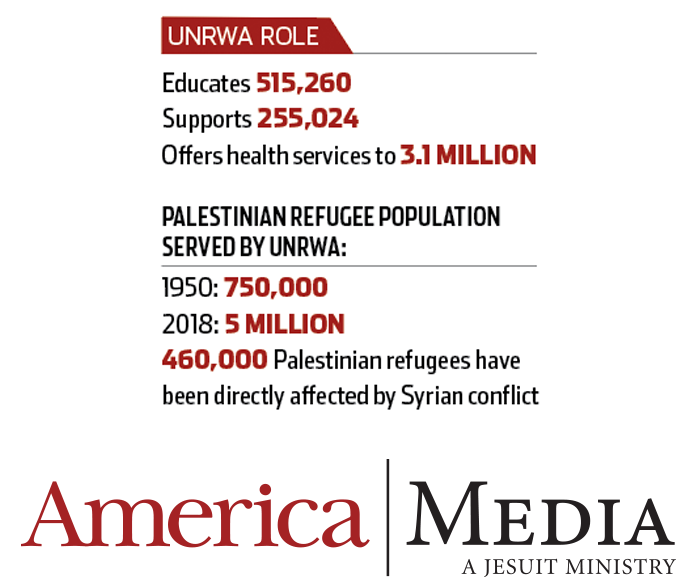 "For C.R.S., the funding cuts mean that we are unable to continue providing the most vulnerable Gazans with food assistance and short-term job creation support," Ms. Dubose said. "Normally, we would be assisting 155,000 Gazans right now with food and livelihoods support through our U.S.A.I.D.-funded program, but the cuts mean that we are serving zero."
She added that C.R.S. and its partners have laid off approximately 90 staff members, "which further contributes to the high unemployment rates, already above 40 percent, in Gaza."
"The cuts also mean that C.R.S. will not be prepared to provide a rapid response in the case of an emergency, since we will have inadequate staff and funds to do so."
Ms. Dubose added, "What I've described here is only the impact on C.R.S., but we are not the only U.S.-funded organization. Taken together, I believe that the cuts will be catastrophic. I predict that unless the U.S. reverses its decision or another donor steps in to fill in the gap soon, we will see increased unemployment, greater debt, higher levels of hunger likely worsening health outcomes and reduced school attendance." According to Ms. Dubose, "the worsening poverty and isolation" that would result "could lead to greater instability in Gaza, which could also have a security impact on Israel."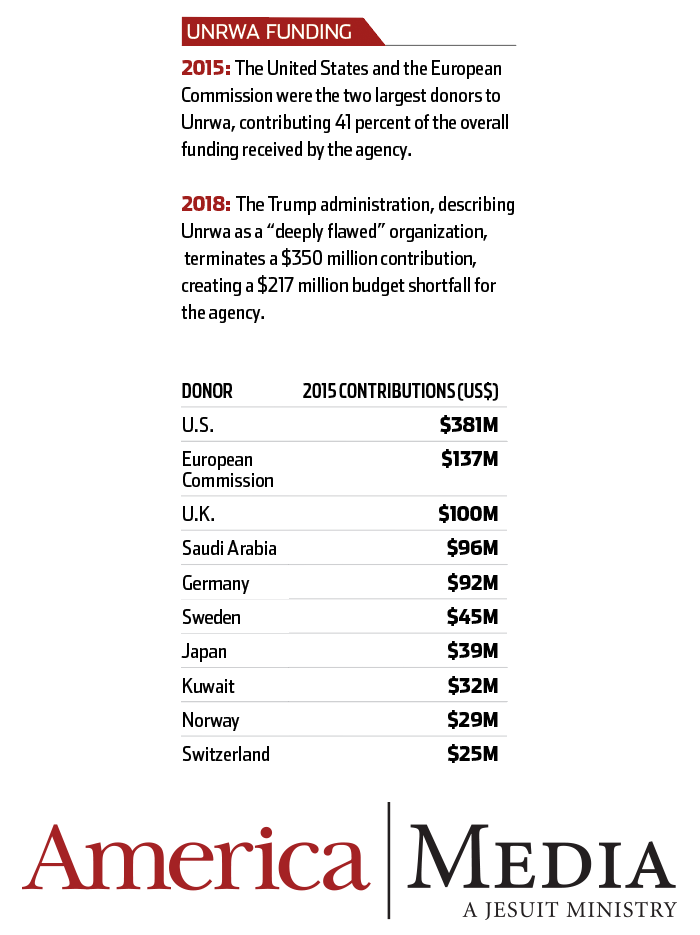 Speaking on behalf of the U.S. Conference of Catholic Bishops, Lucas Koach, director of the Office of International Justice and Peace, said, "We are not supportive of [the decision to drop Unrwa and funding for other programs] because of the humanitarian fallout it creates."
Citing the scores of Unrwa health care and women's centers that are working with millions of Palestinian women and children, Mr. Koach said, "The bishops are urging a speedy resolution and the restoration of the funding of those critical programs.
"The conference wants to continue to lift up its repeated statements supporting peace in the region, and that's going to require both sides to work together for a solution," Mr. Koach added.
But getting both sides back to meaningful negotiations may be a challenge in the current environment. Drew Christiansen, S.J., distinguished professor of ethics and global human development at Georgetown University's School of Foreign Service and a former editor in chief of America, said it appeared that the president was adopting the tactics of his ally in the region, Prime Minister Benjamin Netanyahu of Israel.
"There is a kind of compatibility between Netanyahu and Trump in terms of the way they approach this; they're both bullies who believe in sticks and no carrots," he said. "This is the way Netanyahu has been moving for years, never agreeing to talks and continuing the process of expropriating Palestinian land."
"There is a kind of compatibility between Netanyahu and Trump in terms of the way they approach this; they're both bullies who believe in sticks and no carrots."
But Father Christiansen said it was unclear what the Palestinians had left to give up for negotiations, having already lost or surrendered so much.
The chaos in the Middle East that followed the U.S. invasion of Iraq in 2003 has meant that other crises made Palestinian sovereignty a low priority, according to Father Christiansen, but he urged U.S. Catholics to pay attention to the humanitarian plight and sovereignty challenge facing Palestinians. "Why should we care? Because they're human beings and because it's part of the Catholic belief in human dignity."
The church has had a tradition of watching out for vulnerable refugee populations, he said. A plan to have pressed reforms of Unrwa or to fold it into the U.N. High Commissioner's Office on Refugees, an entity it predates, "would be fine," Father Christiansen said. But the Trump administration's approach appears to be in line with an overarching rejection of any U.S. responsibility for global refugees. Refugees and migrants "seem to be targets of this administration, even people who have become citizens," he said.
And weakening Unrwa particularly is mistake, he said, because the agency helps "keep the peace in a very unstable area."