U.S. bishops applaud Supreme Court's decision in favor of Christian baker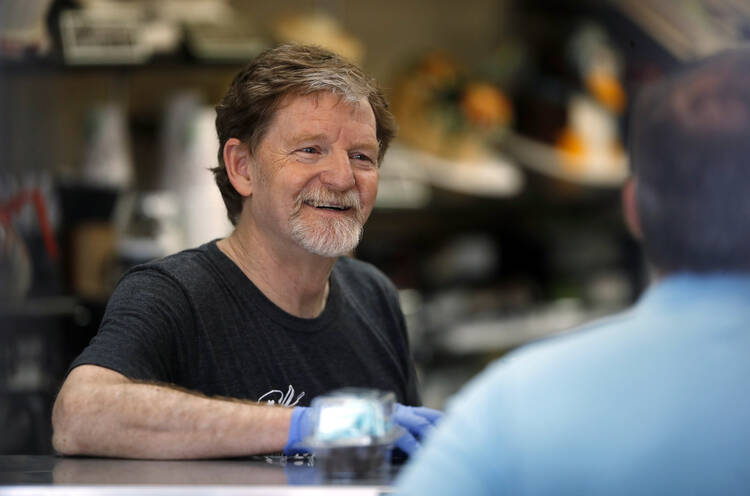 Baker Jack Phillips, owner of Masterpiece Cakeshop, manages his shop Monday, June 4, 2018, in Lakewood, Colo., after the U.S. Supreme Court ruled that he could refuse to make a wedding cake for a same-sex couple because of his religious beliefs did not violate Colorado's anti-discrimination law. (AP Photo/David Zalubowski)
Yesterday the Supreme Court ruled 7-to-2 in favor of a Christian baker, Jack Phillips, who refused to make a wedding cake for a same-sex couple. The litigation began when the couple filed a discrimination complaint with the Colorado Civil Rights Commission. The commission ruled that the baker violated Colorado's law that prohibits public accommodations from discriminating against customers on the basis of sexual orientation. The Supreme Court declared that decision unconstitutional because members of the commission made public statements indicating an anti-religious bias.
At one point in the hearing a commissioner stated:
Freedom of religion and religion has been used to justify all kinds of discrimination throughout history, whether it be slavery, whether it be the holocaust, whether it be—I mean, we—we can list hundreds of situations where freedom of religion has been used to justify discrimination. And to me it is one of the most despicable pieces of rhetoric that people can use to—to use their religion to hurt others.
According to Justice Anthony M. Kennedy, who wrote the majority opinion, "[t]his sentiment is inappropriate for a Commission charged with the solemn responsibility of fair and neutral enforcement of Colorado's antidiscrimination law—a law that protects discrimination on the basis of religion as well as sexual orientation."
The chairman of the U.S. bishops' conference said the decision "confirms that people of faith should not suffer discrimination on account of their deeply held religious beliefs."
The court also took note that the commission issued several rulings in favor of bakers who conscientiously refused to make cakes with sentiments opposing same-sex marriage. The commission failed to adequately explain why it valued their version of "offensive" content more than it did that of Mr. Phillips. The court affirmed previous holdings that "religious and philosophical objections...do not allow business owners and other actors in the economy and in society to deny protected persons equal access to goods and services under a neutral and generally applicable public accommodations law" as long as the government itself does not engage in viewpoint discrimination.
The chairmen of three U.S. Conference of Catholic Bishops' committees said the decision "confirms that people of faith should not suffer discrimination on account of their deeply held religious beliefs, but instead should be respected by government officials." In a statement they said, "In a pluralistic society like ours, true tolerance allows people with different viewpoints to be free to live out their beliefs, even if those beliefs are unpopular with the government."
The court's decision is narrowly written; it is more an admonition to local authorities to be more circumspect in their language than it is a pronouncement of religious liberty. The majority opinion leaves open the possibility that Mr. Phillips could lose again if the case goes back to the Colorado Civil Rights Commission. In fact, Justice Elena Kagan, joined by Justice Stephen Breyer, wrote separately to demonstrate that a neutral commission would have ample grounds to find Mr. Phillips was not entitled to a dispensation from the law. Justices Samuel Alito, Neil Gorsuch and Clarence Thomas disagree and argue that the First Amendment precludes the state from forcing Mr. Phillips to make cakes in celebration of same-sex weddings.
The U.S.C.C.B. filed a friend-of-the court brief in support of the baker, joined by the Colorado Catholic Conference, Catholic Bar Association, Catholic Medical Association, National Association of Catholic Nurses-USA and National Catholic Bioethics Center.
After oral arguments were presented late last year in this case, three chairmen of U.S.C.C.B. committees issued a statement saying, "America has the ability to serve every person while making room for valid conscientious objection."
That statement along with the group's reaction to the court's final ruling was issued by Archbishop Joseph E. Kurtz of Louisville, Ky., chairman of the Committee for Religious Liberty; Philadelphia Archbishop Charles J. Chaput, chairman of the Committee on Laity, Marriage, Family Life and Youth; and Bishop James D. Conley of Lincoln, Neb., chairman of the Subcommittee for the Promotion and Defense of Marriage.
The committees' statement after oral arguments said it hoped the court would continue to "preserve the ability of people to live out their faith in daily life, regardless of their occupation," noting that artists "deserve to have the freedom to express ideas—or to decline to create certain messages—in accordance with their deeply held beliefs."
With reporting from Catholic News Service