Puerto Rico death toll could be 70 times higher than originally reported, study says
Update on Aug. 9 from the Associated Press: Puerto Rico has conceded that Hurricane Maria killed more than 1,400 people on the island last year and not just the 64 in the official death toll. The government acknowledged the higher death toll with no fanfare in a report submitted to Congress this week in which it detailed a $139 billion reconstruction plan for the island. That quiet acknowledgement was first reported Thursday by The New York Times.
Puerto Rican officials have admitted that more than 64 people likely died from the powerful storm that knocked out the power grid and caused widespread flooding that made many roads impassable. But a more exact number has been a matter of debate that the government has sought to end by commissioning an academic study due out in coming weeks.
When Hurricane Maria crashed into Puerto Rico last September, it produced $90 billion in damage, causing the worst blackout in U.S. history, and yet just 64 people lost their lives because of the storm, according to official estimates. But nearly a year after the storm, with hurricane season right around the corner and cleanup from last year still underway, a new study suggests that the actual number of people who died as a result of the category 4 storm may be 70 times as high, or close to 5,000 people. (See "Rising Death Estimates," at the end of this story, to learn how the toll has escalated since the hurricane.)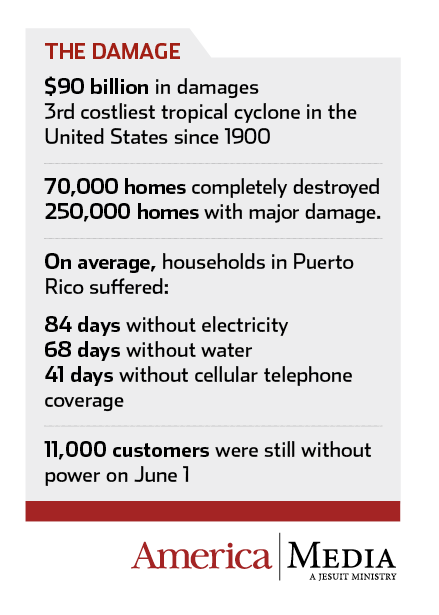 The reason, researchers reported in a study published Tuesday in The New England Journal of Medicine, is that indirect "deaths resulting from worsening of chronic conditions or from delayed medical treatments may not be captured on death certificates."
Maria caused the longest blackout in U.S. history, leaving the entire island of 3.3 million people without power, including those in hospitals and nursing homes who relied on respirators. Researchers surveyed 3,299 households earlier this year and used the findings to extrapolate to the whole island. They found that 31 percent reported disruptions in medical services, and more than 14 percent said they were unable to access medications.
4,645 more people died in the three months after Maria compared with the same period in 2016.
They calculated 4,645 more people died in the three months after Maria compared with the same period in 2016. One of the researchers, Rafael Irizarry of Harvard University, told the Associated Press that the estimate is uncertain because of its limited size, but that the study still provides valuable information, including how some people died.
Previous studies have found that the number of direct and indirect hurricane-related deaths in Puerto Rico is higher than the official toll, including a 2017 report that there were nearly 500 more deaths than usual on the island in September.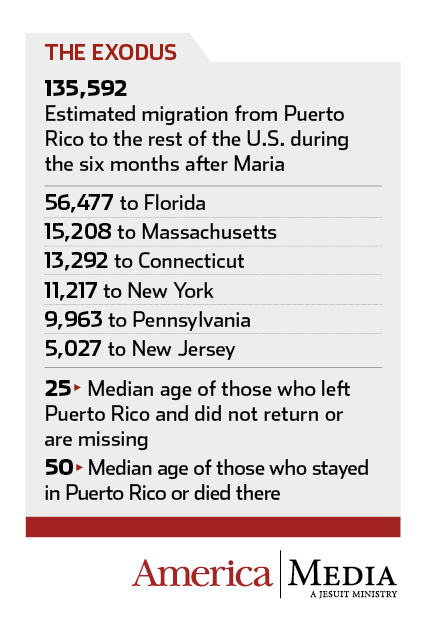 Jorge J. Ferrer, S.J., said in an email to America that he is "outraged, but not surprised" at the findings, adding that as a theologian and ethicist who works on the island, "Maria has been catastrophic for Puerto Rico. We still have many areas in which electricity has not been restored, 8 months after Maria."
Father Ferrer, the director of the Bioethics Institute at the Medical Sciences Campus of the University of Puerto Rico in San Juan, said that in addition to the devastation caused by the storm, Puerto Rico continues to suffer because of local corruption, a mass emigration of young people to the U.S. mainland and what he called "the larger problem of the present colonial status." He said he hoped the most recent study about deaths related to Hurricane Maria will "keep the topic of Puerto Rico's situation alive in the US mainland" and "that it keeps our local government honest."
Maria caused the longest blackout in U.S. history, leaving the entire island of 3.3 million people without power, including those in hospitals and nursing homes who relied on respirators.
Catholic Extension, a Chicago-based organization that has worked with Catholic dioceses and parishes on recovery efforts since the storm, said that they are unsurprised by the study's findings.
"Sadly, the new estimates seem very plausible based on what Catholic Extension has heard and personally witnessed," Joe Boland, the group's vice president for mission, told America in a statement. "During our visits to communities throughout the island since Hurricane Maria struck, we have seen firsthand how many people are living in partially destroyed houses, and how they are struggling to provide for themselves and their families. Those who are clearly the most vulnerable are the sick, the poor, the elderly, and the disabled."
Some experts have questioned the study.
"This estimate could be off by thousands. Easily," Donald Berry, a professor of biostatistics at the University of Texas MD Anderson Cancer Center, told the Associated Press in an email.
But Puerto Rico's government, which earlier this year said it had asked researchers from George Washington University to study whether the death count was off, issued a statement Tuesday saying it welcomed the research and would analyze it.
"As the world knows, the magnitude of this tragic disaster caused by Hurricane Maria resulted in many fatalities. We have always expected the number to be higher than what was previously reported," said Carlos Mercader, executive director of Puerto Rico's Federal Affairs Administration.
Based on school enrollment data and registrations with the U.S. Federal Emergency Management Agency, an estimated 135,592 residents left Puerto Rico for the mainland United States in a post-Maria exodus. Most of these, 56,477, relocated to Florida. With a median age of 25, the storm refugees are among the island's youngest people.
The latest losses continue a population decline that threatens the island's future. In 2000, before the worst effects of Puerto Rico's economic and fiscal crisis took hold, there were roughly equal numbers of Puerto Ricans living on the island and in the rest of the United States. But from 2006 to 2016, Puerto Rico lost 525,769 residents through migration (14 percent of its total population). The Center for Puerto Rican Studies at Hunter College in New York reports that if post-Maria patterns continue, Puerto Rico could lose another 470,335 residents from 2017 to 2019.
Material from the Associated Press was used in this report. Additional information was added to this report since it was first published online.
---
Rising death estimates
17:
President Trump's guess of how many people had died as a result of Hurricane Maria when he visited Puerto Rico in October. Mr. Trump contrasted Maria to "a real catastrophe like Katrina," the hurricane that hit New Orleans in 2005. The official death toll from that storm is 1,833.  
64:
The official death toll for more than eight months after the hurricane hit Puerto Rico.
499:
From a CNN survey of 112 funeral homes, covering Sept. 20-Oct. 19.
1,052:
From a New York Times analysis of daily mortality data from Puerto Rico's vital statistics bureau, covering Sept. 20-Dec. 31, 2017, compared with the same period in 2016. The Times reported that deaths from sepsis, a complication of severe infection, jumped by almost 50 percent (along with increases of more than 40 percent for deaths from pneumonia and respiratory diseases). As the Times reporters noted, "That change is notable and could be explained by delayed medical treatment or poor conditions in homes and hospitals."
1,397:
Estimate released by the Puerto Rico Health Department on June 1, based on the "excess deaths," or the increase in deaths in Puerto Rico from Sept.-Dec. 2017 to the same period in 2016. The Department of Health is still working with researchers to come up with an accurate count, which could be much higher.
4,645:
Estimate by researchers affiliated with Harvard's T. H. Chan School of Public Health, based on a survey of 3,299 households in Puerto Rico from Jan. 17-Feb. 24, 2018. The researchers "calculated a 62% increase in the mortality rate" from Sept. 20 through Dec. 31, resulting in a 95 percent certainty of "excess deaths" between 793 and 8,498, with 4,645 at the midpoint. They also write that their estimate "is likely to be conservative" in part because of their difficulty tracking the deaths of people who lived alone.
Infographic sources: "Puerto Rico Post-Maria," February 2018, Hunter College, City University of New York; "Mortality in Puerto Rico after Hurricane Maria," The New England Journal of Medicine, May 29, 2018; Census Bureau via CNN. Migration figures are based on school enrollment data and registrations with FEMA. June 1 estimate of residents without power from CBS News. Statistics compiled by Allyson Escobar and Sean Kolon.