50 years later, the Catonsville Nine inspire a new generation of Catholic activists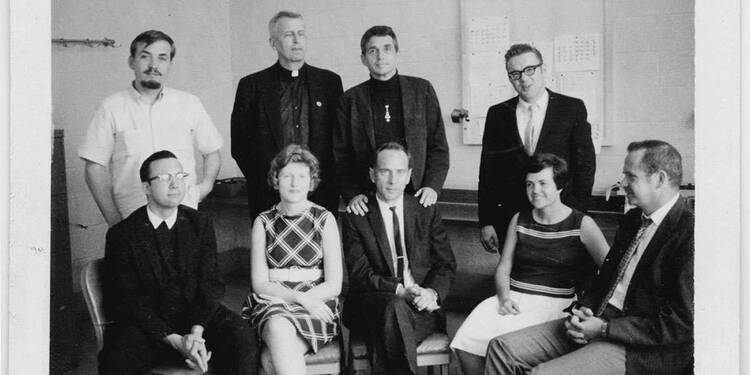 The Catonsville Nine in a police station after their arrest in 1968. Top (left to right): George Mische, Philip Berrigan, S.S.J., Daniel Berrigan, S.J., Tom Lewis. Bottom (left to right): David Darst, Mary Moylan, John Hogan, Marjorie Melville, Tom Melville. Photo courtesy of the Catonsville Nine Collection, Baltimore County Public Library, Catonsville Branch.
It is a rainy morning in New York, the dreary kind of day when nobody wants to be outside, but two young men are out in the drizzle having a cigarette anyway. They lean against the teal door frame of St. Joseph House, a Catholic Worker community in the East Village. The tall industrial windows on the building's brick front are tilted open, and the sounds of dishes clattering and a large crowd talking in a too-small room drift out into the otherwise sleepy street.
One of the young men, Eric Martin, greets me with a friendly smile and a hug. Mr. Martin, 33, lives in Charlottesville, Va., where he is involved in anti-racism activism and was recently arrested while protesting a white supremacist's presence in the University of Virginia library. Once a week, he comes to New York for classes at Fordham University, where he is a graduate student in theology, and while he is in town he always stops at the Catholic Worker soup kitchen. I am here to talk with him about an event that occurred 50 years ago this month: the Catonsville Nine action, where a group of Catholic clergy and lay protesters broke into a draft board office housed in a Knights of Columbus building and burned more than 300 Vietnam War draft files with homemade napalm on May 17, 1968.
He leads me inside and through the crowded dining room, weaving between plastic tables where people eat bread and soup from metal bowls and nurse mugs of coffee. Volunteers roam about with coffee pots, craning their necks to see who might want more. One of these volunteers is Megan Townsend, a recent Fordham University graduate and friend of Mr. Martin, who asked him about his recent arrest and his visit to their friends, the anti-nuke Kings Bay Plowshares activists, who are in prison in Georgia after entering and defacing a military base that houses nuclear-armed ballistic-missile submarines.
As Mr. Martin shares his stories, I think back to what he told me a week ago about the Catonsville Nine action. "It totally inspired me," said Mr. Martin. He previously lived in a Catholic Worker community in Washington, D.C. Mr. Martin said that reading the transcript of the Catonsville Nine trial—which became famous for a statement read by Daniel Berrigan, S.J., and for the moment when the judge, jury, prosecution and defendants all prayed an "Our Father" together—taught him that nonviolent protest could sometimes include the destruction of property.
"It was just so obvious that they were right. Burning paper when those papers meant you would be burning children was right," Mr. Martin said, paraphrasing Father Berrigan's statement. (Mr. Martin recently helped edit a volume of the letters between Daniel Berrigan and his brother, Philip Berrigan, one of the organizers of the Catonsville protest.)
"What I'm trying to do with my life...is balance my Catholic identity, my Christian identity, with the needs of the world," Mr. Martin said.
Mr. Martin said it was not Father Berrigan's statement that inspired him most but rather something protestor Mary Moylan said at the trial: "That you act on what you say you believe: That is what it means to be a Christian."
"What I'm trying to do with my life...is balance my Catholic identity, my Christian identity, with the needs of the world," Mr. Martin said.
Ms. Townsend, 22, also views justice issues through the lens of her faith. She has read Mr. Martin's edition of the Berrigan letters and draws inspiration for her social justice work from the Berrigans and the Catonsville Nine.
"The ideas of civil disobedience and collective resistance against something as massive as nuclear warfare or the American war industry can seem futile," Ms. Townsend said. "But in reading about the work of individuals and their ability to organize and inspire larger amounts of people, I know that I have felt empowered to try. An action like what happened at Catonsville required so much courage and a real conviction to putting life and peace above one's personal well-being."
Ms. Townsend said she often hears stories about the Berrigans around the table at the Catholic Worker, and that she hopes to emulate them: "Their commitment to nonviolence and continual resistance to nuclear war and the way that it wove through every day and element of their lives is still inspiring to me. It is difficult for me to reflect on all of the sacrifices I need to make and all of the speaking up I need to do in order to embody that same kind of resistance."
Mr. Martin and Ms. Townsend are among a new generation of young Catholics involved in nonviolent social justice work, sometimes involving acts of civil disobedience. They draw their inspiration in part from the Catonsville Nine, who were all—with the exception of the Berrigan brothers—in their 20s and 30s when they burned the draft files.
The Catonsville Nine action and its highly-publicized trial contributed to thousands of young Catholic men registering as conscientious objectors to the war, according to Jim Forest, then a member of the Catholic Peace Fellowship, which published pamphlets on the Nine and booklets on how to become a conscientious objector.
"People who ordinarily wouldn't get in trouble were choosing to be in trouble. And I think maybe, this is just a guess, it was a significant factor for a lot of young Catholics saying, 'I am not going to go to this war. I'm not gonna do it,'" Mr. Forest said.
Elizabeth McAlister, a religious sister at the time of the action who was close with several of the Catonsville Nine and later married Philip Berrigan, recalled how during the trial, more than 50 men burned their draft cards in public. Around the same time, a wave of similar protests took place at more than 300 draft board offices across the country.
"It became difficult for the military to use the draft. The draft board actions were a model for the 50 or so Plowshares actions that have challenged the nuclear weapons buildup since 1980," Ms. McAlister wrote in an email from Camden County, Ga., where she is incarcerated for the Kings Bay Plowshares action.
Ms. McAlister hopes that 50 years after the Catonsville Nine action, young people might still be inspired by it.
"The lessons I'd want all—young and old and in between—to take from the Catonsville Nine is that our government acts in our name. We are, all of us, responsible for naming and opposing its conduct when it is criminal," Ms. McAlister wrote to me with help from fellow Kings Bay protesters Martha Hennessy, the granddaughter of Dorothy Day, and Clare Grady.
The Catonsville Nine action and its highly-publicized trial contributed to thousands of young Catholic men registering as conscientious objectors to the Vietnam war.
Two young Catholics who have taken this lesson to heart are Daniel Flynn and Anne Feczko, both 33. Mr. Flynn works for the Catholic Mobilizing Network, an anti-death penalty organization, and Ms. Feczko is on the board of Journey of Hope, a group of family members of murder victims and death row exonerees who oppose the death penalty. The couple organizes the annual Fast and Vigil to Abolish the Death Penalty at the Supreme Court in Washington. They were arrested in 2012 in an act of civil disobedience commemorating the death of Gary Gilmore, the first person executed after capital punishment was reinstated in 1976.
The two cite the Catonsville action among their inspirations. "Reading about and witnessing Catholic activists engaged in public, prayerful and prophetic action certainly inspired us to participate in the 2012 Gilmore action," Mr. Flynn said.
Mr. Flynn said that he, like Ms. McAlister, hopes that other young Catholics will learn what happened in Catonsville: "Understanding that this type of witness is also a part of the fabric of our faith is critical. It's a profound example of faith in action...that is as relevant today as ever with the resurgence of social action among young folks."
Ms. McAlister wrote that she has been in touch with many young Catholics involved in justice work in groups like Cosecha, a group that organizes strikes and boycotts to extend Deferred Action for Childhood Arrivals protections; Witness Against Torture, which works to raise awareness about conditions in Guantanamo Bay; Catholic Worker communities focused on anti-racism work; and the Catholic Peace Fellowship, which now focuses on helping students withdraw from R.O.T.C. programs at Catholic universities.
Still, some like Eric Martin worry that young Catholics do not have enough role models of nonviolent social justice work and civil disobedience. After a white nationalist rally ended violently in Charlottesville last fall, clergy from a variety of denominations organized an interfaith march against white supremacy. When Mr. Martin found out that no Catholic clergy planned to participate, he attended as the only Catholic representative, wearing a stole that another protester loaned him.
"They have virtually no example of a Catholic engaging," Mr. Martin said of young Catholics in Charlottesville who might be interested in advocating against racism. "They only have examples of Catholics failing to engage."
Mr. Martin said he hopes that if Dorothy Day is canonized, it might make mainstream Catholics more aware of Catholic leaders who continue doing nonviolent justice work today.
Mr. Forest, the Catholic Peace Fellowship member who recently published a biography and memoir about his friend Father Berrigan, said he believes that young people today can take away the same lesson from the Catonsville Nine as young people did in 1968: the responsibility they have to refuse to participate in unjust actions and systems.
"I think the action dramatizes the responsibility of saying no," Mr. Forest said. "I think that may be the most important thing: We will not help this destruction of human life go forward. We will not assist in killing."