Inaction and opportunity on gun laws around the country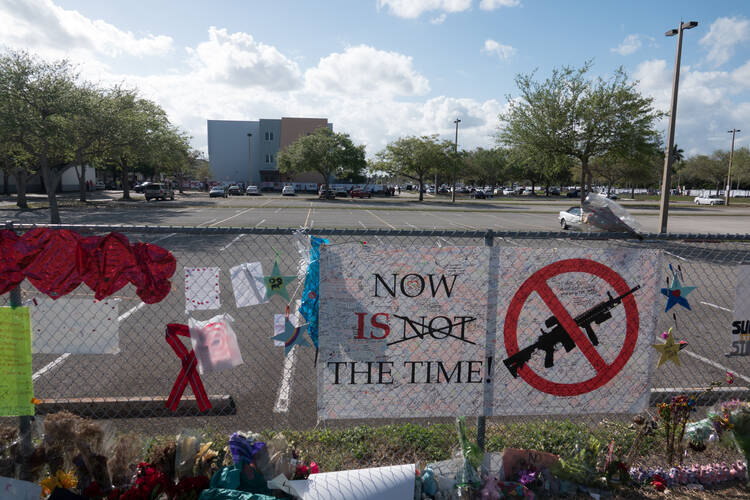 Messages hang on a fence as hundreds of students and parents arrive for campus orientation on Feb. 25 at Marjory Stoneman Douglas High School in Parkland, Fla. Attendance at the orientation was voluntary, but it was being held in anticipation of the school officially reopening on Feb. 28. (CNS photo/Angel Valentin, Reuters) 
The Ash Wednesday murder of 17 students and staff in Parkland, Fla., has once again mobilized advocates against gun violence to press for effective legislative responses to the seemingly endless series of mass murders that occur throughout the United States in churches, schools and entertainment venues.
No law can stop a determined individual from killing, but legislation can make it more difficult—or easier—to obtain and use weapons of mass murder. Gun control advocates focus on "A.B.C." initiatives: "A" for assault weapon and ammunition bans; "B" for background check enhancement; and "C" for closing the gun show and private sale loopholes that permit buyers to avoid existing federal checks.
Congressional (In)Action
Numerous bills have been introduced in the 115th Congress that would support the A.B.C. goals, but no action has been taken on them so far. The only gun legislation to pass this Congress was Public Law 115-8, which revoked a prohibition on the sale of guns to Social Security disability recipients who are mentally incapable of handling their finances. It took just one month to enact this law—suggesting that Congress and the president can act quickly when motivated.
The bill currently considered most likely to be enacted this year is the Fix NICS Act of 2017. This modest, bipartisan bill would strengthen the National Instant Criminal Background Check System. It includes compliance incentives for federal agencies—the Air Force failed to input a 2012 court-martial conviction that would have prevented a veteran from legally buying the assault rifle he used to kill 26 churchgoers in Sutherland Springs, Tex., in November—and authorizes funding for state grants through 2022.
No law can stop a determined individual from killing, but legislation can make it more difficult—or easier—to obtain and use weapons of mass murder.
Fix NICS does not mandate state compliance, however, and funding for it also must be included in each year's budget appropriations. President Trump's current budget proposal reduces spending for these programs, allegedly because many states do not qualify for grants due to their failure to comply with mental health reporting requirements or "relief from disability" procedures that permit restoration of gun ownership eligibility. The Fix NICS bill also does not currently include a provision to lengthen the default proceed rule that permits sales whenever the F.B.I. takes longer than three days to review a firearm purchase application.
Since the Parkland shooting, support for a federal age limit on purchases of what are commonly known as assault weapons has gained momentum, but the National Rifle Association opposes it. The only other gun bill that, until the Parkland shooting, had a chance of enactment, is the pro-gun Concealed Carry Reciprocity Act of 2017.
That proposal would grant anyone allowed to carry a concealed weapon in their home state the right to carry a concealed weapon in every state and on federal land. The House of Representatives passed it in 2017 (231 to 198), and its Senate companion bill has 40 co-sponsors.
The 2017 massacre of concertgoers in Las Vegas increased awareness of bump stock or bump fire devices designed to permit semi-automatic rifles, which require a trigger pull for each round, to fire multiple rounds with just one trigger pull like an automatic weapon. President Trump ordered regulatory action to ban the devices, but the proposed rule has not been finalized and it is uncertain whether such regulation is permissible under current law. Several bills introduced in Congress would change that law, but, to date, no action has been taken.
Anti-gun activists are eager to repeal the Protection of Lawful Commerce in Arms Act, which was enacted in 2005 and prohibits most civil lawsuits against firearm manufacturers and sellers and may prevent Sandy Hook families from holding the manufacturers, distributors and sellers of the weapons used to kill their loved ones accountable.
State Action
State gun laws vary greatly and mirror the values of their local voters. After the Sandy Hook killings, New York and Connecticut passed strict assault weapon and high-capacity ammunition bans, strengthened state background checks and allocated funding for mental health treatment and school safety programs. Pro-gun states, such as Arizona, have few restrictions. State laws, of course, do not stop illegal activity, including the transportation of assault weapons across state lines. Nevertheless, statistics show that states with the strictest gun laws have fewer gun deaths.
Voter Action
The Supreme Court held in a 5-to-4 vote that the Second Amendment protects the right of licensed individuals to keep loaded handguns in their homes, but it has never ruled that the Second Amendment protects the right to carry loaded weapons outside the home or to own high-capacity weapons; and it has rejected opportunities to rule on those issues.
That inaction means that for now the future of gun control in the hands of the voters.