A Catholic parish in Parkland preaches love the first Sunday after the massacre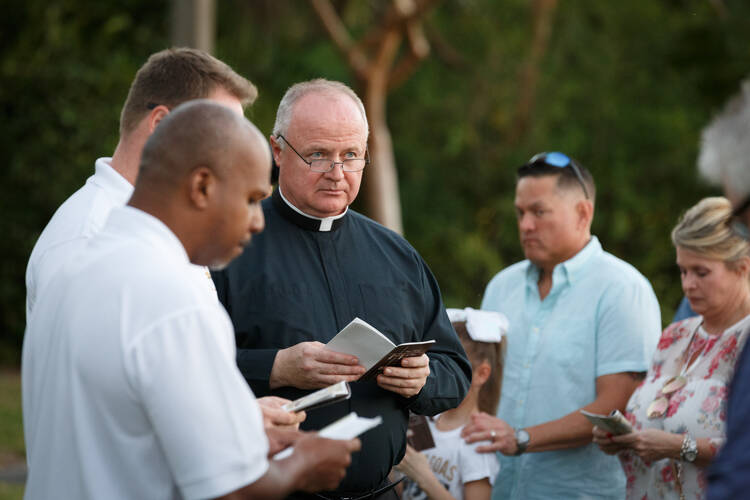 Father Ireneusz Ekiert, administrator of Mary Help of Christians Church in Parkland, Fla., leads parishioners during an outdoor Stations of the Cross service on Feb. 16 dedicated to the victims and survivors of the deadly mass shooting at nearby Marjory Stoneman Douglas High School. (CNS photo/Tom Tracy)
What do you say to your congregation after 17 people in their community have been slaughtered in one of the deadliest school shootings in U.S. history?
When one of the victims attended your church's preschool, and her family has belonged to the parish for more than a decade.
At a time when politics are so polarized that it is barely possible to have a conversation about gun control, let alone take legislative action.
When prayers and condolences have been extended to families of shooting victims so often that the sentiment feels pointless.
This is the challenge the Rev. Ireneusz Ekiert and his staff faced on Sunday at Mary Help of Christians, a parish of about 2,700 families in Parkland, Fla. On Feb. 14 at Marjory Stoneman Douglas High School, about a mile from the church, a 19-year-old former student allegedly shot and killed 14 students and three staff members. One of the victims was 14-year-old Gina Montalto, described by her family as an active participant in the church and a passionate member of the Stoneman Douglas color guard.
In the midst of the unimaginable, Father Ekiert is telling his parishioners to show and live love daily—not just in a time of grief and horror.
In the midst of the unimaginable, one pastor is telling his parishioners to show and live love daily—not just in a time of grief and horror.
"This is a call for all of us," he said at Sunday's 10:30 a.m. Mass on Feb. 18, where the Communion hymn was "On Eagle's Wings." "Let us pray that we will be willing to pick up that challenge and be there for each other."
The alleged shooter, Nikolas Cruz, had a troubled past. Adopted at a young age, Mr. Cruz was on the autism spectrum and diagnosed with attention deficit-hyperactivity disorder. He was expelled from Stoneman Douglas, and former classmates say he talked about shooting animals. He was taken in by a friend's family after his adoptive mother died in November; his adoptive father had died years ago.
The sheriff of Broward County said his office received about 20 requests for service for Mr. Cruz in the past few years, and the F.B.I. has admitted it did not adequately investigate a tip on Jan. 5 that he might have been planning a massacre. His social media profiles included pictures of him posing with knives and some of his guns, and a comment on YouTube read, "Im [sic] going to be a professional school shooter."
"Everybody knew that there was a problem. Everyone knew that there was something. And nobody cared," Father Ekiert said. "This is something we need to learn from this tragedy. It's not about pointing fingers. It's about making sure that we care. That everybody who is need knows that he or she is loved and lovable. That they're not trash to be thrown away. That they're a person who is important to all of us."
In his office after Mass, Father Ekiert said Catholics have to take the lead in showing everyday love. For his congregation, that will mean ongoing support for the Montalto family and the Marjory Stoneman Douglas community—especially after the dead have been laid to rest and the international media spotlight fades.
"When the excitement settles down, everybody leaves and there is nothing for people like them [who are grieving]," Father Ekiert said, "that's when the parish and the community comes, to make sure that they know they're not alone."
But, he emphasized, the lesson learned from the shooting is to be proactive in showing love—not to wait to respond to a catastrophe.
"This is not something new," he said. "Everything depends on our personal relationship with God, but it's the community of the church that nourishes and supports that relationship. So we cannot really be saved without one another."
The shooting happened Ash Wednesday. For Lent, Father Ekiert is encouraging his parishioners to commit one act of kindness per day.
Meanwhile, student survivors from the high school are organizing a nationwide rally to push national lawmakers to take legislative action on gun control and mental health. The "March for Our Lives" is scheduled for March 24 in Washington, D.C.
On Feb. 20, 100 Stoneman Douglas High School students traveled 400 miles to Florida's capital to urge lawmakers to act to prevent a repeat of the massacre at their school. The students plan to hold a rally in Tallahassee on Feb. 21 to pressure the state's Republican-controlled legislature to consider a sweeping package of gun control laws, something some G.O.P. lawmakers said on Feb. 19 they would consider.
State Senator Bill Galvano, a Republican and the incoming Florida Senate president, said the state Senate was preparing a package that would include raising the age to purchase any firearm to 21, creating a waiting period for purchasing any type of firearm, banning bump stocks that can allow semi-automatic guns to spray bullets quickly and creating gun-violence restraining orders.
The Senate is also considering a spending boost on mental health programs for schools and giving law enforcement greater power to involuntarily hold someone considered a danger to themselves. The body will also look at a proposal to deputize a teacher or someone else at school, so they are authorized to carry a gun.
With reporting from the Associated Press.