After 33,000 migrant deaths in 24 years, will 'Fortress Europe' keep building walls?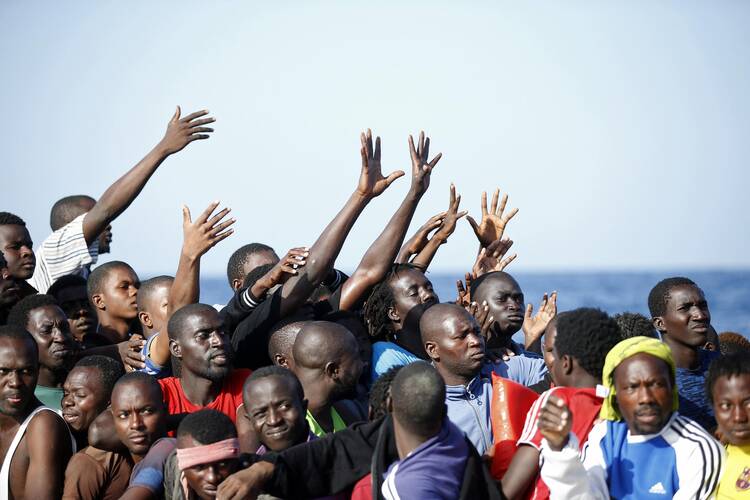 Migrants reach out from a boat during rescue operations Oct. 20 in the Mediterranean Sea. The number of migrants and refugees who have died while making the treacherous journey across the Mediterranean is expected to reach an all-time high in 2016, according to the U.N. Refugee Agency. (CNS photo/Italian Red Cross via EPA) 
On Friday morning, a German newspaper, Der Tagesspiegel, published the names and details of about 33,293 people who died trying to reach refuge in Europe.
The information was published in print: 48 pages of tiny type starkly headlined "The List."
A German newspaper has published the names of 33,000 people who have died trying to reach Europe. pic.twitter.com/Y1JFfGBVV2

— Catrin Nye (@CatrinNye) November 9, 2017
The first entry is from 1993, when Kimpua Nsimba, a 24-year-old man from Zaire (now the Democratic Republic of Congo), was found hanged in the bathroom of a detention center in Great Britain. Mr. Nsimba had been detained while seeking asylum, but no one spoke to him during his four-day detention because the center had no Lingala interpreter.
His death was determined to be a suicide.
Many of those identified were young men, age 20 to 25 years old. They came from a variety of places, and readers can trace the eruption of conflicts over the years through spikes in specific countries of origin. In 1999, for example, 108 people died fleeing Kosovo during the war there.
The first entry is from 1993, when a 24-year-old man from Zaire was found hanged in the bathroom of a detention center in Great Britain.
The list also revealed less well-known crises. For example, 160 people from Senegal drowned in March 2007. They fled a region where one in 12 people had swine fever and where a bloody conflict had been waged between the government and a separatist group for 25 years.
My Germanophone coworkers (I don't speak German) sat together translating entries from the list aloud as I listened. They described a 30-year-old blind man from Mali, struck by lightning riding atop a train to France. They told me about 13 unnamed women and seven children who died when 200 people fell overboard from a ship carrying 500 refugees.
Then there was Veronique, from the Congo, who drowned between Mali and Spain; her 5-year-old son Samuel's body was recovered two weeks later.
There were Talat Abdulhamid, 36, and Hardi Ghafour, 29, who fled Iraq and died of frostbite after they walked 48 hours through the mountains between Turkey and Bulgaria.
The list was published on the anniversary of the fall of the Berlin Wall.
This year, there was a man—his name, age and origin unknown—who was shot aboard a refugee boat, which was later rescued. He was traveling from Libya to Italy. It is possible he was killed by one of the anti-refugee militias monitoring that route.
At first, my colleagues and I tried to make sense of the stories: He must have been fleeing this war; she must have been escaping that epidemic. Then we realized some of the rows of six-point font denoted hundreds of deaths in 2017.
The Tagesspiegel, in a strong editorial statement, described those listed as "registered asylum-seekers, refugees and migrants, who died as a result of the restrictive policies of Fortress Europe."
"Fortress Europe" was a World War II-era name for Nazi-occupied territory. It has been re-claimed today as a positive term by those who favor stringent immigration policies in Europe and as a derogatory term by those who oppose such policies.
The list was published on the anniversary of the fall of the Berlin Wall, a nod to the walls keeping out migrants and refugees that Pope Francis often says need to be torn down.