My father was pulled over by I.C.E. agents the same day Charlottesville happened.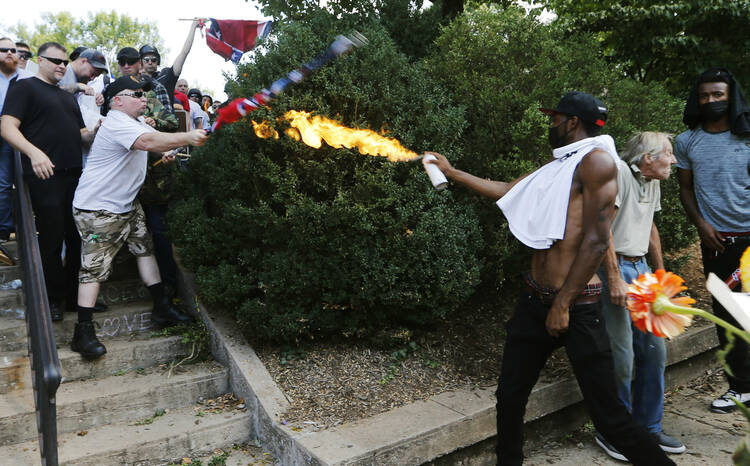 A counter demonstrator uses a lighted spray can against a white nationalist demonstrator at the entrance to Lee Park in Charlottesville, Va., Saturday, Aug. 12, 2017. Gov. Terry McAuliffe declared a state of emergency and police dressed in riot gear ordered people to disperse after chaotic violent clashes between white nationalists and counter protestors. (AP Photo/Steve Helber)
"Your father got pulled over by I.C.E. agents," my mother tells me as we wait on the train platform.
My stomach drops. Every day, my worry for my father, a black Dominican immigrant, grows; every day, in 2017, I am more and more afraid for his life.
As a truck driver he spends five to six days a week away from home. He sleeps, eats and, more often than not, bathes in his truck.
He drives mostly throughout the Northeast—Pennsylvania, Connecticut, Massachusetts are his usual destinations. Sometimes, he will travel as far south as Virginia.
Last week, my father drove near the Canadian border in Rouses Point, N.Y. The road was small, composed of two lanes, and in the middle of it, there were over 15 I.C.E. agents, all armed with rifles. "Do you have people in the trailer of your truck?" agents asked when they pulled him over.
They searched inside his truck, even climbing on top of the trailer. All the while, they hurled questions at him: "Do you have a U.S. passport?" "How long have you been a U.S. citizen?"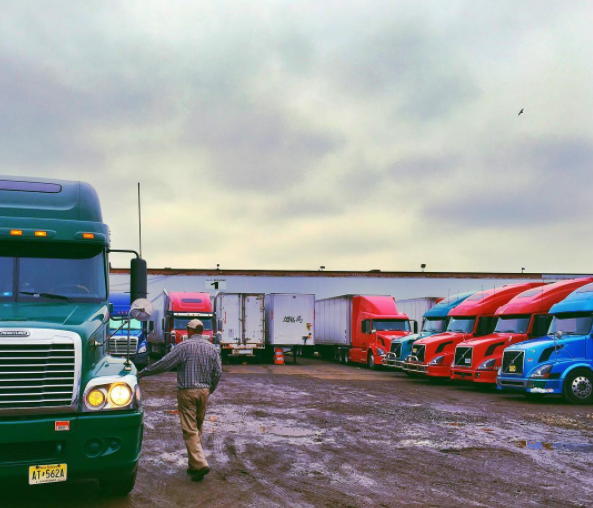 My father tells me he is fine. As a black immigrant, he has dealt with worse. "It was just humiliating. They treated me as if I didn't have a right to be here," he tells me. "When the search was over, they told me I was free to go—as if my freedom was somehow up for debate."
The same day I learn of this news, white supremacists are marching in Charlottesville.
There are white men carrying Confederate flags. There are no cloaks, no hoods as these men march through Virginia streets. They do not shield their faces. They do not shield their hate.
There are no cloaks, no hoods as these men march through Virginia streets.
There are swastikas sewn onto shirts, on armbands, painted onto signs. There are groups describing themselves as "the face of American fascism," groups that promote racial segregation. There are white men carrying Tiki torches, chanting phrases like "Jews will not replace us!" Three of them chase, surround and assault a black man, 21-year-old DeAndre Harris, in a parking garage.
Following the events in Charlottesville, state and city leaders across the United States have called for the removal of Confederate monuments. In response, Mr. Trump tweeted, "Sad to see the history and culture of our great country being ripped apart with the removal of our beautiful statues and monuments. You...can't change history, but you can learn from it."
It is easy for Mr. Trump to pick and choose which parts of our history he remembers. What our president forgets is that these statues and these marches by white supremacists symbolize another integral part of American history and culture: its oppression of black and brown bodies.
Michael German, a fellow at the Brennan Center for Justice, served as an F.B.I. agent for over 16 years. During that time he went undercover with white extremist groups. "White supremacy has always been part of our governing culture," Mr. German told the hosts of the podcast "In the Thick." From the murders of Native Americans to the enslavement of Africans to our current mass incarceration system, the violence and oppression of people of color has been a part of our history since America's birth.
Mr. Trump, however, affords only one group, white men, the benefit of the doubt.
Mr. German argues that despite the sensationalization of radical Islamic terrorism we see in mainstream media, white supremacist groups commit more violent crimes a year than any other extremist group in the United States. According to data from the United States Extremist Crime Database, attacks by Islamic extremists have resulted in more overall deaths, but "far-right extremists are in fact more dangerous than jihadists because they are responsible for nearly four times as many events."
Mr. Trump, however, affords only one group, white men, the benefit of the doubt. This is what entrenched white supremacy in our country looks like. Oppression is having your existence denied daily. It is being seen as a threat by law enforcement when you peacefully assemble and protest in city streets. Oppression is when marginalized groups are beaten down daily and expected to forgive, to love those who denounce their lives and experiences. It is humiliation at the hands of agents appointed by this government to target immigrants. It is arresting and charging a black woman, 22-year-old Takiya Thompson, with a felony charge for taking part in the removal of a Confederate statue in North Carolina while Mr. Harris' assaulters are still free.
I am tired of worrying about my father, my boyfriend, my friends. This land tells us that black and brown bodies are less than, dangerous, worthless. I am tired of listening to people try to justify ideologies promoted by individuals who want to subjugate the culture and people I know. I am tired of people demanding that black and brown citizens give them the answers, the outline for fixing America's ingrained oppression.
I am tired of seeing my people break. I am tired of worrying, fearing for our lives.
I am tired.