Americans aren't moving around as much as they used to—and it's worrying some economists
Americans are staying put. The Census Bureau reports that only 11.2 percent of the United States population moved between 2015 and 2016. That is still a high number compared with most of Europe, but it was the lowest rate since the government began tracking migration in 1948. In that year, during a postwar baby boom and an expansion of housing into the suburbs, the annual moving rate was 20.2 percent.
The idea that we are in a period of residential stability may seem counterintuitive, given the economic turmoil of the past decade. But many economists are concerned about the low moving rate. For most of U.S. history, geographic mobility was a grease that helped economic growth and innovation. Unemployed or underpaid workers frequently moved to areas where there was a high demand for labor and higher wages (which also helped reduce the labor supply, and thus raise wages, in the places they left behind).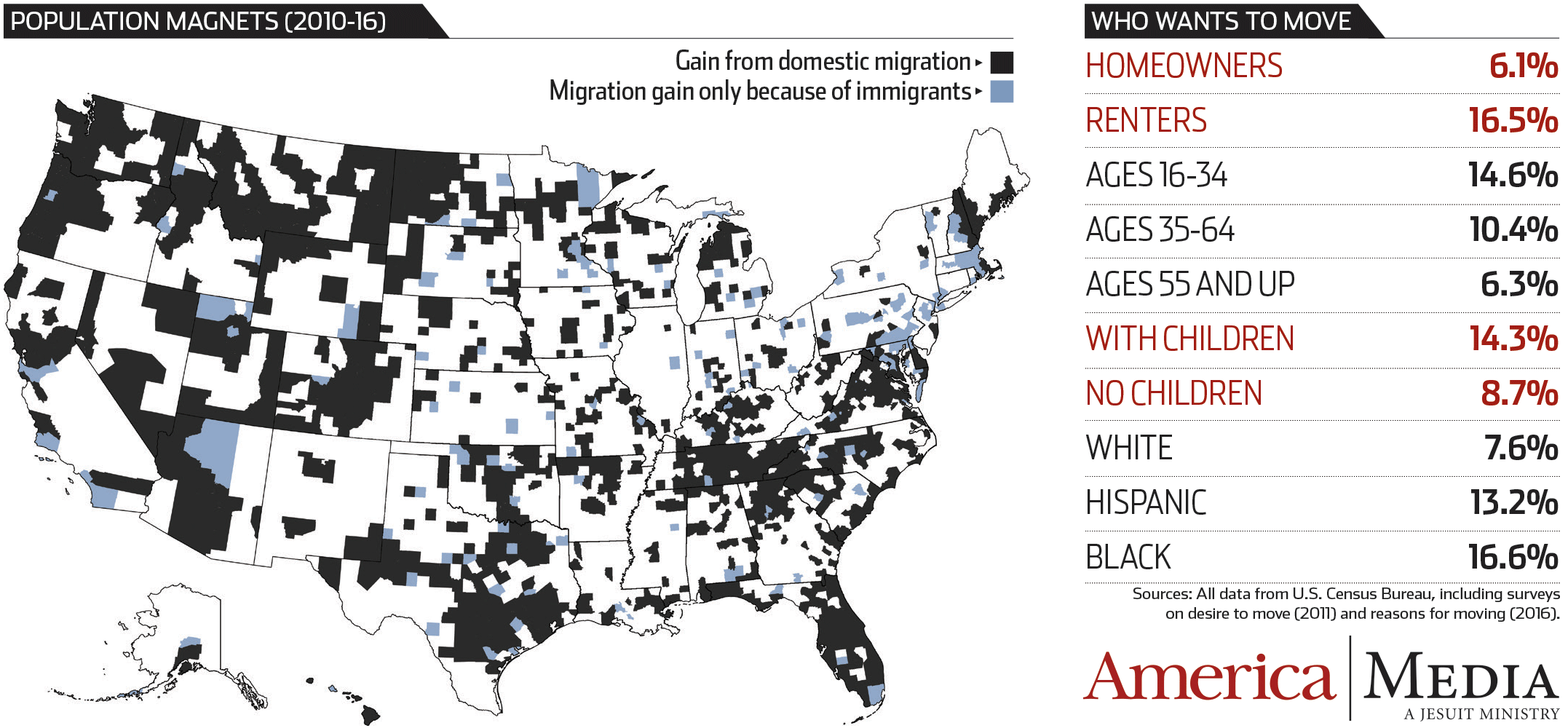 That seems to be happening far less now, in part because relatively high-wage areas also have very high housing costs. In our uneven economic recovery, a small set of highly skilled workers migrate to, and stay in, a handful of thriving metropolitan areas. Unable to afford a long-distance move, others remain in places with few job opportunities and declining populations. The economist Richard Florida writes that workers in the United States are increasingly divided into three categories: "the mobile, who derive the benefits of economic dynamism; the stuck, who are trapped in place and unable to move; and the rooted, who are strongly embedded in their communities and choose not to."
The low moving rate belies some major changes in population distribution. From 2010 to 2016, almost two-thirds of the 3,142 counties (or their equivalents) in the United States suffered a net loss in domestic migration, with population magnets in states like Arizona, Florida, Nevada and Texas pulling people from the rest of the United States. In 166 counties, enough international immigrants arrived to offset the loss of U.S.-born residents and keep the population growing. These included Miami-Dade, counties in California and scattered across the Midwest and in counties and cities in the Northeast, including New York and Boston.
Large swaths of the Appalachian and Great Lakes regions, plus rural parts of almost every state, are steadily losing residents without attracting significant numbers of immigrants.
But large swaths of the Appalachian and Great Lakes regions, plus rural parts of almost every state, are steadily losing residents without attracting significant numbers of immigrants. In more than 800 counties, not only are more people moving out than in, more people are dying than being born. These counties are concentrated in Rust Belt states like Ohio and Pennsylvania that almost uniformly swung toward the Republican candidate, Donald Trump, in the 2016 election.
Places with steady population losses face severe economic challenges, as the number of both skilled workers and potential customers dwindles. Alvin Chang, writing for the website Vox, points out that the lower moving rate may be especially bad news for small towns, which are seeing fewer "returnees"—that is, people who leave town to get an education or travel during their young adulthood, then come back to raise families and perhaps start businesses. These days, he writes, "fewer people are coming back with the human capital these towns so desperately need."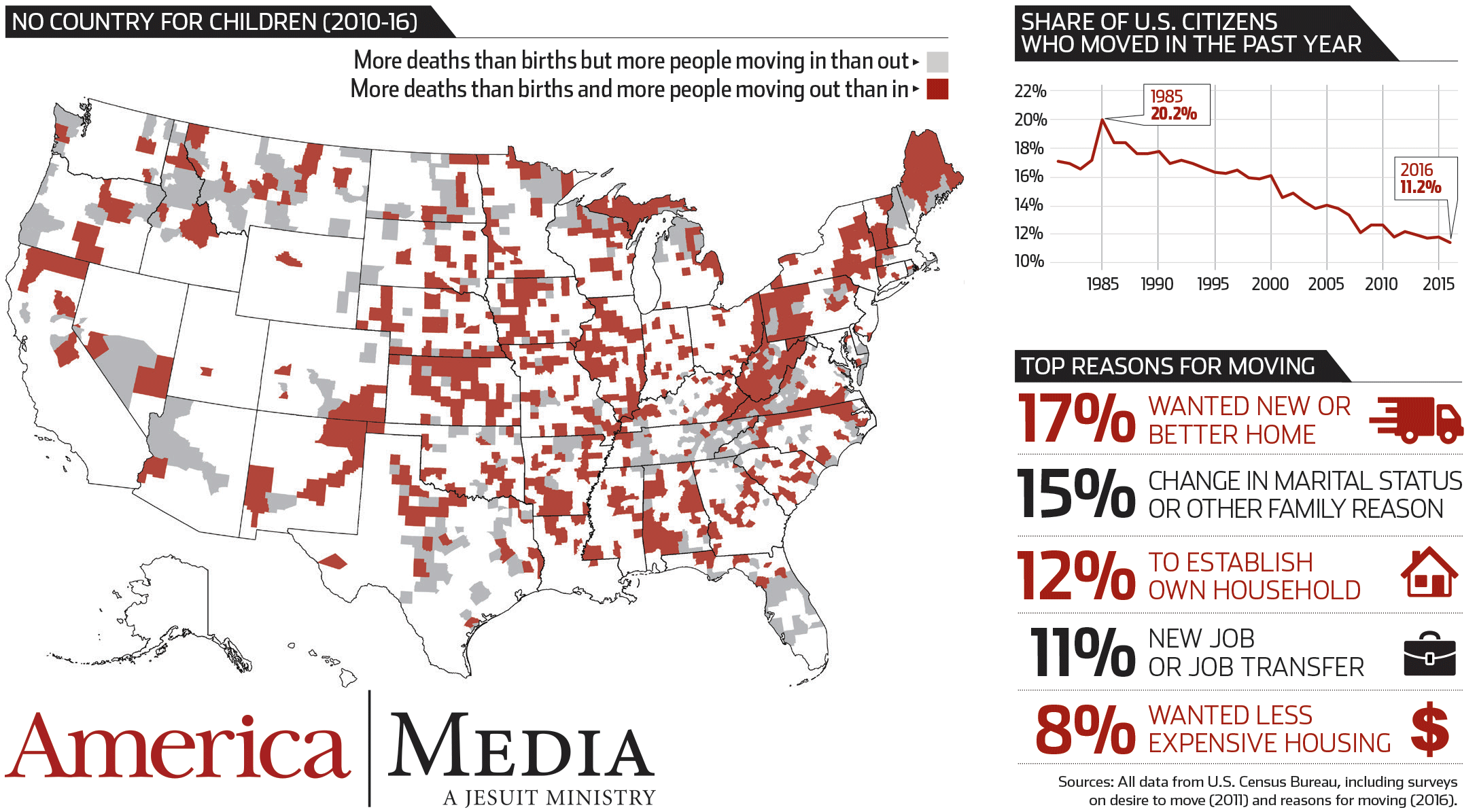 The returnees (and the "rooted," who never leave their hometowns in the first place) implicitly raise a moral question: Do high-skilled workers have an obligation to the communities that nurtured and educated them? There is also a moral dimension to the idea that people should continually move to where there are more job opportunities: Is it wrong to force mobility on people who wish to stay rooted in communities they love? Are small towns to be another casualty of our throwaway culture?
In "Laudato Si'," Pope Francis writes about protecting "our common home." Most discussion of the encyclical has centered on the health of our planet, but there is also a clear theme of our obligations on a smaller scale. The pope celebrates "local individuals" with "a strong sense of community, a readiness to protect others, a spirit of creativity and a deep love for the land" (No. 179).
The Catholic principle of subsidiarity, that government "should not replace or destroy small communities and individual initiative," is also strengthened when individuals give back to the communities where they were raised. But "dying counties" are now experiencing crises, including a rising suicide rate and opioid addiction, that they may not have the resources to deal with, necessitating more intervention from federal and state governments.
Mr. Chang cites researchers who found that "returnees" to hometowns almost always had family members still there and "felt the need to give back to their community with the skills and experiences they accrued elsewhere." Perhaps the problem with the moving rate is not that it is low but that it is overwhelmingly in one direction.