Catholic sisters played a role in two White House signing ceremonies within the past decade that, taken together, offer a contrasting glimpse into how faith operates in the public square today. In one instance, the result may be that the church is free to operate health care centers with less federal oversight; in the other, the result was that millions of Americans gained access to health insurance, some for the first time in their lives.
Last week, President Trump signed an executive order that he said would "defend the freedom of religion and speech in America." In reality, it simply directs the I.R.S. to continue its almost complete non-enforcement of a 1950s-era law that prohibits churches and other houses of worship from engaging in partisan politics lest they risk their tax-exempt status.
Many political conservatives, including individuals with the Heritage Foundation and the Alliance Defending Freedom, have said the executive order does not go far enough, though some Catholic leaders have said that, nonetheless, it is a welcome affirmation of religious freedom.
For Mr. Trump, the one-time reality television star, the signing ceremony was a success. He got his photo taken with a cross section of American religious leaders, including Cardinal Donald Wuerl and Cardinal Daniel DiNardo. And he bantered with two members of the Little Sisters of the Poor, the religious order that has emerged as the leader of resistance to the provisions of the Affordable Care Act requiring employers to offer insurance plans covering contraception.As Mr. Trump wrapped up his remarks, the smiling sisters joined Cardinal Wuerl—who earlier in the ceremony offered a lengthy prayer thanking God for religious freedom—in a gaggle of religious leaders standing behind Mr. Trump as he signed the order.
Last Thursday's events bring to mind a signing ceremony in the East Room of the White House seven years ago, when President Barack Obama signed into law the Affordable Care Act. The ceremony came after months of heated debate and division, including full-throated opposition from the U.S. Conference of Catholic Bishops.
Last Thursday's events bring to mind a signing ceremony in the East Room of the White House seven years ago, when President Barack Obama signed into law the Affordable Care Act.
In a 2009 letter to lawmakers from the heads of three U.S.C.C.B. committees, bishops promised to "oppose the health care bill vigorously" if certain provisions related to abortion and contraception were not met. And oppose it they did, distributing homily tips for priests and taking to the pages of the Washington Post to make their objections known.
But Sister Carol Keehan, D.C., representing hundreds of Catholic hospitals as head of the Catholic Health Association, nonetheless supported the bill. In statements and speeches, she reminded policy makers that the Catholic Church had long advocated for expanding access to health care, and about a month before the final vote on the bill, she urged lawmakers "to find common ground toward creating a stronger, more equitable health care system." As part of her advocacy, she cited the church's pro-life teaching and urged the administration to include provisions acceptable to Catholic health care entities. (Mr. Obama would go on to sign an executive order preserving the ban on using federal money to pay for abortions under the new health care law.)
When the bill passed, Sister Keehan celebrated. She was not in the room with Mr. Obama when he signed it into law, as she was traveling abroad. But following the ceremony, Mr. Obama distributed the pens he used to sign the bill into law, keeping one for himself, designating two to be saved for the archives, and giving 18 others to political figures. The remaining pen, and the only one to go to someone not involved in partisan politics, went to Sister Keehan.
About 18 months later, when the Department of Health and Human Services issued guidelines on how to implement provisions of the Affordable Care Act, entities representing a vast patchwork of U.S. Catholicism, ranging from the University of Notre Dame to the Diocese of Biloxi, went to court with the Obama administration over the law's contraception mandate, which required employers to offer insurance plans offering free contraception. Sister Keehan, while still supporting the law's overarching goal of insuring as many Americans as possible, urged the administration to back down and to allow Catholic-affiliated entities to be exempt from the mandate. (This is a fix the Supreme Court appears to have ordered last summer.)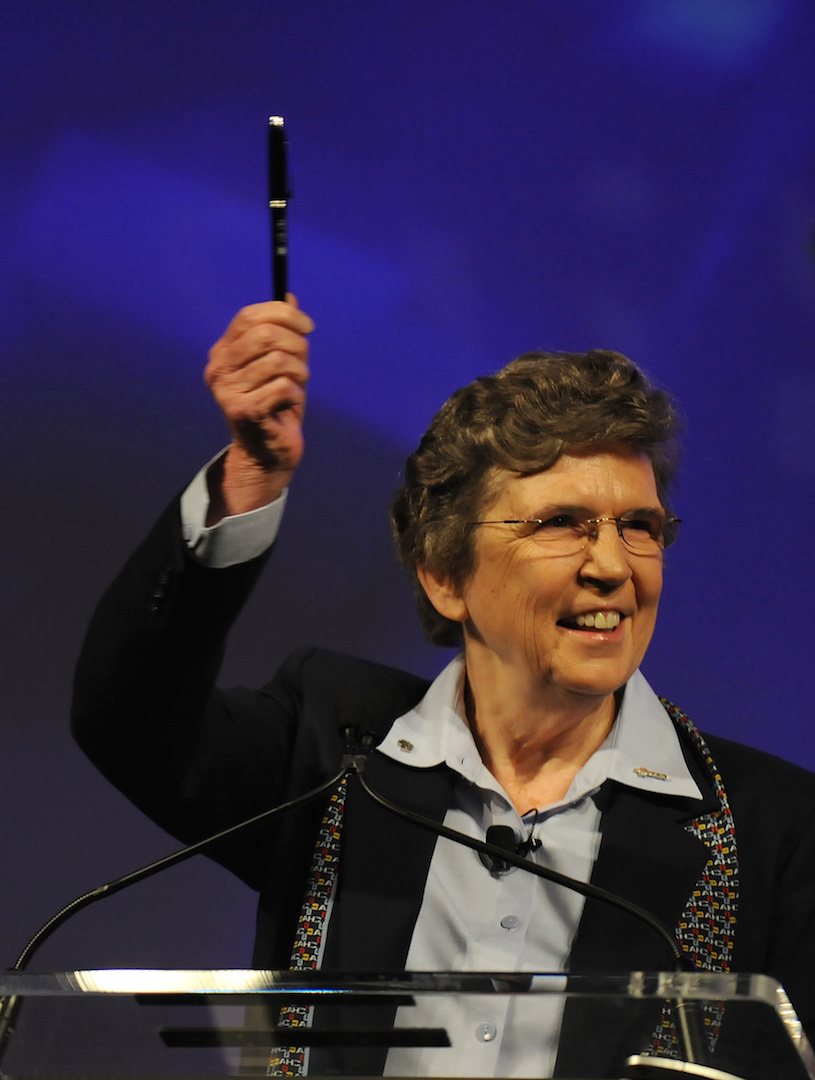 Critics use these lawsuits to argue that Sister Keehan was wrong to put her imprimatur on Obamacare, thus ensuring that the bill became law. If that sounds hyperbolic, consider that a few years later, in 2015, Mr. Obama said in a speech to the Catholic Health Association that he could not have passed the Affordable Care Act without Sister Keehan's support. "Well, I don't know whether this is appropriate, but I just told Sister Carol I love her," he joked. Turning more serious, he said, "We would not have gotten the Affordable Care Act done had it not been for her." Many critics of the law likely cheered on the Little Sisters as they celebrated with Mr. Trump last week.
The two scenes are indicative of the battle playing out within Catholic circles today. In one, a Catholic sister threw herself into the messiness of health care reform in order to help insure millions of Americans who otherwise might not have access to essential medical care. In the process, the church ended up a bit bruised. But through the legal system, the bruises began to fade.
A Catholic sister threw herself into the messiness of health care reform in order to help insure millions of Americans. 
Sister Keehan took a lot of flak for her stance, so it is worth mentioning that her actions seemed to be vindicated by a pope who shares a similar outlook. In 2013, a few years after Obamacare became law, Pope Francis would write that he prefers a church that is "bruised, hurting and dirty because it has been out on the streets, rather than a Church which is unhealthy from being confined and from clinging to its own security." When it comes to health care advocacy, there are few Catholic leaders as "out on the streets" as Sister Keehan.
Fast forward to last week and we see a group of Catholic sisters, who by all accounts are veritable saints for their work with the poor and indigent, wanting, in essence, to be left alone. Their supporters have argued for years that they simply want the freedom to run their nursing homes without government interference. Even some Obamacare supporters acknowledged that the administration failed when it defined religion too narrowly, setting off the messy court battles. At the White House, Mr. Trump pointed to the Sisters and told the crowd, "Congratulations, they sort of just won a lawsuit." He promised the Sisters, "your long ordeal will soon be over," suggesting that new guidelines from the Department of Health and Human Services would free them and other Catholic entities from the contraception mandate. Whether their legal battle has truly come to an end remains to be seen, though H.H.S. Secretary Tom Price released a statement just after the signing ceremony saying new guidelines would be coming "soon."
Just hours after the religious liberty signing ceremony, House Republicans voted to repeal parts of the Affordable Care Act, which could result in tens of millions of Americans losing access to health insurance. Mr. Trump, in fact, referenced the vote during the ceremony as Cardinal Wuerl and the Little Sisters looked on. "Today is a very big day, we have a big vote coming up in a little while," he said, adding that he expected "a wonderful vote" that would "take care of a lot of people, great, great people." (As it happens, Sister Keehan and the U.S. Conference of Catholic Bishops are now on the same page in opposing the American Health Care Act that passed the U.S. House and that Mr. Trump praised during last week's signing ceremony. They are pressuring the Senate not to support the bill in its current form.)
The impression from last week's signing ceremony was that of a church wanting to be left alone to serve the poor and vulnerable, to do its charity unencumbered by government interference.
The impression from last week's signing ceremony was that of a church wanting to be left alone to serve the poor and vulnerable.
Seven years ago, members of the church wrestled with deeply contentious societal challenges, opened themselves to bruising and helped pass legislation that brought society closer to the church's vision of healthcare for all.
Both victories were important to many Catholic leaders, but for very different reasons.
If the Catholic ethos in the coming years is one of wanting to be left alone, it is possible that there will be more little victories during the remaining three or seven years of the Trump administration and beyond. But it is possible that those victories could very well come at a price: namely, foregoing the ability to leverage the church's collective voice to help millions of Americans and others around the world by injecting much needed Catholic social teaching into public debates.