Macron-Le Pen runoff reveals fault lines in French Catholic revival
France's presidential runoff election seems almost designed to horrify any faithful Catholic. François Fillon, the conservative candidate who vaulted to an upset primary victory largely on the back of Catholic voters, was kept out of the runoff by a variety of scandals. The far-left Jean-Luc Mélenchon, despite a commitment to secularism bordering on the fanatical and his social liberalism, at least campaigned on social justice, welcoming migrants and a commitment to peace in foreign policy.
Meanwhile, there is no obvious Catholic choice between the remaining candidates. On the one hand, Emmanuel Macron, a centrist technocrat and one-time investment banker, promises to unleash the forces of the market and has an "anything goes" view of social issues. (Some Catholics might also blanch at the fact that his marriage started in adultery and that his current wife left behind a husband and three children.) And on the other hand, there is the notorious Marine Le Pen, who takes a hard line against immigration and in favor of secularism, and has even flip-flopped on her previous mild criticism of the country's reigning pro-abortion dogma.
There is considerable overlap between French conservatives and French Catholics.
That being said, Ms. Le Pen has a persistent appeal for many French Catholics, for a straightforward reason: There is considerable overlap between French conservatives and French Catholics. Few neutral observers will now deny that immigration from predominantly Muslim countries has put stress on the country and contributed to security issues or that the European Union and the euro face serious problems. Concerns like these are front and center for many conservatives who happen to be Catholic. They might find Ms. Le Pen distasteful, and she might not have been their first choice, but they might pick her over a man who seems to embody everything they see as having gone wrong with the country over the past 20 years.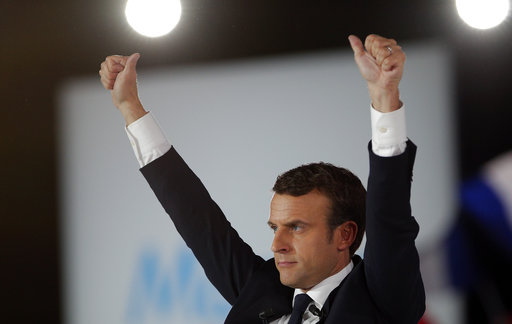 According to a recent poll, only 42 percent of Fillon voters plan to vote Macron in the runoff, versus 31 percent for Le Pen; 27 percent either have not made up their mind or plan to stay home. Not all Fillon voters are Catholics, of course, but the Fillon vote overlaps with a lot of practicing Catholics. Forty-four percent of Mass-going Catholics voted for Mr. Fillon in the first round, according to a Harris Interactive poll, and 68 percent of practicing Catholics voted for a candidate who is not in the runoff, reports the Catholic magazine La Vie.
Catholics are deeply split, in a fun-house mirror reflection of the broader split that the Macron-Le Pen runoff embodies: a country divided—by globalization, technology and social liberalism—into winners and losers who are increasingly at each other's throats. Sens Commun, the biggest "Catholic right" political organization, refused to endorse a candidate, unlike most elected officials in the French right. Following its usual practice, the French Conference of Catholic Bishops has refused to explicitly endorse a candidate, although it released a statement with "discernment points," emphasizing issues like welcoming migrants, that are hard to read as anything but encouragement to vote Macron. Several bishops have explicitly said they would vote for Mr. Macron, as have the heads of a number of Catholic charities. La Croix, the biggest Catholic newspaper, which leans slightly to the left politically, is featuring "voices" of Catholics—bishops, nuns and intellectuals—explaining their vote, and so far it is 100 percent Macron. In other words, the Catholic "elite," unanimous in its support for Macron, is growing disconnected from its much more ambivalent "base."
The appeal of Marine Le Pen for some Catholics, however, runs deeper than opposition to Mr. Macron. Many see French national identity as threatened by the forces of militant Islam and progressivism, and traditional French national identity seems a much more hospitable milieu for Catholicism than either of the alternatives. Sometimes, it seems that Ms. Le Pen is the only candidate who will unapologetically stand up for defending that identity from external threats.
The danger, of course, is that the French Catholic revival that I have been chronicling becomes merely a tool for a populist politician to win elections and thereby defeats itself by becoming too associated with politics, in the way that American evangelicals have put a ceiling on their support because of their persistent association with hard-right politics. Marine Le Pen will probably not be president, at least this time around. But the tension between an otherworldly disengagement and a militant, perhaps quasi-reactionary, embrace of political populism will keep working itself out in the heart of resurgent French Catholicism.