Quebec attack against Muslims shocks Canada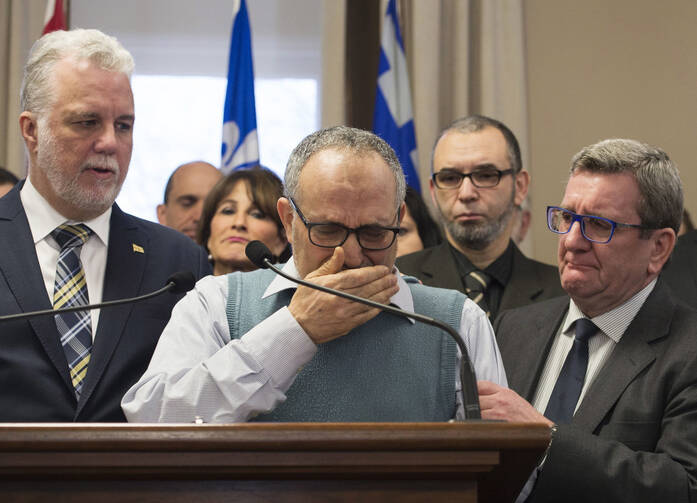 Mohamed Labidi, the vice-president of the mosque where an attack happened, is comforted by Quebec Premier Philippe Couillard, left, and Quebec City mayor Regis Labeaume, right, during a news conference on Jan. 30 about the fatal shooting at the Quebec Islamic Cultural Centre on Sunday. (Jacques Boissinot/The Canadian Press via AP)
Canadian police were still seeking to identify a motive the morning after a shooting at a mosque in Quebec City on Jan. 29. Two men had been arrested after the gunfire subsided, one at the scene and one after contacting 911. One person was released on Jan. 30 and described by police not as a suspect but as a witness to the shooting.
Six men were killed and 19 injured after gunfire erupted during evening prayers at the Centre Culturel Islamique de Quebec (Quebec City Islamic Cultural Center) in what Prime Minister Justin Trudeau called a "terrorist attack on Muslims." Police have yet to confirm that assessment, and no group has claimed responsibility for the attack.
The now sole suspect was identified as Alexandre Bissonnette, a French-Canadian university student. Police are now describing the shooting as a "lone wolf" event and report that they are not seeking other suspects.
"Muslim-Canadians are an important part of our national fabric, and these senseless acts have no place in our communities, cities and country," the prime minister said in an official statement released soon after the shooting. "Canadian law enforcement agencies will protect the rights of all Canadians and will make every effort to apprehend the perpetrators of this act and all acts of intolerance," he said. Political leaders around the world quickly expressed their sympathies, including President Donald J. Trump, who is currently embroiled in a controversy around his ban on refugees and visa holders entering the United States from seven Muslim-majority nations.
The Canadian Council of Imams also released a statement. "Islamophobia has killed innocent Canadians," the council said in the immediate aftermath of the attack. "As we pray for those who have lost their lives, the injured and their loved ones, we ask all decent people to stand against hatred of Islam and Muslims in all forms."
The council added: "As Canadian Muslims we know how devastating it is to be blamed for the actions of a few. We reject blaming any community, culture or religion for these murders. We are all Canadians and we are all bound by this tragedy together. Let us reaffirm our commitment to live together in peace and abandon all those who try to divide us through hatred and violence."
White House press secretary Sean Spicer, speaking during his daily briefing on Jan. 30, condemned the attack "in the strongest possible terms." Mr. Spicer then connected the attack to Mr. Trump's executive order freezing new refugee placements in the United States, perhaps reacting to initial, erroneous reports that suggested one of the suspects was of Moroccan descent. "It's a terrible reminder," he said, "of why we must remain vigilant, and why the president is taking steps to be proactive, rather than reactive, when it comes to our nation's safety and security."
Pope Francis condemned the shooting and expressed condolences in a telegram addressed to Cardinal Gerald LaCroix, archbishop of Quebec. The Holy Father shared an embrace with Cardinal LaCroix, who was visiting Rome at the time of the attack and has since returned to Canada. The Archdiocese of Quebec has expressed its solidarity with the local Muslim community and is planning to release a statement soon. The archdiocese encouraged local residents to attend a vigil tonight, and other vigils are planned for the evening of Jan. 30 across the country.
In an emailed statement, the Interfaith Department of Scarboro Missions, described itself as "deeply saddened by yesterday's shooting."
According to the statement, "The people of the province of Quebec, often pioneers in Interfaith Dialogue in North America, have developed concrete ways of understanding religious diversity as an integral aspect of their multiculturalism, as it is evidenced in their ongoing public dialogue on the topic. This shooting not only opposes Canadian values but Québec's ongoing and decided efforts to create safe spaces for the province's cultural minorities."
The mosque has previously been the target of Islamophobic acts. Last year, a pig's head with an attached note that read "bon appétit" was left at the front of the mosque, a gesture offensive to Muslims who are prohibited from eating pork.
In the last year, especially following an influx of refugees under Mr. Trudeau's administration and in light of terrorist attacks in Europe, Canada's Muslim population has been increasingly targeted. In 2015, an Ontario mosque was burned down, and hate crimes against Muslim-Canadians have more than doubled in the last three years according to Statistics Canada.
During the last prime minister race, incumbent Stephen Harper said he would consider banning the wearing of the niqab for all public servants. Quebec's Muslim community is especially subject to secular pressures, as the province continues to legislate against public displays of religious faith, not unlike a similar secularist trend in France. In 2013, the Parti Québécois proposed a controversial "Quebec Charter of Values," which critics said was part of a secularist war on religion, targeting Muslims especially.
Correction on Feb. 3 at 1:38 p.m.: The proposed "Quebec Charter of Values" was misidentified as the "Charter of Rights and Freedoms."
Correction on Jan. 31 at 2:53 p.m.: White House Press Secretary Sean Spicer was misidentified as Scott Spicer.