Christians are dying for their faith all around the world. Do U.S. Catholics care?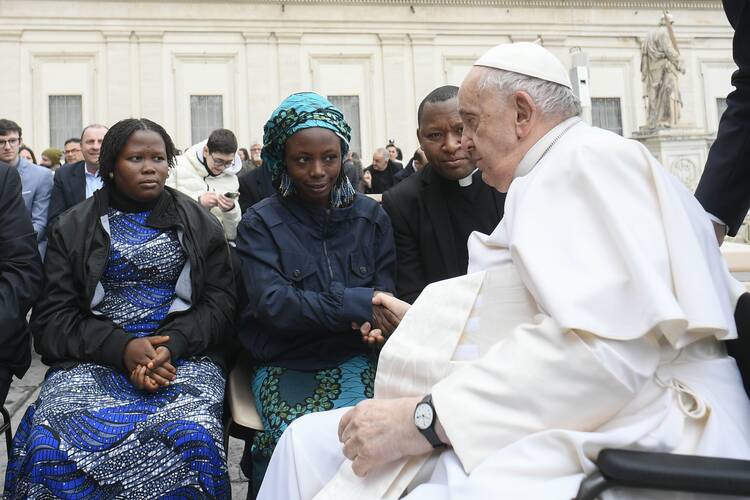 Pope Francis greets Janada Marcus, a survivor of Christian persecution in Nigeria, after his general audience on March 8, 2023. She is accompanied by Father Joseph Bature Fidelis, director of a trauma center for victims of terrorism in Nigeria, and by Maria Joseph, another survivor. (CNS photo/Vatican Media)
Acknowledging the number of Christians killed because of religious persecution since the turn of the century, Pope Francis has created the Commission for New Martyrs: Witnesses of the Faith. In a letter announcing the commission on July 5, he wrote, "Martyrs are more numerous in our time than in the first centuries: they are bishops, priests, consecrated men and women, lay people and families, who in the different countries of the world, with the gift of their lives, have offered the supreme proof of charity."
He added that his new committee would try to document not just Catholic martyrs, but those from "all Christian confessions." This is not a new concern for Pope Francis. From the beginning of his pontificate, he has called attention to an "ecumenism of blood."
Pope Francis: "Martyrs are more numerous in our time than in the first centuries."
And the pope is not alone in recognizing the persecution of Christians across the globe. According to Open Doors International, a nondenominational mission based in the Netherlands, 2022 brought a worsening situation for Christians worldwide because of intensifying levels of violence, discrimination and exclusion. More than 360 million Christians suffer high levels of persecution and discrimination for their faith. "In the last 30 years," write the Open Doors analysts, "the number of countries where Christians suffer high and extreme levels of persecution has almost doubled to 76 countries."
The most dangerous place in the world to be a Christian is still North Korea, where a 2021 "Law Against Reactionary Thinking" subjects Christians to arrest, confinement in labor camps or even death. Even owning a Bible is a serious crime. A number of Islamic countries are also hostile to Christians, among them Somalia, Yemen, Eritrea, Libya, Nigeria, Pakistan and Iran. (These countries have also refrained from speaking out against the persecution of the Uyghurs in Xinjiang, China, where 800,000 to two million Muslims have been sent to "re-education" camps. Reports of human rights abuse against the Uyghurs, including the sexual assault and rape of women, are all denied by the Chinese government.)
More than 360 million Christians suffer high levels of persecution and discrimination for their faith.
But a more urgent concern at the moment is Nigeria, where over 50,000 Christians have been killed since 2009, after the Boko Haram insurgency broke out. The number of deaths decreased slightly, from 5,898 in 2021 to 5,621 in 2022, but the annual number of those abducted increased to almost 5,000 in Nigeria, Mozambique and the Democratic Republic of the Congo.
Both Boko Haram and Muslim Fulani herders have targeted Christians in Nigeria; since 2009, at least 18,000 Christian churches and 2,200 Christian schools have been set ablaze, and five million Christians have been internally displaced. Nigeria accounts for 89 percent of Christians martyred worldwide; some 34,000 moderate Muslims have also been killed. In its own report on the worldwide persecution of Christians, the U.S. affiliate of the international Catholic charity Aid to the Church in Need cited a Nigerian priest who mourned that "the world has turned away from Nigeria. Genocide is taking place, but no one cares."
In Pakistan, Christians are also at great risk. They are frequently victimized by the application of the so-called blasphemy laws used to persecute those who belong to minority religions, mostly Christians and Hindus. Personal grudges or disputes over land can trigger charges of desecrating the Quran or insulting the prophet, generating popular outrage that intimidates police officers and judges (both of whom frequently fail to intervene).
Asia Bibi, a Christian woman accused of blasphemy by her neighbors, spent more than eight years in prison under a sentence of death. Finally acquitted by Pakistan's Supreme Court, she had to leave the country because of demands by radical Islamists that she be publicly executed. In the wake of the Asia Bibi case, a provincial governor and a cabinet minister calling for the reform of blasphemy laws were assassinated.
In 2019, Pakistani authorities blocked a number of young Pakistani Catholics from attending World Youth Day in Panama City after they had paid for the plane tickets. Persecution of Christians comes not just from fundamentalist Islamic movements but often from ordinary Pakistanis. Much of it is caste-based, as many low-caste Hindus became Christian during the period of British rule. Women are especially vulnerable to abuse and persecution.
In 2019, Pakistani authorities blocked a number of young Pakistani Catholics from attending World Youth Day in Panama City after they had paid for the plane tickets.
An article in Al Jazeera called attention to the abductions, forced marriages and forced conversions to Islam of girls from Pakistan's religious minorities. In January, U.N. representatives issued a report in which they said, "We are deeply troubled to hear that girls as young as 13 are being kidnapped from their families [and] trafficked to locations far from their homes."
There are no laws against forced marriages or conversions in Pakistan. The government claims to be addressing the issue, but the director of the Center for Social Justice Pakistan, a Lahore-based advocacy group, accused the government of "outright denial" of the issue.
Al Jazeera has also reported on Pakistani Christians forced by age-old discriminatory practices into sanitation work, specifically cleaning blocked sewer lines. In 2022 at least six Christian sanitation workers died after inhaling toxic gases. In January 2022 the Islamabad High Court took some steps to prevent ministries from advertising for religious minorities to fill the role of sweepers and sanitation workers, but these rules are inconsistently enforced.
In India, Prime Minister Narendra Modi has largely remained silent as Christians faced persecution and even death at the hands of Hindu mobs, often following the lead of Mr. Modi's own Hindu Nationalist Party. In the state of Manipur, estimates are that some 50,000 Christians, mostly Protestant members of the Kuki community, have been displaced from their homes, their churches and homes burned, in what amounts to ethnic cleansing.
Kuki men have been killed and women have been assaulted and raped. When President Biden raised the question of discrimination against religious minorities during Mr. Modi's visit to Washington in June, Mr. Modi responded disingenuously that there was "absolutely no place for discrimination" in his government.
In the Indian state of Manipur, estimates are that some 50,000 Christians have been displaced from their homes, their churches and homes burned, in what amounts to ethnic cleansing.
Other countries hostile to Christians include Afghanistan, which took first place in 2021 on the Open Doors "World Watch List" after the return of the Taliban. This year Afghanistan dropped to ninth place—primarily because so many Christians have fled the country.
A new presence on Open Door's Top 50 Watch List for persecution of Christians is Nicaragua. Under President Daniel Ortega and his vice president—and wife—Rosario Murillo, Christian schools, TV stations, and charities have been closed by the government. Catholic organizations in particular have been targeted. In February the Ortega government deported 222 political prisoners, including Catholic priests, seminarians, diocesan employees and a deacon, to the United States, stripping them of their citizenship. Bishop Rolando Álvarez of Matagalpa refused to leave. Convicted of treason, he has been sentenced to 26 years in prison. Religious women have also been forced to leave the country, with the government confiscating their possessions.
Most recently, this summer Mr. Ortega's regime closed the Jesuit University of Central America in Nicaragua and confiscated all its properties and assets, including a Jesuit residence, claiming that the university was a "center of terrorism."
[Related: "Jesuit residence in Nicaragua seized by Ortega regime."]
The Watch List also includes China, which subjects Christians, including Catholics in the public (or state-recognized) church, to high-tech digital surveillance in their churches through facial recognition technology. Parents are not allowed to bring children under 18 to church services.
And in Iraq, Palestine and Syria, some of the world's oldest Christian communities are facing virtual eradication.
Writing for Religion Unplugged, Richard Ostling cites an estimate from the Center for the Study of Global Christianity that one million Christian martyrs were killed in the first 10 years of the 21st century. He charges that the mainstream media has all but ignored this "global scourge."
Mr. Ostling notes two exceptions. In December, The New York Times published a survey of the widespread harassment of Christians in India. And Reuters produced a "massive investigation" of at least 10,000 abortions forced on Nigerian women by the military, further evidence of the use of rape to terrorize Christian women. Yet under Mr. Biden, the U.S. State Department removed Nigeria in 2022 from a list of countries "of particular concern" for severe violations of religious freedom—a move protested, without success, by the independent U.S. Commission on International Religious Freedom.
The "Instrumentum Laboris" for the October 2023 Synod on Synodality includes religious persecution among its concerns. In looking at particular situations in different regions of the world, it speaks of "persecution to the point of martyrdom." While many in Europe and North America are disaffiliating from Christianity, in the Global South Christians are dying for their faith. But few in the West seem to care or even notice.
[From 2012: "Modern Martyrs: Thousands die for their faith each year. How should the church respond?"]