This Earth Day, meet the artist making beautiful icons of God's endangered creatures
Earth Day tends to conjure up articles along a few different lines: doom and gloom; practical tips about how you can help the planet; or feature stories about someone doing good things for the environment.
There is a place for each. I know I am always looking for a new thing I could be doing or a new way of thinking about the way I live.
Recently, I encountered a whole different approach to climate change. Rather than emphasizing catastrophe or change, it held up beauty.
The artist Angela Manno had been studying and practicing traditional Byzantine Russian iconography for a year when she began to realize that something was lacking. "I started to feel constrained by the anthropocentric focus of the images," she explained in an interview with America. "Nature was relegated to the backdrop of the human/divine drama. I felt the need to expand the canon."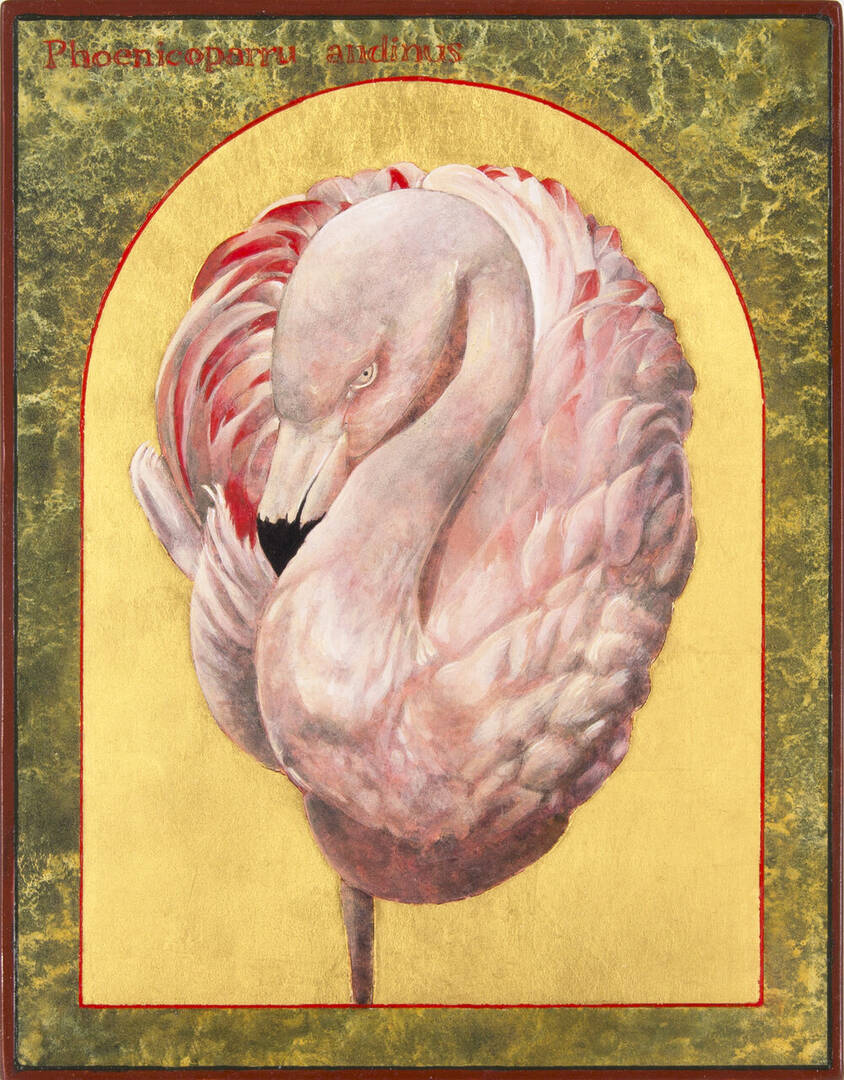 And so Ms. Manno began to create Byzantine Russian-style icons of threatened and endangered plant and animal species. And they are really extraordinary: Aquatic creatures swim through frames; birds and insects reach for flowers; a pink flamingo curls in upon itself protectively. There is a real emphasis in each piece on presenting the creature realistically and with an eye for details we might otherwise miss: We are so close to the honey bee that we can see the crystalline trim at the edges of its wings, the child-like innocence of its compound eye.
Ms. Manno's work has been praised far and wide, including by the Vatican, which commissioned her to do a video meditation with her icons for the seventh anniversary of "Laudato Si'." In museum shows, a set of Ms. Manno's icons are usually displayed in a row along a wall, each of them 9-by-7 inches and the animal or plant framed within the icon in an archway.
From a distance they are reminiscent of the Stations of the Cross, and yet there is no feeling of danger or dread in the imagery, no underlying sense that we are being presented with epitaphs. The monarch butterfly is framed by the sun—a clever play on the iconic gold leaf used in iconography—with a sky-blue background that really makes it stand out. The emerald green coat of the Mexican blue-capped hummingbird shimmers like chain mail as it reaches for nectar in nearby flowers, its body hanging in the air. The emperor penguin looks down at a chick whose head reaches up as though hoping to be fed. These are animals simply caught in a moment of their lives.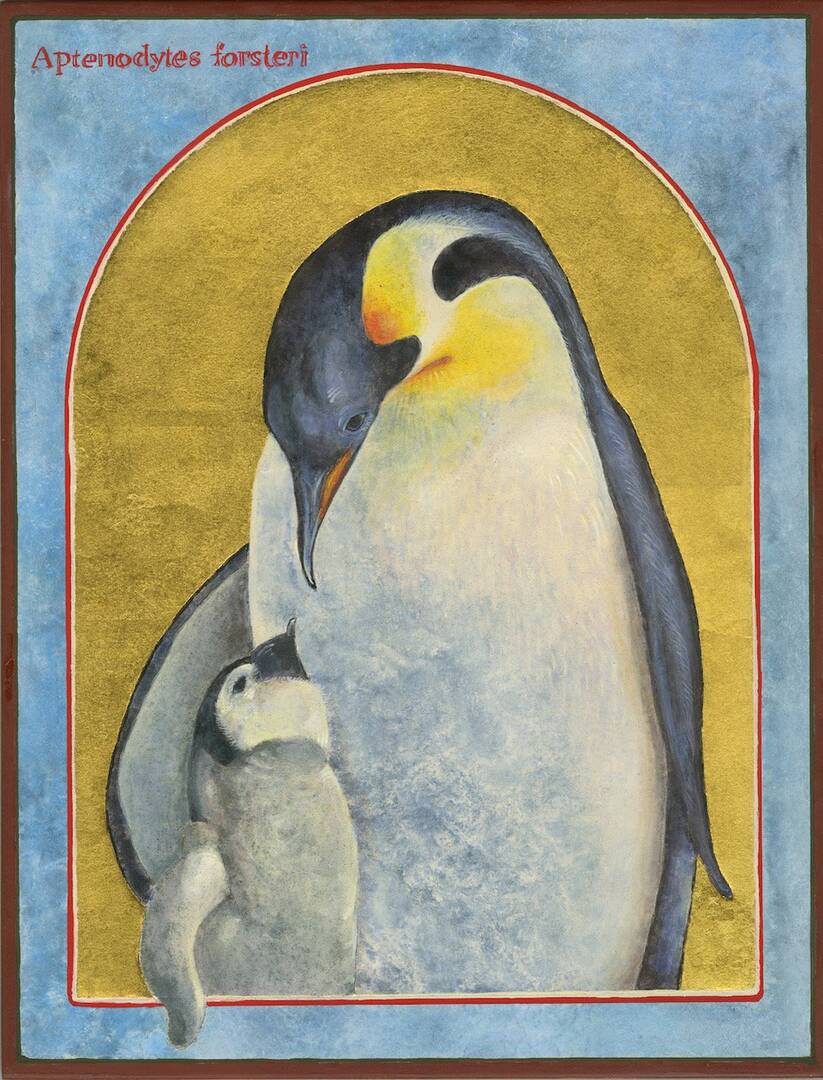 "I wanted to lift each one of them up," Ms. Manno explained, "so that we would have a sense of their sacredness." She intends them as an invitation to prayer. "They're meant to be contemplated," she said. "In the Orthodox Church, that's what icons are for, to gaze at."
"We have lectio divina. This is visio divina."
On her website, Ms. Manno has 21 icons available for viewing. For a different way into Earth Day (and beyond), you might spend some time contemplating them one by one, in the same way that we sit before the cross or before a statue of a saint, just taking the scene in and letting it affect us. Sitting for five minutes before the chambered nautilus, which has been around for 500 million years, or the candy darter, a tiny 2-by-3-inch Virginia freshwater fish striped in colors like a circus, what do I notice? What do I feel?
Or we could watch the nine-minute video Ms. Manno made for the Vatican, in which she combines her icons with music and narration about each of the species involved. Again, what do I notice as I am watching? What stands out to me? What do I feel?
Ms. Manno hopes that her icons will be a call to action. In some exhibits, and in her video, she includes a short description of the current status of lifeform she is painted alongside the icon—how the emperor penguin is one of 17 species of penguins, all of which are endangered, and how the krill they rely on is also threatened with extinction. "It creates a creative tension," Ms. Manno explained, "a kind of dissonance" that she hopes will work on people. "You think of anything in musical composition, or if you're just holding two ends of a rubber band: tension wants resolution. It puts responsibility on the viewer."
I am not sure how we get from where we are to where we need to be when it comes to climate change. And sometimes I find the direct approach—talking about the issues or the crisis—only seems to deaden my spirit.
Meanwhile, when I look at Ms. Manno's icons, I feel like the apostle Thomas looking upon the resurrected Jesus. I want to cry out in wonder as he did: "My Lord and My God!"
Select note cards and prints by Angela Manno are available purchase.