Why Priests Keep Getting Murdered in Mexico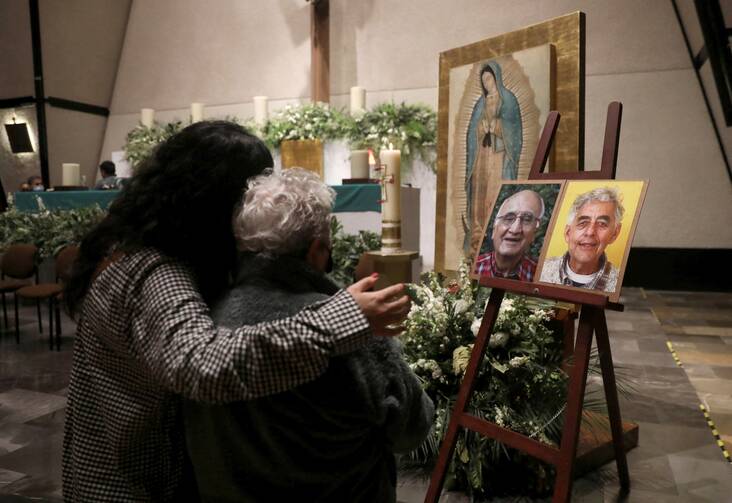 Relatives and friends look at the photos of Mexican Jesuit Fathers Javier Campos Morales and Joaquín César Mora Salazar at St. Ignatius of Loyola Church in Mexico City on June 21, 2022. The two priests were murdered in their rural parish June 20, while providing shelter to an individual fleeing a gunman. (CNS photo/Edgard Garrido, Reuters)
Padre Habacuc Hernánadez Benítes did not want to die. Yet in the days before he was slain, "Cuco," as he was affectionately called, endured the terror of being targeted by narco assassins. He was only 39 years old and the vocational director for the diocese of Ciudad Altamirano in Mexico when he was murdered on the afternoon of July 13, 2009, along with two seminarians. The immediate motive of the killers was to steal his car.
In the last 15 years, between 45 and 50 priests have been killed in Mexican narco-related violence. I choose to focus on the case of Cuco on account of a personal connection: He was killed in the parish of Padre Samuel, a priest who has been a close friend of mine for nearly 50 years, and who knew and esteemed Cuco as a good-natured and upright man and holy priest. (I have used a pseudonym for Padre Samuel to protect his identity.) Padre Samuel recounted to me how, at the funeral, just before Padre Cuco's interment, an anguished woman in the crowd wailed loudly, "Blessed are you, Padre Habacuc, for God called you to the holiness of martyrdom."
My research shows that most murdered priests were like the other innocent victims of the drug war: They were caught in the crossfire.
No Latin American country is more dangerous for Roman Catholic priests than Mexico. The murder of men and women in pastoral ministries—particularly Roman Catholic priests—has become part of daily life in Mexico. They join a host of journalists and human rights defenders along with indigenous leaders and thousands of other innocent victims. While the majority of the killings of priests have taken place in just a few states (Guerrero is the most dangerous, followed by Michoacán and the edges of Mexico City), this violence is spreading, and many more pastoral ministers are likely to die. Two Jesuit priests, Javier Campos Morales and Joaquin Cesar Mora Salazar, were murdered on June 20, 2022, in Cerocahui, Chihuahua, while attempting to defend a man who was seeking refuge in their church.
This is not the first time that anti-Catholic violence has plagued Mexico. Anti-Catholic and anticlerical oppression culminated in the savage Cristero War of 1926-29, in which approximately 90 priests were killed in an anticlerical purge. In his 1939 travel memoir, The Lawless Roads, Graham Greene described this siege on Mexican Catholicism as "the fiercest persecution of religion anywhere since the reign of Elizabeth."
The simple—and wrong—explanation for the recent wave of violence is that the priests in question messed with the wrong drug trafficker. But clerics in Mexico know better than to initiate a head-on confrontation with such powerful and menacing adversaries. My research shows that most murdered priests were like the other innocent victims of the drug war: They were caught in the crossfire. Or, they were killed because they refused to perform sacramental service, like a baptism or wedding, for known narcos.
For these Mexican priests, narcos are not "others"; rather, they are a part of the communities to which the priests minister.
Some might ask whether Roman Catholic priests in Mexico should do more to publicly confront these criminals in the name of the church. There are many solid reasons why they do not make such displays. The first is certain death and an end to whatever efficacy they might have had. Mexican narcos have shown no mercy in taking out anybody who stands in their way.
Another reason: For these Mexican priests, narcos are not "others"; rather, they are a part of the communities to which the priests minister. The drug trade is an enterprise that requires many accomplices. Farmers are needed to raise the illegal crops, accountants to track the money, drivers to deliver the goods. Government officials participate or are suborned to look the other way. Most of these people are not villains; they are caught in the middle too, and the priests want to be there for them.
Priests may also not know who in their pastoral community is part of the drug trade. An unassuming person on the surface—a seemingly legitimate businessperson, a leader in the community or even the parish housekeeper—may be a cog in the complex narco machine.
Mexican priests also have a powerful spiritual incentive to stay at work. Padre Samuel told me of an encounter with an infamous trafficker in his parish community. Though he would never agree with the narco's criminal choices, he told the narco that he remained a "child of God who loved him, despite the illicit activities." This is a statement of Christian faith made from the crux of the drug war. Thus Padre Samuel rejects the trafficker's profession but still offers him God's love.
Many Catholics have an inclination to declare all such clerical victims "martyrs." Although their sacrifice is doubtless, the traditional Roman Catholic theology of martyrdom is grounded in the extraordinary witness of a person who is killed "in odium fidei"—in hatred of the faith. So those who choose a life of suffering for Christ in a dangerous environment—for instance, from disease, war or general violence—have previously not been considered martyrs. Yet these theological distinctions do not deter local communities from revering as martyrs their murdered priests, like the grieving woman at Padre Cuco's funeral.
Thus people in the Catholic Mexican community have proven to be theologians by instinct and the Holy Spirit. And Pope Francis agrees with the Catholic community; he has enlarged the categorical determination for martyrdom by establishing a new designation of martyrdom: "oblatio vitas," the offering of one's life in a single act of heroism, as pointed out by Robert J. Barro and Rachel M. McCleary in "Opening the Fifth Seal: Catholic Martyrs and Forces of Religious Competition."
These fallen priests are the people's martyrs, people who daily face the same malicious threat of narco violence.
These fallen priests are the people's martyrs, people who daily face the same malicious threat of narco violence. Amid Mexico's pernicious violence, priests and other pastoral ministers are much more than obscure figures of the disastrous victimization of the innocent. They are altruistic Christian witnesses who willingly serve their people, accompanying them and comforting them through Mexico's narco nightmare.
Given this high esteem for priests in Mexico, the church's unique historical role in colonial Mexican history and the present-day importance of the Catholic Church in Mexico, the numerous killings of priests unquestionably represent a new and ongoing societal, cultural and particularly spiritual erosion for Mexico. What is the meaning of these killings amid the narco reality?
Although each of these violent deaths may seem a random event—like a car-jacking gone bad—they require and in fact demand further reflection and interpretation, because these material realities are not the total story. They disguise the valuable effect the narcos gain through these seemingly random killings. Priests are by their very person God's representatives and pastoral leaders in the local community. Unlike parishioners in Padre Samuel's parish, who may seamlessly play multiple roles, a pastor is committed to the single endeavor of service to God and his people. Therefore, whether a priest is killed in order to steal his car, pilfer the parish collection or punish his refusal to administer sacraments to known narco personnel, in the end, the underlying and real reason for this violence is that the singular integrity of the priests threatens the narco reality and the new social order of Mexico.
One thing is for certain in Mexico: We can no longer see and understand governance in strict and isolated categories. The contemporary social theorist Roman Le Cour Grandmaison, in his 2021 essay, "Order, Sovereignty, and Violence in Mexico," describes Mexico's governance as "a fluid process involving continual interaction between multiple private and public actors."
What exists in Mexico now is what Le Cour Grandmaison calls "overlapping sovereignties." One layer comprises the national and state governments and local police; another is the stratum of narco control and "sovereignty." The Mexican social order, he writes, becomes "a collection of rules that govern the use of violence as well as the modalities of power and authority." This allows various networks and relationships "that permit violent actors to interact with public authority and vice versa."
Contrary to what most Americans think, the narcos in Mexico are not trying to overthrow political authorities; according to Le Cour Grandmaison, they are trying to gain a more advantageous position in relation to those authorities. We see this dynamic functioning with the people of Padre Samuel's parish community, who seamlessly play multiple roles within each sovereignty. So it is essential to understand that these two multilayered sovereignties are not in opposition to each other but, for the most part, cooperate with one another. As Le Cour Grandmaison states, "Narco business people and public authorities can very easily coexist, collaborate, or come into conflict according to given political configuration and opportunity." He describes this as the "cake layer sovereignty that overlap[s]." These two complementary power systems then form a social whole: the entire overlapping cake.
Amid this newfound, somewhat vague and fluid Mexican social order, the fallen priests represent the status quo. Priests serve as the grassroots representatives of the people and emissaries of the people to God, the interlocutors between God and the people. Therefore, priests by their person pose a unique challenge and even a threat to the fragile cake-layer sovereignty. When a priest refuses to support or indirectly participate in the narco layer of sovereignty, he becomes an obstacle, an annoyance or even a mere representative of a different and alternate social order, and so the priest must be eliminated.
The English author and theologian G. K. Chesterton articulated the crux of this same rationale long before Mexico was dominated by narcos. He cast the dynamic of martyrdom and social conflict in terms of sanctity. "The Saint," Chesterton wrote, "is a medicine because he is the antidote. Indeed that is why the saint is often the martyr; he is mistaken for a poison because he is the antidote." Accordingly, these Mexican priests, by their presence amid the dark horizon of violence, shine as a light of resolution, order and hope, contradicting the disorderly flow of a cake-layer sovereignty of Mexico. And that is why they die.