Interview: What is the bishops' eucharistic revival, and why should Catholics care?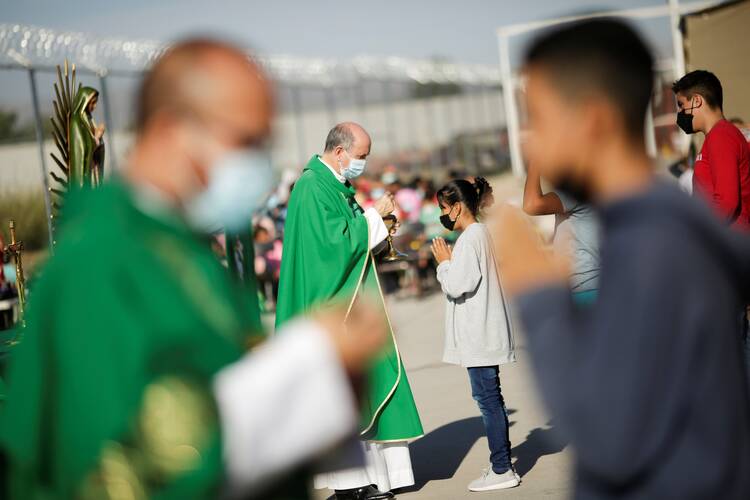 Priests distribute Communion during an outdoor Mass in celebration of the World Day of Migrants and Refugees at Casa del Migrante shelter in Ciudad Juarez, Mexico, Sept. 19, 2021. The U.S. Conference of Catholic Bishops is launching its Eucharistic Revival this year on June 19. (CNS photo/Jose Luis Gonzalez, Reuters)
In 2019, the Pew Research Center reported that 32 percent of Catholics in the United States believe in the true presence of Christ in the Eucharist. The study's findings sparked much debate in the church, including among the bishops of the United States.
During its meeting last November, the U.S. Conference of Catholic Bishops voted 201 to 17 to approve a three-year eucharistic revival. It will culminate in a National Eucharistic Congress in Indianapolis in 2024.
The revival, according to Bishop Andrew H. Cozzens, chairman of the bishops' Committee on Evangelization and Catechesis, will seek to reawaken Catholics' understanding of the Eucharist and offer a path toward healing. The revival officially starts on June 19 of this year, the feast of Corpus Christi.
The Rev. Jorge Torres, a specialist working for the bishops' Secretariat for Evangelization and Catechesis, has been charged with helping implement the revival. He recently granted America an interview to discuss the upcoming multi-year program.
The interview has been edited for length and clarity.
When the topic of the Eucharist came up last year, much of the discussion involved politicians receiving Communion. This revival is not about that. But can you address the connection people might make between this initiative and the previous controversy?
Jesus is the center of our lives. He's present in the Eucharist. And he's the one that can unite us in these times when it seems like everything is very polarized. The church knows that her center is truly Jesus. And it's just beautiful to watch people coming together from all walks of life saying, "Let's support this truth." The church has struggled in the past to come to even [define] the meaning of the Eucharist. It has had different discussions and different pronouncements by councils. So the church knows where to go, when she is having these moments—and it's Jesus.
I've read criticism about the cost of the National Eucharistic Congress, which is reported to be $28 million. Would you care to address that?
The bishops and the bishops' conference do want to be good stewards. We are aware that it is a lot of money, but we feel that it's time for us to get together and show the world that we truly believe in the Real Presence and that Jesus is among us. The cost is about $350 per person [for those who attend]. That's normally the cost for N.C.Y.C. (the National Catholic Youth Conference). The numbers that were shared in November—it's a draft, it's not a finalized contract. (Editor's note: $350 per person, multiplied by the expected 80,000 attendees at the Eucharistic Congress in 2024, totals $28 million.)
So naturally, on all of those numbers, we are looking for ways to make it accessible to everyone. There will be scholarships and also efforts to lower the cost. It's similar to when someone takes on a project of starting a new parish. For those who have been involved in a building campaign, they know that if you just look at the numbers it can be daunting. But when you look at the potential that this will be here for generations.... In this case, it's not something physical that you'll be able to measure. This is going to be something for the heart that can be passed on for, hopefully, generations. So in that sense, I'm very hopeful, and I'm very excited for the future.
Thank you for addressing that. As far as the Eucharistic Revival itself, why now?
Everybody's been quoting the Pew Research study, where it came to light that many Catholics don't believe in the Real Presence. That hit a tender spot in the heart of the bishops, I'm sure. Some people say, "Well, you know, it's not that big of a deal." Well, if it's not that big of a deal, meaning the Eucharist, then I don't need to be a priest. I became a priest because [Christ] is such a big deal. The bishops' own hearts, I think, [were] brought into this. They asked themselves how they could engage not only with those who are in the pews, but also those who only come on Christmas and Easter. They want to have a deeper dialogue.
When you find [Jesus], and your heart is completely enamored, and you realize that other people don't recognize him, your heart breaks.
When you find [Jesus], and your heart is completely enamored, and you realize that other people don't recognize him, your heart breaks. It doesn't break because "Jesus is not there." It doesn't break because "the person is bad." It breaks because there's such a possibility for a beautiful relationship. And I see the revival as the way that the bishops are dreaming and trying to bring to fruition that encounter between anybody who doesn't necessarily yet believe—or believes that [the Eucharist] is only a symbol—of how to go deeper. Symbols are great. They're a beautiful gift from the church to so many moments in our lives. But [the Eucharist is] definitely more. 
Some might see the Eucharist more in terms of private devotion, but does the church also recognize a social dimension to the sacrament?
Mother Teresa has been quoted as saying that if you're not able to see Jesus in the Eucharist, you won't be able to see Jesus in the poor or the immigrant or the unemployed. The Eucharist is incredibly social, because even the word that we use when we receive the host, "Communion," [conveys this]. That communion is not only with God, but with each other. It's [communion] with the person who is in a war bunker in Ukraine, with immigrants trying to find shelter. It is [communion] with the academic theologians trying to figure out how we can transmit this to future generations. The words that we're using are not in isolation. On the contrary, they're meant to show that it is a unity that goes beyond even our own physical being. Now we're touching and tapping into and participating in the life of God.
Is the idea that this awareness will lead us as Catholics to live out our faith differently?
If it's truly Jesus in the Eucharist, then that means that Jesus lives in my neighborhood. That means that he's always waiting for me. One of the patron saints of the revival is St. Manuel González García, who was [known as] the bishop of the abandoned tabernacle in the 1900s. He describes Jesus asking us from the tabernacle, "Are you going to come for a visit? Will you look at me? Will you spend time with me?" It'll change not only the way that I live but how I relate to everybody else. We used to say to children, "What would Jesus do?" Later on it was more modernized to, "What is Jesus doing?" Because of his presence [in the Eucharist], I'm able to be there with those who need me, I'm able to ask forgiveness when I need to, I'm able to keep loving those who at times hurt me. I'm not able to do that naturally on my own, obviously. But I'm able to do those things because he's the one who guides me through it.
Are there other saints you would highlight as devoted to the Eucharist?
Another one is Blessed Carlos Acutis. He called the Eucharist his highway to heaven. It's on his casket. He's a millennial blessed who's wearing sneakers and jeans. He knew that Jesus is truly present in the Eucharist. At his funeral, his family was surprised that so many people came: some of them were immigrants, and some of them were homeless people. [His family] didn't even know how many people he was helping.
What are some concrete ways that Catholics can participate in this eucharistic revival?
Our website is up and running. There is going to be a platform where free resources are going to be shared for anybody that would like to use them or share them. We will have toolkits given for the different dioceses, and also recommendations for events, information opportunities. Naturally, it's going to be up to each parish and diocese to figure out what is going to work best.
Would you say there is a goal for this revival? How would you judge its success?
Our goal is to have 80,000 people or more at the National Eucharistic Congress. They will be trained to become eucharistic missionaries. Even if we get that amount of people to just ring their neighbor's door and say, "Have you ever stopped to think that Jesus was living in our ZIP code?," it'll change conversations and how we relate to each other.
The eucharistic revival is overlapping with the Synod on Synodality. Do you see any natural connections between those two initiatives?
The whole process in revival continues, and was from the beginning, synodal. The bishops are doing this in response to a survey. And so in a sense, this is them listening to their people and saying: "O.K., how else can I love you? How else can I show you this truth?" Whether it's a grandparent saying, "What can I do to help keep my grandchildren in the faith?," or somebody saying, "I raised my kids Catholic, and now they are not practicing." All of these are converging. It's laying the groundwork for the revival so that we can say: "O.K. Your heart is yearning to share this beautiful truth. Let us do it together." Mass should not just be an obligation and a guilty feeling if I don't go. It should be an encounter with the one who loves me.
How do you see the revival reaching young people?
That's key. We'll certainly go through the routes that young people are engaged in. But there are also surveys out there about young people going to adoration. Sometimes [youth ministry and eucharistic reverence] are almost presented as opposing, but the beauty is that they can feed off each other. The service that young people and many others are partaking in, it's a great good. And through people encountering Jesus in the Eucharist, we certainly pray that those numbers will increase. What is working with youth and young adults is personal testimony from their friends and classmates or co-workers. As St. Paul VI would say, people are listening to teachers because they are witnesses.
How essential is it that Catholics have this belief in the Real Presence?
The way Vatican II put it is that the Eucharist is "the source and summit." "Eucharist" means to say thank you. That means that the church has said "thank you" in the middle of abundance, famine, war, peace, in the middle of a wedding and a funeral. This thank you that the church is raising up is that God is with us. It's the source and summit, meaning I'm sent from Sunday Mass into wherever my different duties may be and into my experiences. But I return to the source. It's this beautiful ebb and flow of grace that is always available and present.