Cardinal Turkson addresses rumors on his resignation and presents Pope Francis' World Day of Peace message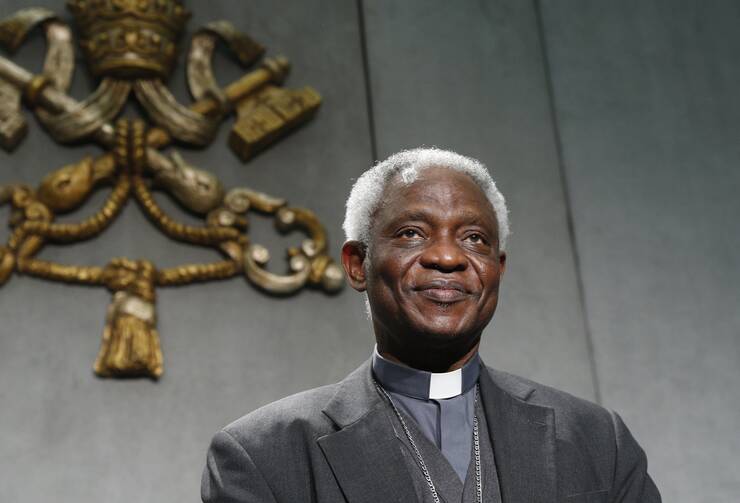 Cardinal Peter Turkson, prefect of the Dicastery for Promoting Integral Human Development, attends a news conference at the Vatican Dec. 21, 2021, for the release of Pope Francis' message for the Jan. 1, 2022 World Day of Peace. Cardinal Turkson downplayed his offer to Pope Francis to resign as head of the dicastery, saying he had completed his five-year term and it was up to the pope to decide what comes next. (CNS photo/Paul Haring)
In his message for the 2022 World Day of Peace, Pope Francis proposed three paths to peace: dialogue between the generations, greater investment in education and job creation.
He highlighted the importance of developing these paths to peace in today's world where, he said, "war and conflict is intensifying," "diseases of pandemic proportions are spreading, the effects of climate change and environmental degradation are worsening, the tragedy of hunger and thirst is increasing, and an economic model based on individualism rather than on solidary sharing continues to prevail."
The message was presented by Cardinal Peter Turkson, the prefect of the Dicastery for Promoting Integral Human Development, at a press conference in the Vatican on Dec. 21.
Asked if he expected to present next year's message as he has done for the last 12 years, given that there have been rumors of his resignation, the cardinal explained—as he had done on Twitter last Sunday—that, in accordance with the Vatican's regulations, he had handed in his resignation as he is near the end of his 5-year term as prefect of the dicastery, and it is now up to the pope to decide to renew or extend that term or to reassign him elsewhere.
"All of us are here to help the Holy Father in his ministry," the cardinal said.
Cardinal Turkson has presented his resignation twice before, in 2013 when Pope Benedict XVI resigned and the new pope was elected, and in 2016 when his five-year mandate expired as president of the Pontifical Council for Justice and Peace.
Cardinal Turkson explained that he had handed in his resignation as he is near the end of his 5-year term as prefect.
Pope Francis, in his message, emphasized the importance of "dialogue between generations" as a path to build "mutual trust" and overcome "selfish indifference and violent protest." He asserted that "great social challenges and peace processes necessarily call for dialogue between the keepers of memory—the elderly—and those who move history forward—the young."
He insisted on the crucial importance of "teaching and education" as "drivers of peace" and "the foundations of a cohesive civil society capable of generating hope, prosperity and progress," but he lamented that there has been "a significant reduction worldwide in funding for education and training," which are considered more as "expenditures" rather than "investments."
In contrast, he drew attention to the fact that "military expenditures have increased beyond the levels of the Cold War and seem certain to grow exorbitantly" in the coming years. "It is high time that governments develop economic policies aimed at inverting the proportion of public funds spent on education and weaponry," he said. The pope called for the pursuit of "international disarmament" that would free up financial resources for health care, schools, infrastructure, care for the environment and more.
A 2021 report by the Stockholm International Peace Research Institute on global military expenditure, published on April 26, revealed that the total global military expenditure rose to $1.98 trillion in 2020, the first year of the pandemic, an increase of 2.6 percent from 2019, in a year when global gross domestic product shrank by 4.4 percent. The five biggest spenders in 2020 were the United States, China, India, Russia and the United Kingdom, which together account for 62 percent of global military expenditures.
Cardinal Turkson commented on this growth in military spending and the decrease in investment in education when he presented the pope's message. He attributed the increase in arms expenditure to the lack of trust between nations and emphasized the urgent need to rebuild trust so as to avoid conflicts and investment in weapons. He also recalled that U.S. President Dwight D. Eisenhower had once spoken about how many miles of road could be built or how many schools could be made for the cost of one atomic bomb.
The pope called for the pursuit of "international disarmament" that would free up financial resources for health care, schools, infrastructure, care for the environment and more.
Another member of the panel, Father Fabio Baggio, the Scalabrian missionary who is undersecretary of the dicastery's section for migrants and refugees, spoke about how armed conflict has forced many people to become migrants and refugees. The increase in arms spending, he said, contributes to these conflicts.
Referring to the third path to peace, job creation, Pope Francis emphasized that work and jobs are "an indispensable factor in building and keeping peace." He recalled that the Covid-19 pandemic "has negatively affected the labor market, which was already facing multiple challenges. Millions of economic and productive activities have failed; short-term workers are increasingly vulnerable; many of those who provide essential services have an even lower public and political profile; and in many cases, distance teaching has led to a deficit in learning and delays in completing programmes of study. Furthermore, young people entering the job market and recently unemployed adults presently face bleak prospects."
To counteract this, Sr. Alessandra Smerilli, F.M.A., the secretary of the dicastery, announced at the press conference that, in conjunction with other Vatican offices, the dicastery's Covid-19 Commission would be launching a new project called "Work for All," which she described as "a great project of listening to all those who in different places are trying to find creative solutions to the problems of work: Listening, discerning and acting together to create conditions so that something new can happen."
The pope also highlighted the fact that "the impact of the crisis on the informal economy, which often involves migrant workers, has been devastating." He said, "Many of the latter are not even recognized by national legislation; it is as though they did not exist. They and their families live in highly precarious conditions, prey to various forms of slavery and with no system of welfare to protect them."
Dr. Aboubakar Soumahoro, a social activist from the Ivory Coast now living in Italy and a spokesman for "the invisibles"—workers, particularly migrants, who are involved in informal or gig work—also participated in the panel. He noted that according to the World Bank, some 100 million people, especially women and children, are now living in a state of poverty because of the impact of Covid-19, in addition to the millions that were in this state before and are not able to meet their basic needs.
Pope Francis asserted that "the only answer" to this dramatic situation "is an expansion of dignified employment opportunities." He said, "Labor is the foundation on which to build justice and solidarity in every community." For this reason, "We need to combine our ideas and efforts in order to create the solutions and conditions that can provide everyone of working age with the opportunity, through their work, to contribute to the lives of their families and of society as a whole."
He said, "it is more urgent than ever to promote, throughout our world, decent and dignified working conditions, oriented to the common good and to the safeguarding of creation." He called for ensuring and supporting "the freedom of entrepreneurial initiatives" and said that "at the same time, efforts must be made to encourage a renewed sense of social responsibility [in business], so that profit will not be the sole guiding criterion."
He emphasized the need "to promote, welcome and support initiatives that, on all levels, urge companies to respect the fundamental human rights of workers, raising awareness not only on the part of institutions, but also among consumers, civil society and entrepreneurial entities. As the latter become more and more conscious of their role in society, the more they will become places where human dignity is respected. In this way, they will contribute to building peace."
Asked whether Francis was taking a softer line in his criticism of capitalism than he had previously, or than Pope John Paul II had taken, Cardinal Turkson explained that Pope Francis is calling for a socially responsible capitalism that puts the human person at the center. He said the Covid-19 pandemic has increased the gap between rich and poor, and the pope's remarks are an invitation to the business world to fulfill its responsibility to society.