Pope Francis instructs Vatican to provide vaccines for 1,200 of Rome's poorest people during Holy Week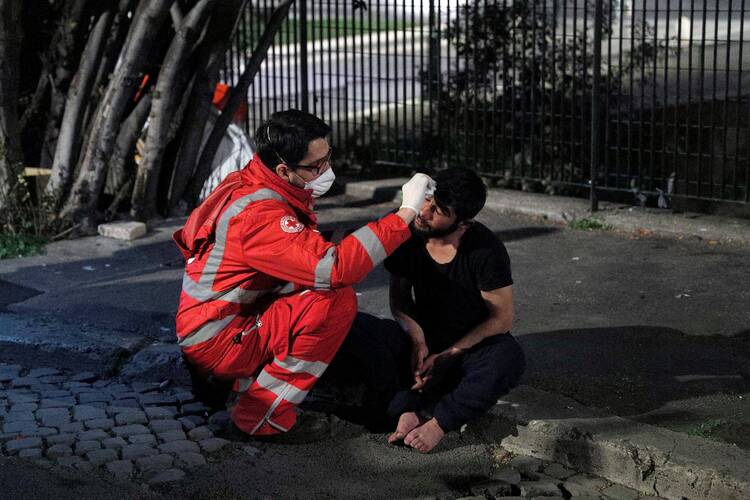 A homeless person is treated by a Red Cross worker in Rome on March 17, 2020, during the Covid-19 pandemic. The Office of Papal Charities has purchased enough doses of the Pfizer-BioNTech vaccine to offer inoculations in Rome to 1,200 of "the poorest and most marginalized people who, because of their situation, are the most exposed" to Covid-19. (CNS photo/Guglielmo Mangiapane, Reuters)
Pope Francis has arranged for the Vatican to provide vaccines against Covid-19 for over 1,200 "of the poorest and most marginalized people" in Rome during Holy Week, the Office of Papal Charities announced today.
In a written statement, it recalled that last Christmas in his Urbi et Orbi (to the city of Rome and to the world) message, Pope Francis appealed to the leaders of governments, businesses and international organizations "to foster cooperation and not competition" and "to seek a solution for everyone." He pleaded with them to provide "vaccines for all, especially for the most vulnerable and needy of all regions of the planet."
He reminded these government and business leaders that "in the face of a challenge that knows no borders, we cannot erect walls. All of us are in the same boat."
Pope Francis has repeatedly encouraged people to get vaccinated as a way of exercising responsibility for one's neighbor.
At the pope's instruction, the Office of Papal Charities has purchased doses of the Pfizer-BioNTech vaccine. It said they will be vaccinated in the same facility in the Vatican, inside the Paul VI Audience Hall, where the pope and Vatican employees were vaccinated. The doctors and medical staff are volunteers who work in the Vatican's mobile health clinic, located under the Bernini colonnade around St. Peter's Square.
The statement appealed to people to make online donations at www.elemosineria.va to enable the Vatican to continue this work with "our poorest and most vulnerable brothers and sisters, and to give them the opportunity to access treatment and vaccination."
It revealed that in January, when the Covid-19 vaccination campaign began in the Vatican, "Pope Francis requested that fifty needy people, mostly homeless, who live around St. Peter's and who are assisted and sheltered daily by the assistance and residence facilities of the office of papal charities, would be among the first to be vaccinated."
The statement concluded by recalling that "Pope Francis has repeatedly encouraged people to get vaccinated, for it is a way of exercising responsibility for one's neighbor," and that "he has strongly reiterated that everyone must have access to the vaccine, with no one being excluded because of poverty."
More from America: