Podcast: Can defendants get a fair trial in the Vatican?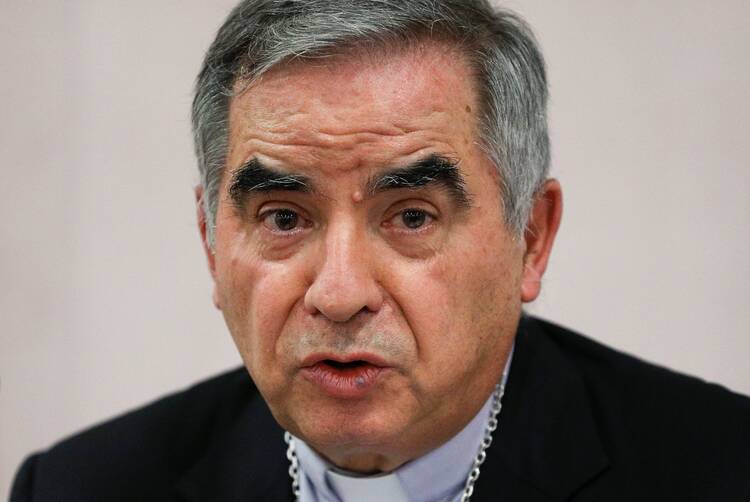 Cardinal Angelo Becciu speaks with journalists during a news conference in Rome Sept. 25, 2020, after he was asked by Pope Francis to resign as prefect of the Congregation for Saints' Causes. The Vatican announced Jan. 18 that it withdrew an arrest and extradition request for Cecilia Marogna, an Italian political analyst, who allegedly was hired as a consultant by Cardinal Becciu, and is now accused of embezzlement. (CNS photo/Guglielmo Mangiapane, Reuters)
The Vatican's judicial system is entering a busy season: Soon, it will deliver a verdict in the trial of the former head of the Vatican Bank who was accused of embezzlement; it will hear the abuse trial of a former St. Peter's Basilica altar server; and it's expected to bring charges against a woman accused of embezzling more than 500,000 euros from the Vatican while employed under Cardinal Angelo Becciu.
Listen to "Inside the Vatican" on Apple Podcasts and Spotify.
This week, the Vatican dropped its effort to extradite the woman from Italy to Vatican City, which has raised questions about whether the extradition could stand: Some argue that her lawyers could have made the case against extradition because the woman was not guaranteed a fair trial in the Vatican.
This week on "Inside the Vatican," host Colleen Dulle and veteran Vatican correspondent Gerard O'Connell unpack this question: What makes the Vatican's judicial system different from a modern democratic one, like Italy's, and what are its pros and cons?
The hosts also discuss Australia's recent admission that it overestimated the amount of money transferred from the Vatican to Australia by $1.5 billion. Colleen and Gerry discuss how such a big blunder could have been made and what questions remain about the transfers.
Links from the show:
Gerard O'Connell | Australia admits $1.5 billion error in investigation into suspected Vatican money laundering
Can defendants get a fair trial at the Vatican? The Vatican decides it doesn't want to hear Italy's answer
Inside the Vatican | The Vatican's $200 million London real estate scandal, explained