Podcast: The McCarrick report set a precedent. Other survivors want their reports published, too.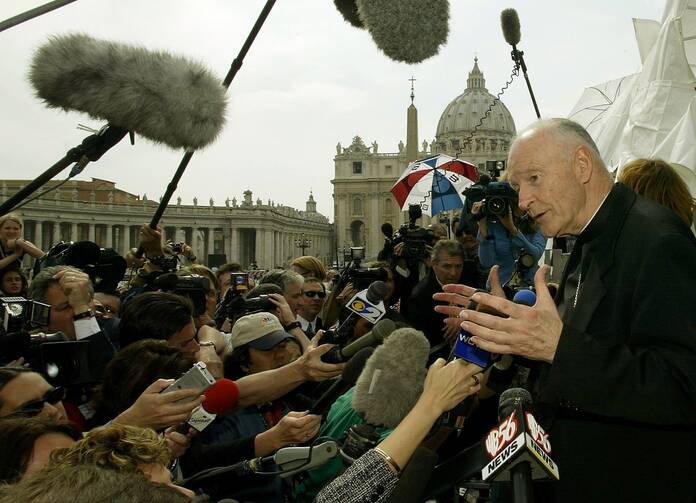 Then-Cardinal Theodore E. McCarrick of Washington faces the press in the shadow of St. Peter's Basilica at the Vatican April 24, 2002. U.S cardinals met for a summit with Pope John Paul II at the Vatican April 23-24, 2002, as the sex abuse crisis unfolded in the United States. Cardinal McCarrick was a key spokesman for the bishops during the summit. (CNS photo/Paolo Cocco, Reuters)
Last week, the Vatican released its report on how former Cardinal Theodore McCarrick was able to rise through the ranks of the church hierarchy despite rumors swirling about him abusing priests, seminarians, and minors.
Listen and subscribe to "Inside the Vatican" on Apple Podcasts and Spotify.
Now, survivors and advocates in countries like Poland, Chile and Mexico want detailed Vatican reports on sexual abuse in their countries to be published, too. "Many people are saying, 'We've had the McCarrick report, now let's have the Maciel report,'" explains Vatican correspondent Gerard O'Connell, referring to the notoriously abusive priest, Father Marcial Maciel Degollado, founder of the Legionaries of Christ.
This week on "Inside the Vatican," Gerry and host Colleen Dulle look at the ripple effects the McCarrick report has had in the United States and around the world.
The two also discuss whether the Vatican can go back to normal after such an unprecedented disclosure of its inner workings. On one hand, Pope Francis has laid the legal framework for investigating anonymous abuse claims and investigating bishops, and he has now set a precedent for disclosing information about how bishops are appointed. On the other hand, he faced internal resistance to publishing the McCarrick report, and many bishops would prefer to continue business as usual. Will the calls for greater transparency and accountability coming from around the world be heeded?
Links from the show: