On Divine Mercy Sunday, Pope Francis urges countries to put aside 'selfish indifference' during coronavirus pandemic
As pressure builds up in Europe and in the United States to get the economy moving again after the lockdown due to the pandemic, Pope Francis warned against "the risk" of "being struck by an even worse virus" than Covid-19, namely "selfish indifference."
"The time has come to eliminate inequalities, to heal the injustice that is undermining the health of the entire human family," he said April 18 in his Divine Mercy Sunday homily in the Basilica of Santo Spirito in Sassia, the sanctuary in Rome dedicated to Divine Mercy.
The church was built as part of the oldest hospital complex in Europe, set up to care for sick pilgrims in the eighth century, and is located just outside the Vatican, across the street from the Jesuit headquarters. Francis concelebrated the Mass with the Vatican archbishop, Rino Fisichella, and the rector of the church, Mgr. Jozef Bart. A congregation of fewer than 20 persons attended, including a choir of four singers, who sang at the offertory the hymn based on the words of St. Faustina, "Jezu ufam Tobie" ("Jesus, I trust in you").
"The time has come to eliminate inequalities, to heal the injustice that is undermining the health of the entire human family."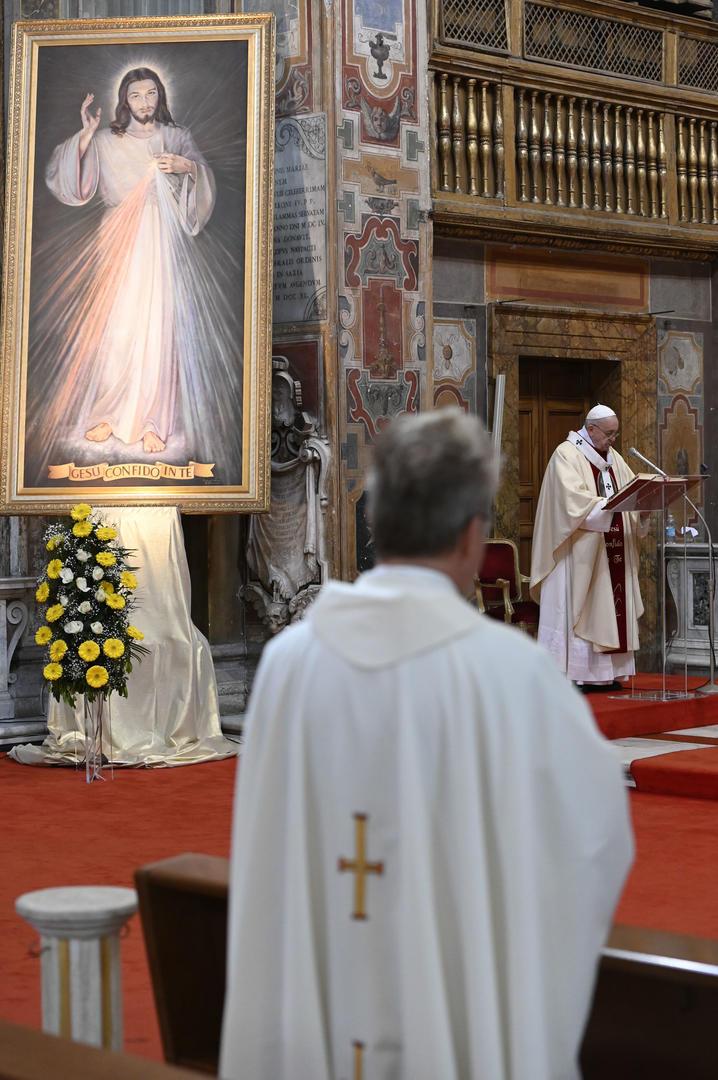 Vatican Media broadcast the Mass to a global audience of millions in Italy and worldwide, at which prayers were said for all who are infected by the virus and those who have died from it, as well as for their families, all healthcare workers including doctors and nurses, and those who care for the sick and those in need or living alone, and those experiencing economic problems.
"Mercy does not abandon those who stay behind," Francis said. But he warned that "now, while we are looking forward to a slow and arduous recovery from the pandemic, there is a danger that we will forget those who are left behind." Explaining what he meant by "selfish indifference," he said, this is "a virus spread by the thought that life is better if it is better for me and that everything will be fine if it is fine for me. It begins there and ends up selecting one person over another, discarding the poor and sacrificing those left behind on the altar of progress."
He said "the present pandemic reminds us that there are no differences or borders between those who suffer," referring to the fact that the coronavirus pandemic has already caused the deaths of more than 160,000 people and infected more than 2.3 million, and caused 4.5 billion to be placed under confinement measures or even total lockdown.
"Mercy does not abandon those who stay behind."
As he has said on several occasions in recent weeks, Francis said this is the time to rebuild the world in a more human, inclusive, sustainable way and that failure to take the opportunity to do so will bring other tragedies. For this reason, he has set up a team in the Vatican to see how it can influence the decisions that are being taken now by those in positions of political and economic power that will re-order the whole world.
In his homily today, he called on people to "learn from the early Christian community described in the Acts of the Apostles" that "received mercy and lived with mercy." He recalled how those first Christians "were together and had all things in common; they sold their possessions and goods and distributed them to all, as any had need." "This is not some ideology. It is Christianity," he said.
Pope Francis left the Vatican for the second time during this pandemic, this time to celebrate Mass in this church on the first Sunday after Easter. Twenty years ago, St. John Paul II dedicated this Sunday to the Divine Mercy. In his homily, Francis recalled how St. Faustina said that Jesus told her: "I am love and mercy itself; there is no human misery that could measure up to my mercy."
Commenting on the Gospel story that recounted how the apostle Thomas was not with the other disciples when Jesus first appeared to them after his resurrection and had said he would not believe until he touched the wounds of the crucified Lord, Francis recalled how Jesus reached out to Thomas with "patient mercy" and showed him his wounds, after which the doubting disciple made his profession of faith with the words "My Lord and my God."
"We need the Lord, who sees beyond that frailty an irrepressible beauty."
At this point, addressing his virtual audience of millions of people who were following the celebration broadcast by Vatican Media, Francis said, "dear brothers and sisters, in the time of trial that we are presently undergoing, we too, like Thomas, with our fears and our doubts, have experienced our frailty. We need the Lord, who sees beyond that frailty an irrepressible beauty. With him, we rediscover how precious we are even in our vulnerability. We discover that we are like beautiful crystals, fragile and at the same time precious. And if, like crystal, we are transparent before him, his light—the light of mercy—will shine in us and through us in the world."
"Each of us could say, 'these are complex problems, it is not my job to take care of the needy, others have to be concerned with it,'" Pope Francis said. Then he recalled that St. Faustina, after meeting Jesus, wrote, "In a soul that is suffering, we should see Jesus on the cross, not a parasite and a burden..." Moreover, she wrote that she herself complained one day to Jesus that "in being merciful, one is thought to be naive" and Jesus told her, "never mind, don't let it bother you, just be merciful to everyone always."
Addressing people worldwide, Pope Francis said, "let us not think only of our interests, our vested interests. Let us welcome this time of trial as an opportunity to prepare for our collective future. Because without an all-embracing vision, there will be no future for anyone."
He concluded by appealing to everyone: "let us show mercy to those who are most vulnerable; for only in this way will we build a new world."
At the end of Mass, he extended his fraternal greeting and good wishes to the Oriental Orthodox and Eastern Catholic churches and who are celebrating the resurrection of Jesus on this Sunday.