A (Complicated) Prayer for Kobe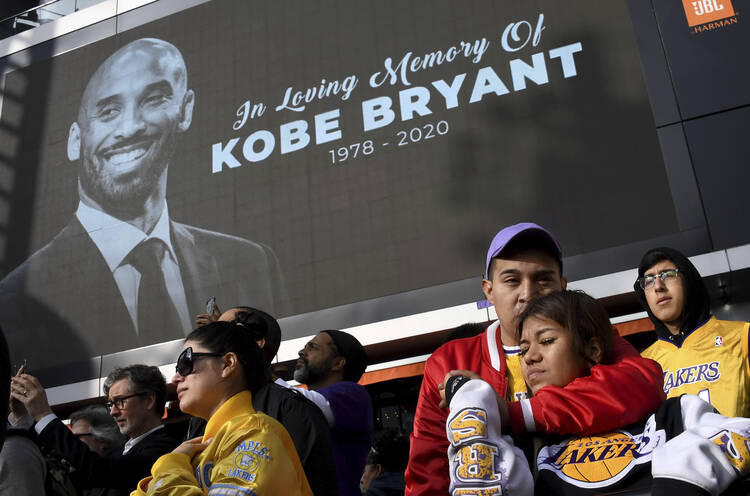 Fans mourn the loss of Kobe Bryant in front of La Live across from Staples Center, home of the Los Angeles Lakers in Los Angeles on Sunday, Jan. 26, 2020. Bryant, the 18-time NBA All-Star who won five championships and became one of the greatest basketball players of his generation during a 20-year career with the Los Angeles Lakers, died in a helicopter crash Sunday. (Keith Birmingham/The Orange County Register via AP)
Editor's note: The news of Kobe Bryant's tragic death, alongside his 13-year-old daughter and seven others, in a helicopter crash near Calabasas, Calif., on Sunday has led to an outpouring of tributes and remembrances. It has also sparked a conversation about how, in the post-#MeToo era, to memorialize a widely beloved celebrity with a rape allegation. Holding all of this together can be difficult, but sometimes words— and prayers—are useful for holding difficult things together. The following text, which was originally written as a Facebook post and since been shared many times, does just that.
I think Kobe Bryant meant a lot to many of us black folks, for complicated reasons.
I also believe he got away with rape.
I also think he was a great dad.
I also think he was one of the greatest players to play the game.
I also think his promotion of women's basketball and the W.N.B.A. was admirable and forward-thinking.
I also loved his aerial artistry.
I also know that sexual assault survivors will be triggered and traumatized by this public lionization.
I also know that even though I resented his seeming selfishness and political apathy in his early years, he grew into a type of maturity in his personal life and in his philanthropic endeavors that surprised me in a positive way. As he grew older, he grew bolder in his political visibility in ways that I appreciated (seeing him rock the "I can't breathe" t-shirt to commemorate Eric Garner's assassination by the police heartened me).
I also don't think that this erases the deep trauma he caused.
I also believe in healing, growth and redemption.
I also cried when I heard he died, because feelings are not political agendas and many of these celebrities are intertwined in our memories in ways that bypass our frontal cortex (I'm looking at you Michael Jackson). I remember "where I was when Kobe, the athlete, did [insert greatathleticachievement]."
I also know that the ability to compartmentalize is a luxury of the privileged, and as someone who has not been sexually abused I have privilege.
I also know that his child died with him and that she deserved a longer life.
I also mourn for his family.
I also hold his survivor and other sexual assault survivors in the light tonight.
I also know that the basketball fan in me will miss him.
This is hard to process.
Please be gentle, as best you can.
And if this reflection hurts or offends, I also believe that as an imperfect human being (like all of us), I will hurt and harm people I love.
Because such is life.
And life is very, very short.
[Don't miss more stories like this one. Sign up for our newsletter.]