Every Nativity set has its story
At the beginning of Advent, Pope Francis encouraged Christians everywhere to continue "the beautiful family tradition of preparing the nativity scene in the days before Christmas" by setting up Nativity sets not only in their homes but also "in the workplace, in schools, hospitals, prisons and town squares." In that spirit, America asked its readers to send us a photo and description of their Nativity set and tell us what makes it special.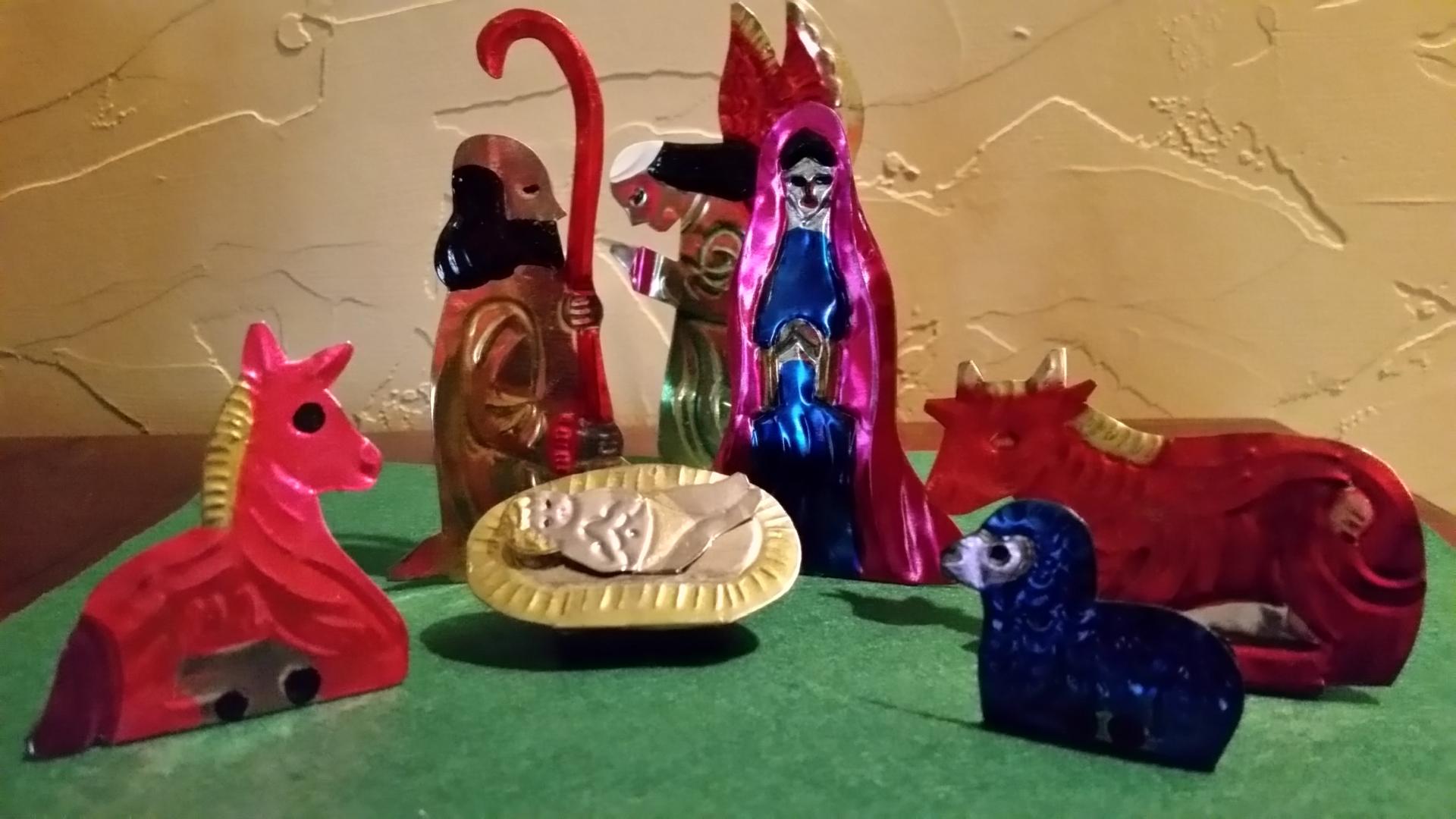 1. I bought this Nativity 16 years ago in a border town in Mexico, where I taught in an Episcopal school. My students made small ojos de Dios, and I added other tin ornaments. It reminds me of the many students who made ornaments and enjoyed the lights that made the tin Nativity shine!
Veronica Zamarron
Harlingen, Tex.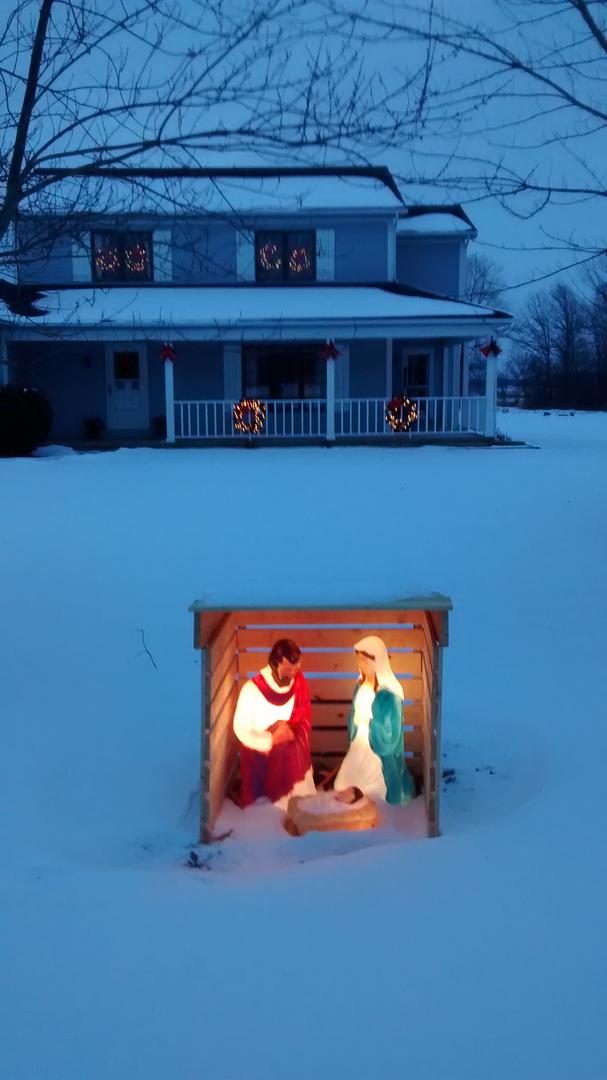 2. I like a simple display with a unique image. We live on a well-traveled county road. I think this communicates peace without being too distracting.
Keston Smith
Fort Wayne, Ind.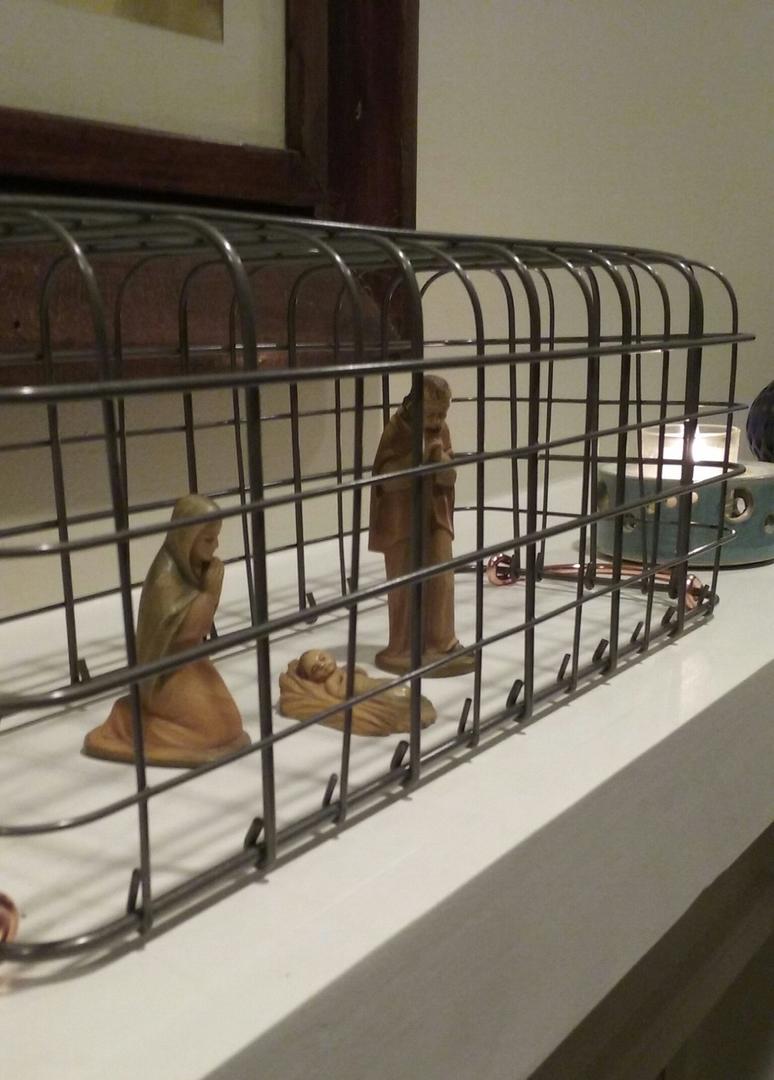 3. We began putting our simple Nativity in a cage about two years ago. At that time, we began standing out on a busy street corner for an hour every Saturday with a group of like-minded Catholics holding banners saying, "Immigrants and refugees welcome." The banner includes a picture of the Holy Family on the road to Egypt. The group is now interfaith, and we have partner groups standing on other corners every weekday. And the Nativity is up year round to keep us in solidarity with our sisters and brothers in detention.
Helen Deines
Louisville, Ky.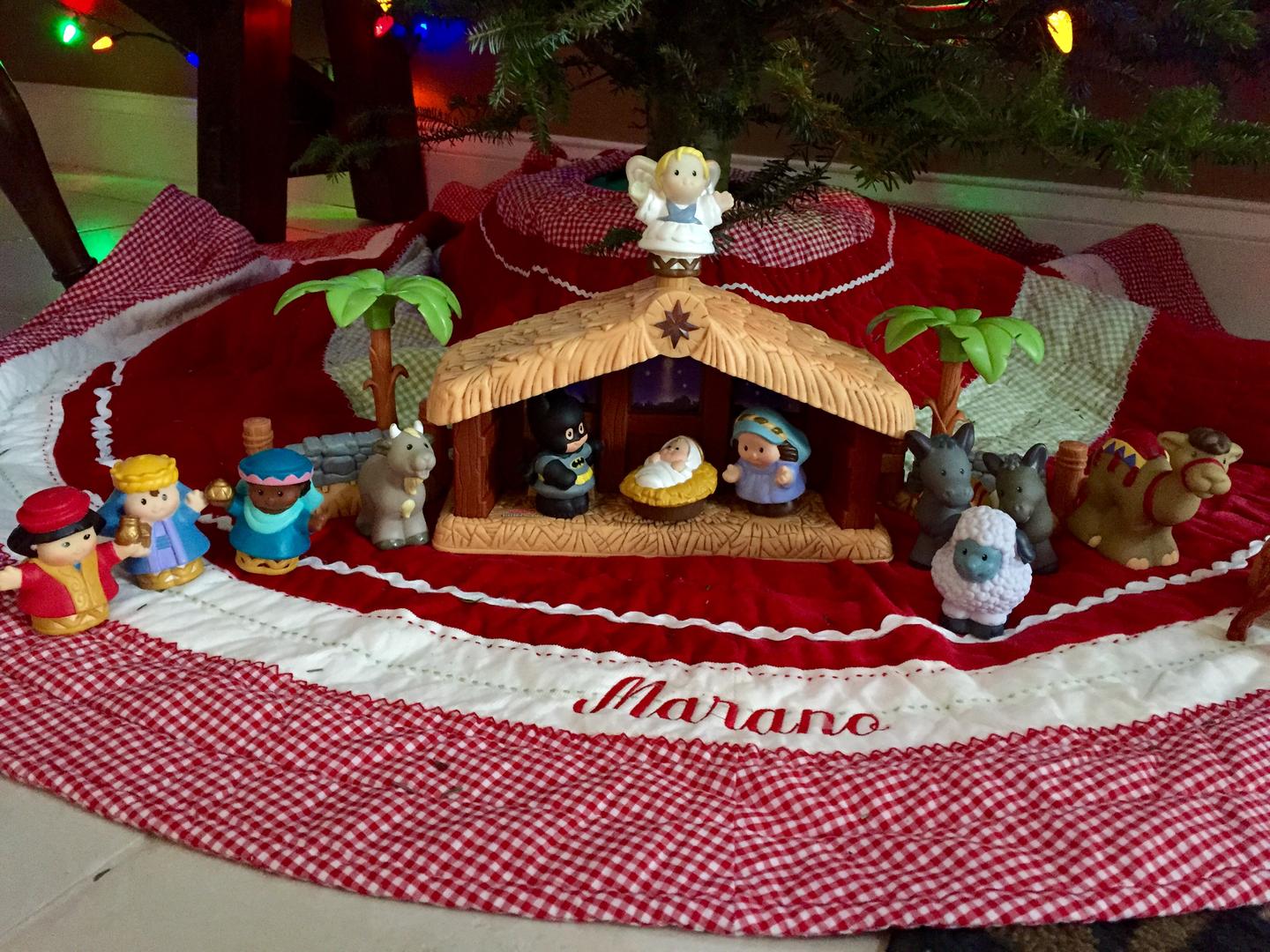 4. A few years ago, our daughter and her boys were setting out their Fisher-Price Little People Nativity set. They could not find St. Joseph. After some searching, one of the boys found a Little People Batman and they used him as a "substitute" for St. Joseph. It has been a few years now. The real St. Joseph was found, but all decided his substitute was just fine. It is now a family tradition.
Brian McKernan
Ridgefield, Wash.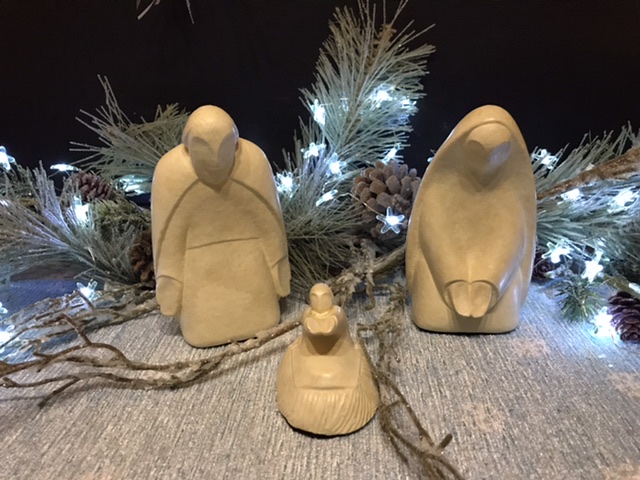 5. My parents, Vaile and Mary Scott, bought ours during the 1960s. I always felt that this one allowed me to step into the scene in a different way than a traditional Nativity. It is made of some kind of soapstone. After my dad became ill and passed, the Nativity set got buried in a box for several years. I never forgot it and after some searching retrieved it. It is displayed at Christmas time on a countertop in my R.V., as my husband and I are retired and travel full time.
Francie Scott
Fort Pierce, Fla.
6. This was carved by my mother, Therese J. Mueller, in about 1929. She carved the heads, hands and feet and wired, padded and dressed them. The idea was to allow each figure to bend: to kneel, carry, hold, wave, etc. This way the infancy narratives could be told from the Annunciation through the trip to Bethlehem, the birth of Christ, the kings following the star, the flight into Egypt...all the way to the celebration of the presentation in the temple on Feb. 2. Therese Mueller was a classic writer for the liturgical movement in the '40s and '50s. We children grew up with these stories.
Gertrud Mueller Nelson
Encintas, Calif.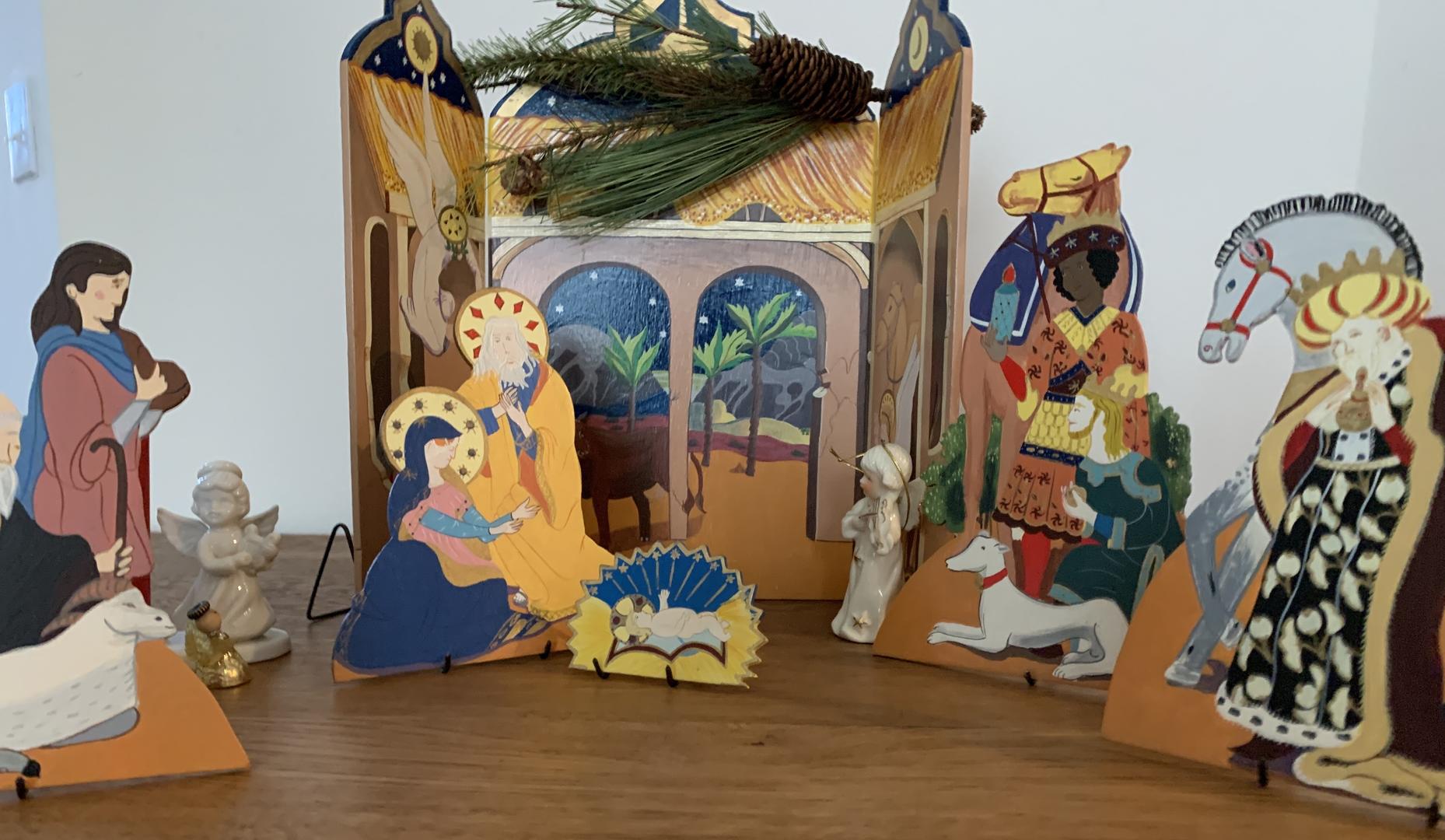 7. My mother bought this early Renaissance crèche because it was handmade in Sri Lanka. She used it for years. It now sits on a handmade wooden table my father refinished for my mom. It's wood and different from any other I have seen.
Gigi Eakins
Renton, Wash.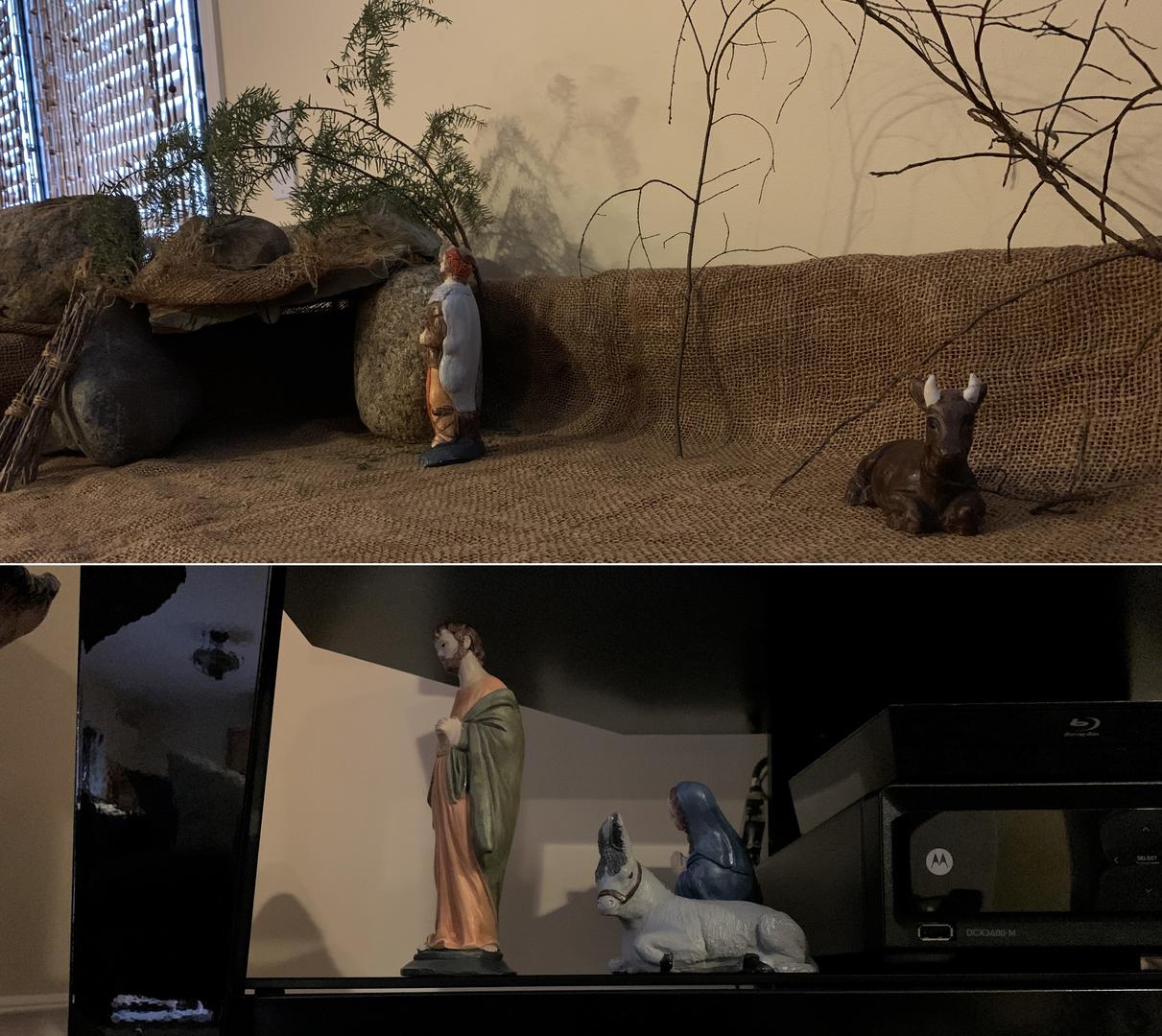 8. Being the start of Advent, all we have to offer is this lonely shepherd looking for shelter in some dark and dank cave. Meanwhile, Joseph and Mary are making their way across from the other side of the living room. I could send an update at Christmas if you would like!
My dad, back in the sixties, always tried to make our Nativity set as realistic as possible, like St. Francis intended. We have tried to carry on the tradition, even now with the kids all grown up. They were always fascinated, as kids, as to how Joseph and Mary moved overnight each Advent Sunday, getting ever closer to the cave with each week. Meanwhile shepherds wandered in and out of the cave scene until that big night arrived.
Peter and Gillian Queenan
Coquitlam, British Columbia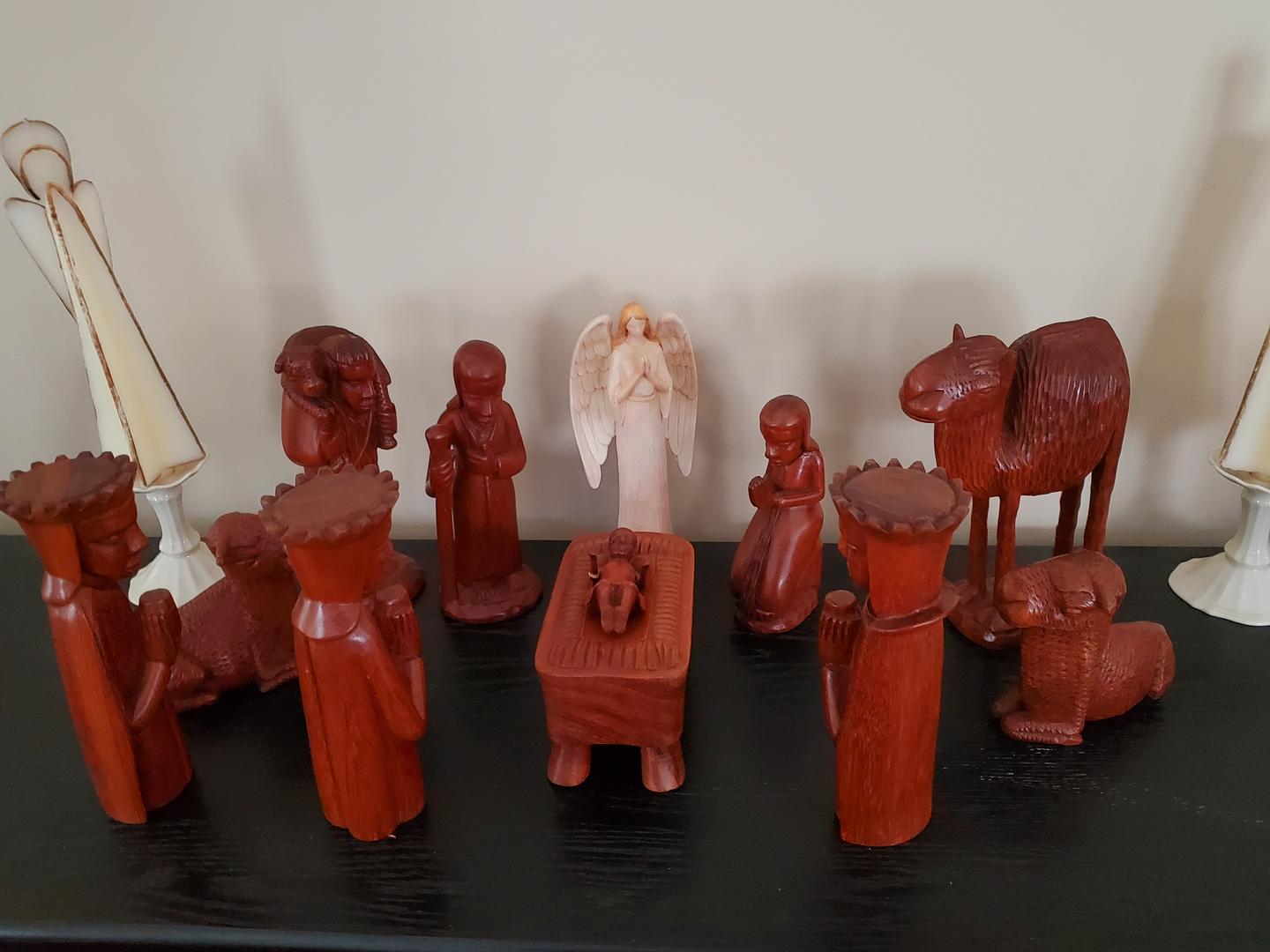 9. We were a missionary family in Liberia. I was a Lutheran pastor in Suakoko from 1984 to 1986. During a personally turbulent time, a season of desolation, we found consolation among two communities of lepers. The Ganta community had a wood carver who created this Nativity for us. His gift remains for us gracious consolation nearly 35 years later.
Dominic Scibilia
Mount Pleasant, S.C.
10. My family inherited our Nativity set from my grandfather after he passed away two years ago. Although he struggled to make ends meet when my mother was growing up, Grandpa Morton used his artistic touch to create unique, beautiful presents for his wife and children. In the early 1970s, he hand-carved a Nativity set out of scrap wood for my grandmother. The original set contained the Nativity essentials: Mary, Joseph, baby Jesus and the stable animals. The set grew every year as Grandpa Morton added more pieces and characters. Eventually, he developed a tradition of adding one lamb to the Nativity set each Christmas, which was meant to symbolize more believers discovering Christ's love for us and joining his flock. Grandpa Morton continued adding lambs until my grandmother's death in 2016; today our Nativity set has 103 sheep.
Isabelle Senechal (Joseph A. O'Hare, S.J., fellow)
New York, N.Y.