Everything you've wanted to know about Judaism—but were too afraid to ask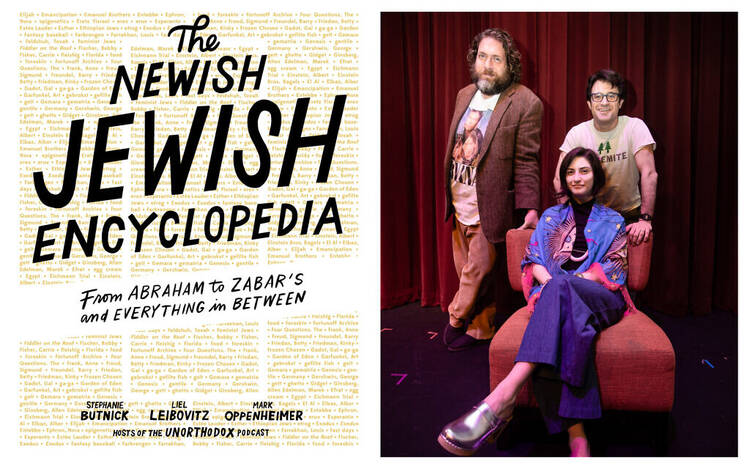 Co-authors of 'The Newish Jewish Encyclopedia,' clockwise from back left: Liel Leibovitz, Mark Oppenheimer, and Stephanie Butnick. (Photo credit Matthew Lipsen); Cover of 'The Newish Jewish Encyclopedia.' (Excerpted from 'The Newish Jewish Encyclopedia' by Stephanie Butnick, Liel Leibovitz, and Mark Oppenheimer [Artisan Books]. Copyright © 2019)
This week, we welcome, for the second time, Stephanie Butnick and Liel Leibovitz, two-thirds of the Jewish podcast, "Unorthodox." They just published an amazing new book, The Newish Jewish Encyclopedia: From Abraham to Zabar's and Everything in Between.
We talk to them about Jewdar, Chinese food and Christmas, Drake, Thanksgivuhkuh and other fascinating entries in the book!
In Signs of the Times, Pope Francis urges us to ask: "Do I, a Christian, have at least one poor person as a friend?" And he considers updating the Catechism to include "ecological sins." In our third and last story, we discuss a new study from the Pew Research Center that analyzes how American adults feel about the relationship between religion and politics.
Feel free to send us your questions, concerns, cocktail recipes or join us for discussion on Facebook and follow us on Twitter. You can help other listeners find the show by leaving us a rating and review on Apple Podcasts!
If you're not doing so already, please consider supporting us on Patreon, where we have started a newsletter exclusively for Patrons! Stay tuned for things like .gifs from Ashley, advice requests from Zac or book recommendations from Olga.
Thank you to those already supporting us. We would not be able to do this without you.
P.S. America Media will be launching a new podcast next month called "Plague: Untold Stories of AIDS and the Catholic Church," hosted by our national correspondent, Michael O'Loughlin. The first episode premieres on Dec. 1, World AIDS Day. Please visit the show's page or wherever you listen to podcasts and listen to the trailer and subscribe.
Links from the show:
Pope Francis calls on Christians to remember the poor, 'the treasure of the church'
Pope Francis: Catechism will be updated to define ecological sins
Americans Have Positive Views About Religion's Role in Society, but Want It Out of Politics
What's on tap?
Stephanie and Liel brought us Arak, "a delightfully alcoholic beverage made of grapes and aniseed."