Catholics cite God, not homilies, as reason for attending church
Compared with other Christians in the United States, Catholics are more likely to attend church to please other family members—and are significantly less likely to go because they "find the sermons valuable." Those were among the findings of a Pew Research Center poll released in August. Pew interviewed 4,729 U.S. adults, including 844 self-identified Catholics, last December to find out why they regularly attended church or stayed away.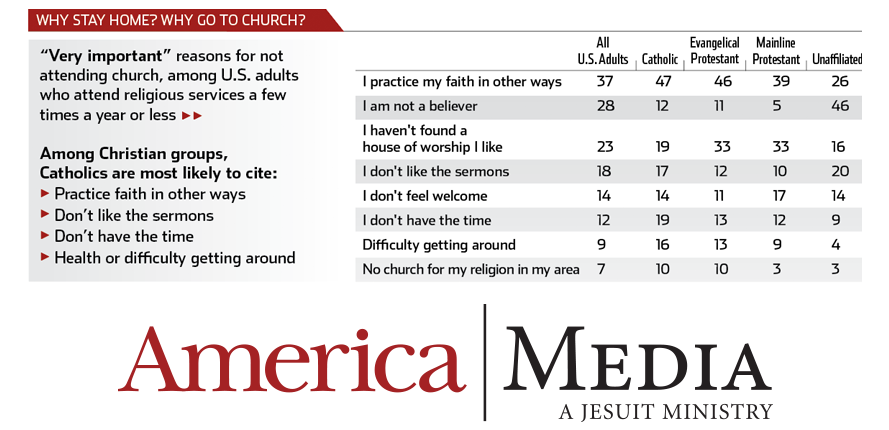 Among those who rarely attend church, 37 percent of all adults and 47 percent of Catholics chose "I practice my faith in other ways" as a "very important" reason they did not attend church. Only 28 percent cited a lack of belief in religion as a very important reason; nonbelievers were disproportionately young, male and highly educated, and they identified more with the Democratic Party. Protestants were more likely than Catholics to say, "I haven't found a church I like," and people under 30 were most likely to say they "don't have the time" to attend.
Most adults who attended church at least monthly chose "to become closer to God" as an important reason, but Catholics were much less likely than other Christian groups to say, "I find the sermons valuable." Men were more likely than women to say they attended church to please spouses or family members (22 percent versus 12 percent). Among age groups, those under 30 were most likely to say they attended church to "socialize" (30 percent) and least likely to say they went to be part of a community of faith (52 percent).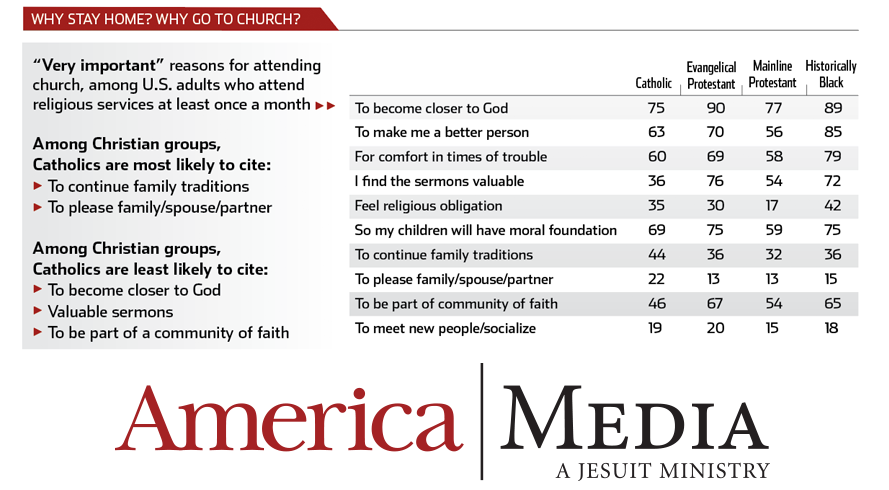 Adults under 30 who regularly attended church were also the least likely to say they often experienced "a sense of God's presence" there (63 percent versus more than 80 percent for other age groups). However, older groups were more likely to say they attend "for comfort in times of trouble"; it may be the case that life experience strengthens belief and creates an openness to spirituality.
Source: "Why Americans Go (and Don't Go) to Religious Services," Aug. 1, Pew Research Center. The margin of error was 3.7 points among non-attenders, 3.0 points among regular church attenders and 7.8 points among Catholics. Both non-attenders and attenders were divided into religious groups, including Protestant denominations that have historically had mostly black congregations, by self-identification. Because respondents could give multiple answers, column totals in the accompanying charts add up to more than 100.