Should St. Óscar Romero have been canonized back in El Salvador?
The Catholic Church waited 35 years after the martyrdom of Óscar Romero, the prophetic archbishop of San Salvador who was assassinated while saying Mass on March 24, 1980, to declare him "blessed," the penultimate step to canonization as a Catholic saint. That next and final step came rather quicker: Yesterday morning in Vatican City, he was declared Saint Óscar Romero, canonized along with Pope Paul VI and five others at a ceremony attended by over 70,000 pilgrims in St. Peter's Square.
For Salvadorans, many of whom revered "San Romero" as a saint for decades before the church caught up to their devotion, the day was one of celebration and remembrance—and, in certain cases, a chance for instruction into the painful, bloody and yet hope-filled history of El Salvador (almost 50 percent of the country's population is below 25 years of age). And yet the celebration contrasted in many ways with Romero's beatification, an ebullient national celebration held in the center of San Salvador on May 23, 2015, and attended by more than 260,000 people.
For Salvadorans, the day was one of celebration and remembrance.
Prayer vigils and public celebrations preceded and followed the 2015 beatification ceremony for days. The beatification Mass was held almost entirely in Spanish. A letter from Pope Francis extolling Romero's virtues and offering prayers for El Salvador was read aloud during the liturgy. Salvadoran seminarians processed in with a reliquary in which the bloodstained shirt Romero was wearing when he was murdered was enclosed. At the moment Romero was declared blessed, a circular "solar halo" rainbow appeared around the midday sun, eliciting tears and shouts of joy from the throngs gathered in and around San Salvador's Plaza El Salvador del Mundo (The Plaza of the Savior of the World).
This time around, only about 8,000 Salvadorans were present for the canonization Mass in St. Peter's Square. Not many who were present for the beatification could afford the pricey airfares or hotel costs to come to Rome. Hundreds of thousands more back in El Salvador rose before dawn to watch the ceremony on television at 4 a.m. (There is a six-hour time difference between Vatican City and El Salvador.)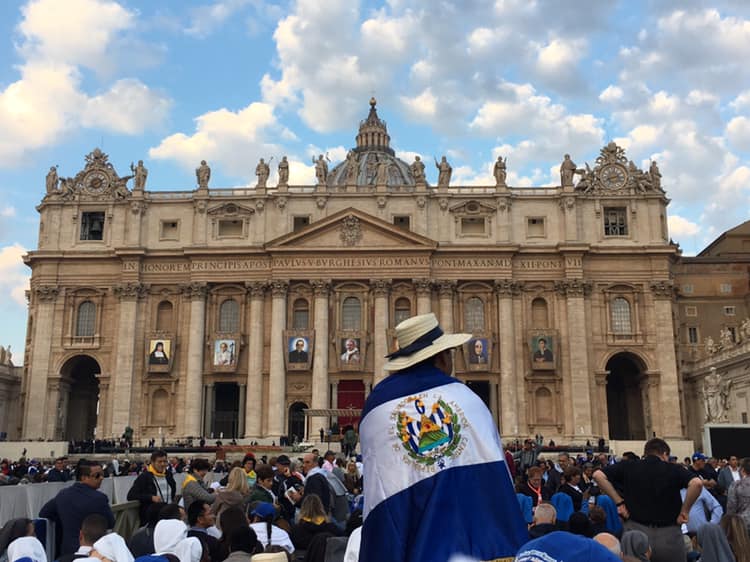 The inclusion of other new saints in the ceremony—and, in particular, the elevation of Pope Paul VI to sainthood—also somewhat overshadowed that of Romero, though Pope Francis, who has been public in his admiration of Romero as someone who internalized and promulgated the teachings of the Second Vatican Council, explicitly linked the two in his homily at the canonization.
"It would have been good to have so many faithful Catholics [in El Salvador] celebrate this day together."
Perhaps the most dramatic contrast between the two celebrations was one of liturgical style. Yesterday's canonization was largely conducted in Latin, with Gregorian chant as the preferred musical style. The "canonization formula" declaring the seven new saints was pronounced early in the liturgy without much fanfare and was greeted with polite and scattered applause. The Gospel was chanted in Latin and then in Greek, and Pope Francis delivered his homily in Italian. Pilgrims were also asked not to wave national flags or banners, making for a relatively staid if still joyful liturgy. Only before and after the ceremony were the songs and cheers of the Salvadoran pilgrims—easily identifiable from their blue baseball caps and Romero-themed banners and T-shirts—prominent in the celebration.
Would Salvadorans have preferred to have Romero's canonization at home—particularly if rumors that Pope Francis will visit San Salvador before his visit to Panama for World Youth Day in January of 2019 are true? On the one hand, Romero is now a saint of the universal church—where better to raise him to the altars than at the church's heart? On the other hand, no one would dispute that Romero belongs in a special way to the Salvadoran people—and, as some pilgrims noted Sunday, he might have himself objected to some of the ostentation and formality of the canonization Mass.
"I've asked the Lord to preserve in me this faith and this attachment to Rome that Christ has chosen as the seat of the universal shepherd."
San Salvador would have been more appropriate than Vatican City, commented Salvadoran pilgrim Max Umanzor through a translator before Sunday's canonization Mass: "It would have been good to have so many faithful Catholics [in El Salvador] celebrate this day together." Mr. Umanzor had made the trek to Rome with 11 other pilgrims from his hometown of Pasaquina, in the La Unión region of El Salvador, and noted the trip was expensive. "Instead, in many of our parishes people will be gathering this morning to watch together on television."
Scott Wright, a U.S.-born author of the biography Óscar Romero and the Communion of the Saints, lived in El Salvador during its 12-year civil war, working with the Archdiocese of San Salvador on programs accompanying refugees and displaced peoples in the nation. While he agreed that the beatification ceremony in 2015 had been a signal moment for El Salvador, he also commented on the symbolic value of canonizing Romero in Rome. "For 38 years now, many of those who honored Romero—in El Salvador and elsewhere—have called him 'San Romero de las Américas,'" Mr. Wright commented in St. Peter's Square on Sunday. "He belongs now to the universal church, and I am happy to see Pope Francis recognize that by having the ceremony here."
"This is a sign that the church is receiving and internalizing Romero's prophetic message and emphasis on pastoral ministry," Mr. Wright continued. "And that the church is embracing its own modern martyrs as the seeds of the church's future."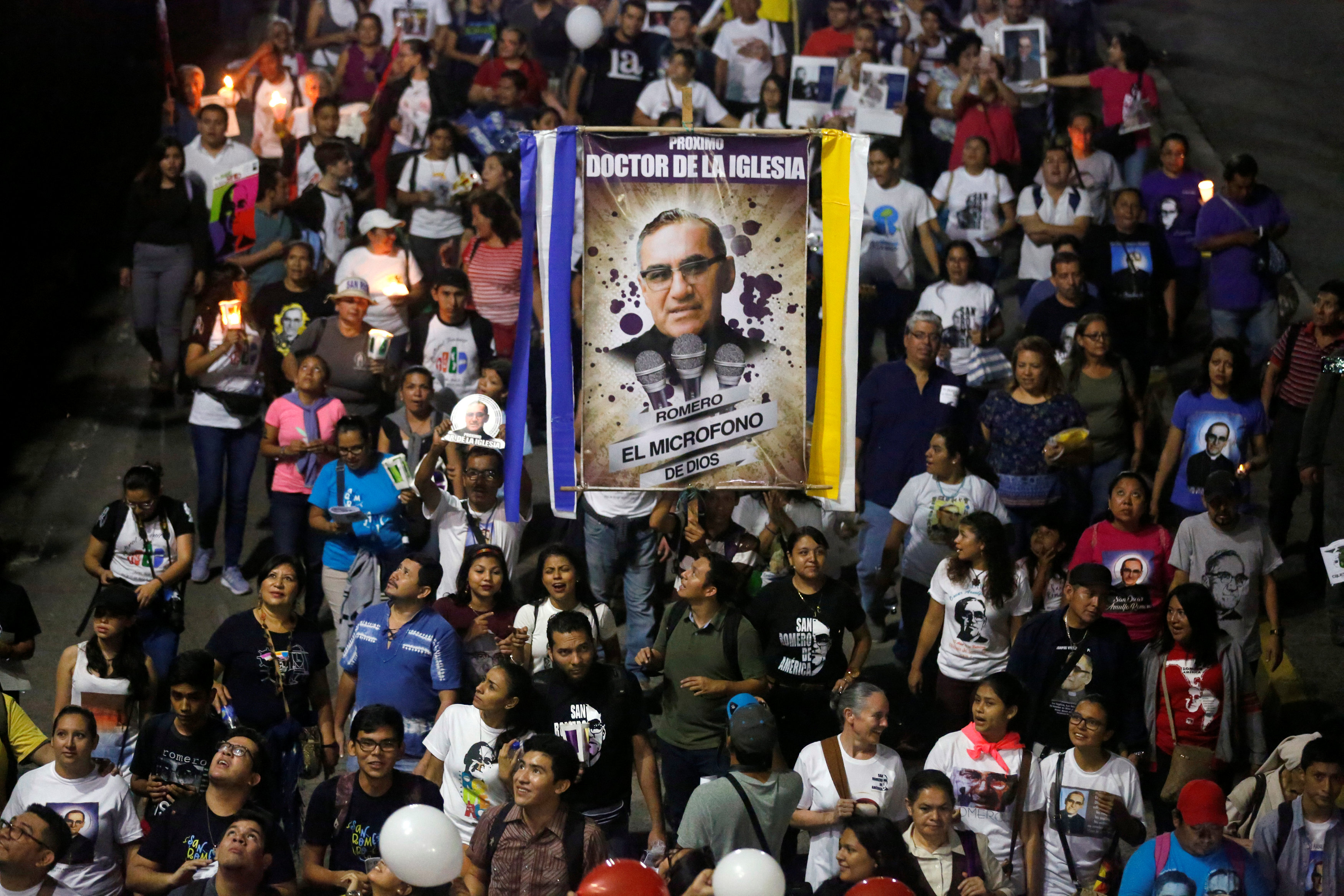 A Saturday night vigil in Santa Maria in Campitelli, a Roman parish, did offer pilgrims a more typically Salvadoran experience of their own prayers and songs; in addition, earlier today Pope Francis was scheduled to meet with Salvadoran pilgrims in Vatican City for a special audience.
St. Romero's own writings might give the last word on the locale of his canonization. In an undated diary entry quoted in an April 22 editorial in Orientación, a weekly publication of the Archdiocese of San Salvador, Romero wrote both of the city of yesterday's canonization and of one of his fellow new saints:
Rome means to me a return to the cradle, home.... I've asked the Lord to preserve in me this faith and this attachment to Rome that Christ has chosen as the seat of the universal shepherd, the pope. I felt special emotion while praying next to the tomb of Paul VI, whose conversations with me I greatly remembered.