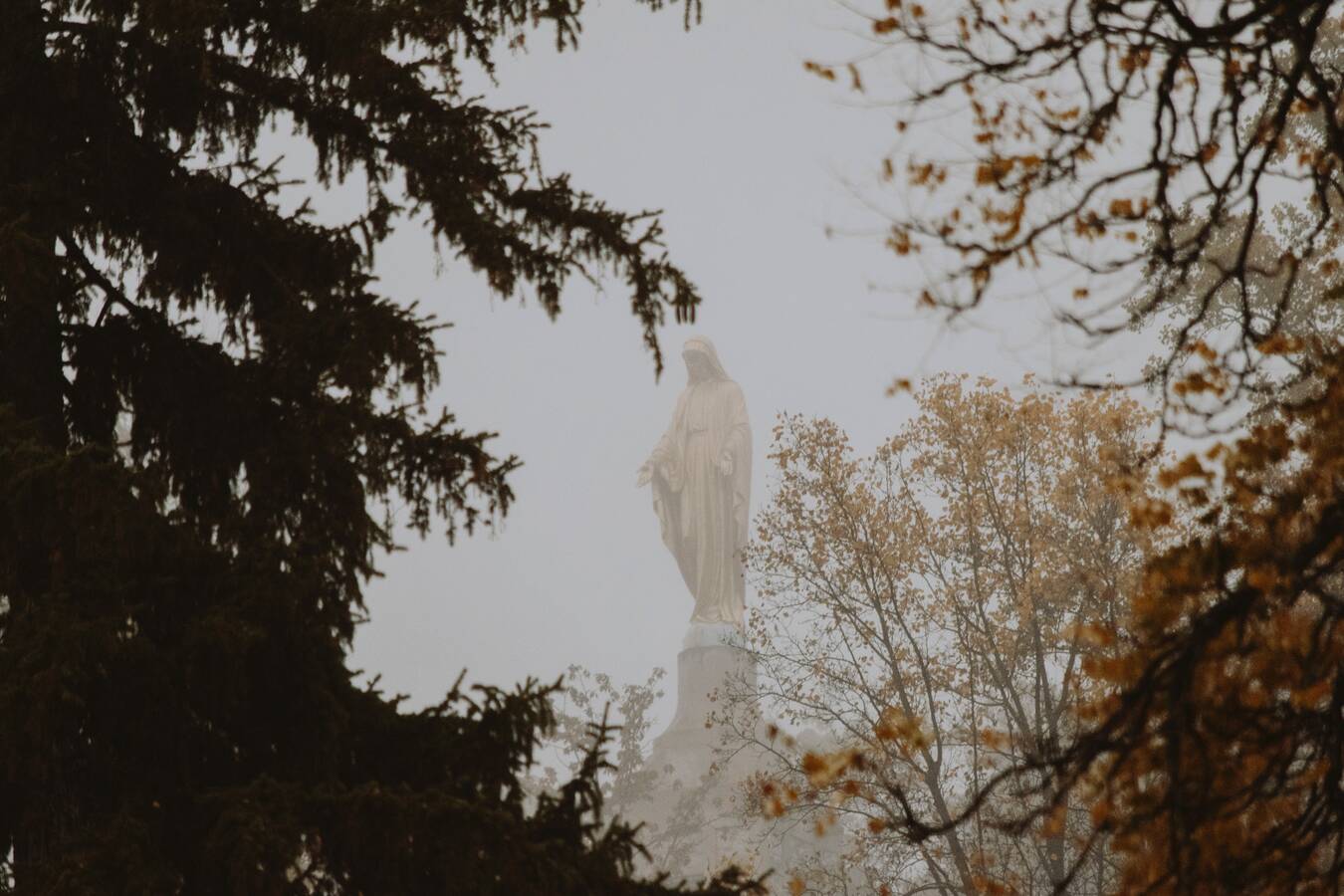 How do we celebrate the Assumption of Mary in this summer of sex abuse scandals?
One effect of worshipping according to a liturgical calendar is that each commemoration comes amid a constellation of others, so that we always begin a celebration, preach a new homily, aware of where we have been and where we are going.
Pope John Paul II knew just that when he assigned to Maximilian Kolbe the memorial date of Aug. 14, one day before the Solemnity of the Assumption of the Blessed Virgin Mary. The priest martyr not only died on the eve of her feast, his ministry had been centered upon devotion to Mary.
The story of his death could not be more inspiring. A prisoner in Auschwitz because of his Christian publishing activity, he watched as 10 men were randomly chosen to be starved to death because 10 others had escaped. When one of them cried out, "My wife! My Children!" Father Maximilian volunteered to take his place.
What are we to make of Maximilian and Mary this summer? Of his martyrdom and her assumption?
Another effect of a liturgical calendar is that each year we travel through the same constellation of celebrations while the world around us encounters new crises and new challenges. This summer the heroism and charity of the priest Maximilian Kolbe is juxtaposed to the release of the Pennsylvania Attorney General's report on the investigation of clerical abuse in six of the state's eight dioceses. It implicates at least 300 clerics in decades of criminal activity involving the abuse of minors.
This is also the summer that revealed the long history of abuse hidden within the ministry of Cardinal Theodore McCarrick. Indeed, in this liturgical year, one would be hard pressed to find a continent untouched by clerical scandal. So what are we to make of Maximilian and Mary this summer? Of his martyrdom and her assumption?
We could say that the church, like the world itself, has always been a battleground between the forces of good and evil. That is a common Christian truism, one rooted in the Gospel parable of the wheat and the weeds.
We could admit, again, that our clerical leadership is not immune to sin, and that we should never be surprised by the sway of evil in its ranks. We have known that since the first Christians accepted martyrdom, even as some of the church's first leaders caved. And who can count the number of clerics Dante placed in hell?
Pity and punish the powerful but take no delight in their fall.
Eucharistic prayers have always included prayers for popes and bishops and, in the case of the latter, by rather brusquely using their baptismal name rather than the more typical surname we employ when speaking of their official ministry. It is an ancient admission that a leader is never free from temptation and sin and that the very choice to serve Christ invites danger and thus requires protective prayer.
Are church clerics and leaders guilty, must be they be stopped, and should they be punished? Yes, Yes, Yes. As is so often the case in the Christian life, individually and collectively, we suffer because of our own sins. Worse still, we cause the innocent to suffer.
Yet no Christian should find delight in the moral failure of others. One does not advance even a noble cause by reveling in the moral failures of its would-be opponents. Remember, they can always do the same. Did a young Theodore McCarrick and countless others like him set out to perpetrate great evil? They must be punished because they have, but they should also be pitied because, even like those on death row, they are themselves the victims of evil. Hatred of perpetrators does nothing to restore what their victims have lost. Hatred has no part in Christ.
[Explore America's in-depth coverage of Sexual Abuse and the Catholic Church.]
So this summer we come again to the Virgin of Nazareth. And we say that here, in the most powerless portion of the church, in the suffering half of the sexes, in this singular little one, the salvation of Christ did not meet with any opposition. And so she never knew the pain of sin and death, which is always self-inflicted.
That is the way it is this year. Pity and punish the powerful but take no delight in their fall. "For he must reign until he has put all his enemies under his feet" (1 Cor 15:25). Society rightly screams at the church. Within her ranks, we must struggle against the sad and terrible spread of sin, even as we ponder the silent salvation Christ still works in our midst. And, most of all, we must strive to learn because learning is a grace.
Readings: Revelation 11:19a; 12:1-6a, 10ab 1 Corinthians 15:20-27 Luke 1:39-56