Albany bishop says laypeople should investigate misconduct by U.S. bishops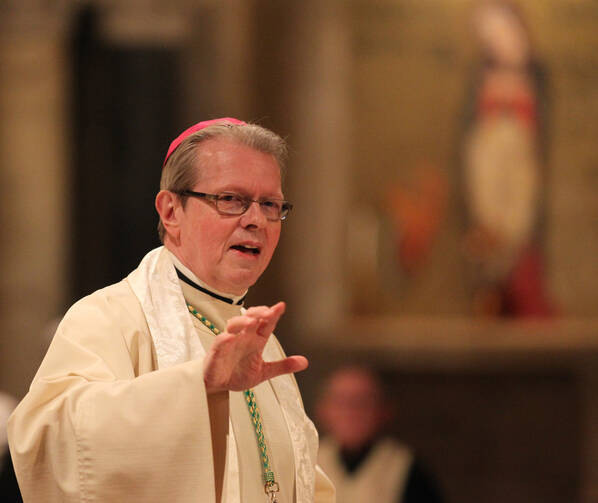 In this 2015 file photo, Bishop Edward B. Scharfenberger of Albany, N.Y., is seen at the Crypt Church of the Basilica of the National Shrine of the Immaculate Conception in Washington. He was one of several bishops who joined 300 Hispanic Catholic lay leaders at the Region II encuentro June 22-24 in Albany. (CNS photo/Bob Roller) 
Bishop Edward Scharfenberger of Albany, N.Y., said today that laypeople, not bishops, should lead inquiries into allegations of misconduct by U.S. bishops. Bishop Scharfenberger was responding to an idea advanced by Cardinal Donald Wuerl in an interview published on Aug. 6 by The National Catholic Reporter. Cardinal Wuerl suggested that the U.S. bishops might create a commission of bishops to investigate rumors of sexual misconduct by other bishops, passing concerns on to a Vatican office.
"Would we have some sort of a panel, a board, of bishops...where we would take it upon ourselves, or a number of bishops would be deputed, to ask about those rumors?" the Washington archbishop asked. "It seems to me that's one possibility, that there would be some way for the bishops, and that would mean working through our conference...to be able to address the question of sustained rumors," Cardinal Wuerl said. He added that U.S. bishops could not wait until their November general meeting to find solutions to address the fall out from allegations against his predecessor, Theodore McCarrick. The former cardinal, who was removed from public ministry and later resigned from the College of Cardinals, is accused of sexual assault and harassment.
Bishop Edward Scharfenberger said, "we have reached a point where bishops alone investigating bishops is not the answer."
Reacting to Cardinal Wuerl's interview in a statement, Bishop Edward Scharfenberger said, "we have reached a point where bishops alone investigating bishops is not the answer."
"To have credibility, a panel would have to be separated from any source of power whose trustworthiness might potentially be compromised," he said.
Bishop Scharfenberger has been vocal in encouraging victims of sexual harassment and assault by any church official to come forward. He publicly supported a priest in his diocese, the Rev. Desmond Rossi, who accused Archbishop McCarrick of harassing him when he was a seminarian.
"Our laypeople are not only willing to take on this much-needed role, but they are eager to help us make lasting reforms that will restore a level of trust that has been shattered yet again," Bishop Scharfenberger said. "In speaking with them, we all hear their passion for our universal Church, their devotion to the Gospel of Jesus Christ, and their hunger for the truth. They are essential to the solution we seek."
[Explore America's in-depth coverage of Sexual Abuse and the Catholic Church.]
Bishop Scharfenberger said a commission should be "led by well-respected, faithful lay leaders who are beyond reproach, people whose role on such a panel will not serve to benefit them financially, politically or personally."
"These will be people with a deep understanding of the Catholic faith," he added, "but without an axe to grind or an agenda to push. It will not be easy, but it will be worth every ounce of effort, energy, and candor we can muster."
Critics have noted that guidelines adopted by U.S. bishops in 2002 for dealing with allegations of the sexual abuse of minors by priests did not include bishops. Those guidelines also do not cover allegations of harassment or sexual assault by church leaders against adults.
Cardinal Wuerl defended the guidelines, known informally as the Dallas Charter, saying they have been effective—but he conceded that now the time has come to consider how to regulate bishops.
"The Charter is working," the cardinal told N.C.R. "And the instances of child abuse have dropped dramatically, but even more importantly, the whole protection of children within our Catholic institutions has manifested a wonderful commitment on our part. We need to be able to do the same thing now for bishops."