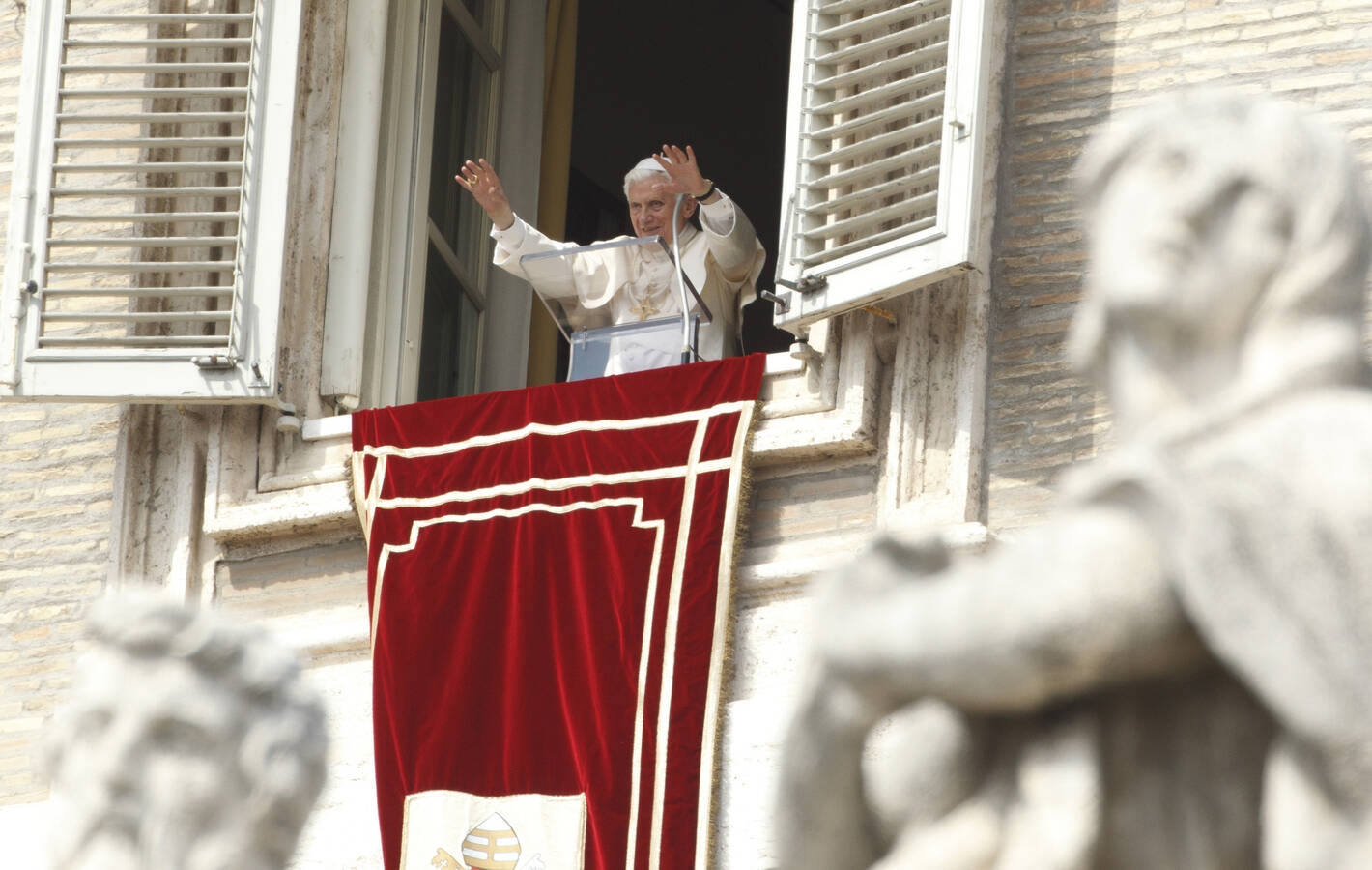 Did Benedict XVI predict the rise of Trump and fake news?
More than 13 years ago, in a homily given at the conclave that would later elect him Pope Benedict XVI, Cardinal Joseph Ratzinger spoke of a growing "dictatorship of relativism that does not recognize anything as definitive and whose ultimate goal consists solely of one's own ego and desires." The urgent call for a return to truth-based religion, far from repelling the cardinals, distinguished Ratzinger as the frontrunner for papal office.
Ratzinger's papal platform did not prove broadly appealing. The secular pundits of the last decade often ignored his warning as the scare tactic of a dogmatist unable to adjust to the benign pluralism of a world that had, in keeping with Kant's rallying cry, "dared to think." I doubt the pope emeritus has much energy nowadays to follow the many instructive ironies of the Trump era; but if he did, he might take just the tiniest bit of satisfaction in seeing not just the religious right but also the secular left denouncing a growing "dictatorship of relativism." Ratzinger's distinctive emphasis on freedom's need for truth, in other words, may have come not too late but too early to find a bipartisan hearing in the United States.
Examples of the secular left's re-enchantment with objective reality abound. Professor Mark Lilla of Columbia University was perhaps the first out of the gate with his interpretation of Hillary Clinton's defeat as "the end of identity liberalism" in a New York Times article in November 2016. Obsession with diversity has produced, he laments, a "generation of liberals and progressives narcissistically unaware of conditions outside their self-defined group." Donald J. Trump's victory shows that this has ultimately "encouraged white, rural, religious Americans to think of themselves as a disadvantaged group whose identity is being threatened or ignored." The way back for Democrats, accordingly, lies in recovering a rhetoric of the common good and a shared destiny. Though Lilla does not use the language of "natural" or "objective" morality, he presupposes their reality. For how can a good be common, or a destiny shared, unless it is somehow discernible by all reasonable people?
Media voices, too, perhaps stung by the accusations of spreading "fake news," now treat not cronyism but willful solipsism as the politician's new capital sin. When Savannah Guthrie disputes Paul Ryan's claim that the Republican budget will benefit the middle class, for instance, she asks, "Are you living in a fantasy world?"
Ratzinger's distinctive emphasis on freedom's need for truth may have come not too late but too early to find a bipartisan hearing in the United States.
But perhaps the most ambitious and far-reaching truth-based criticism of the Trump-era United States can be found in Kurt Andersen's article for The Atlantic, "How America Lost its Mind," in September 2017. Andersen combines Guthrie's charges of fantasy with Lilla's narrative of the rightward migration of the left's intellectual extravagances. Yes, he concedes, the 1960s, the Eden of the baby-boomer liberals, were in many ways a retreat from reality into fantasy. In the 60s, the Esalen Institute (which even today identifies itself as a "world-wide network of seekers who look beyond dogma to explore deeper spiritual possibilities") became a kind of epicenter for an endless variety of ecstatic, dionysiac mysticisms. Shamanic rituals, mescaline consumption, healing energies and tantric sex all combined to form the potent spiritual cocktail known as the New Age movement.
In Lilla's telling this kind of magical thinking eventually found its academic expression in a mania for "deconstructionism." Michel Foucault's seminal argument in Folie et Déraison—that the difference between sanity and insanity rests entirely on social convention and that the very distinction serves only to legitimize hierarchies of domination—has set the research and teaching agendas of humanities professors ever since. Many students, even at Catholic universities, graduate more familiar with the principle that "all distinctions are violent" than with St. Paul's vision of the church as a many-membered body.
The irony in this evolution of U.S. culture, Andersen notes, is not that ivory-tower insanity failed to remain confined to the academy but that postmodernism took deepest root in the sector of society that is normally most suspicious of university elites. The new communication vectors of social media and talk radio, with their broad accessibility and immunity from peer review, accelerated the rightward movement of the belief that all reality is socially "constructed" to such an extent that "starting in the 1990s, America's unhinged right became much larger and more influential than its unhinged left."
As evidence of the right's proclivity toward fantasy, Andersen recalls its many paranoia-based enthusiasms: fear of one-world government, gun-control fanaticism, seven-day creationism, climate-change skepticism and more. Perhaps the most insightful aspect of Andersen's narrative is his conclusion that right and left extremes have now met: "Neither side has noticed, but large factions of the elite left and the populist right have been on the same team."
Ratzinger and Reality-Based Thinking
But at least one person did notice the secret kinship, the penchant for fantasy common to both the social-constructionist left and the identitarian right: Joseph Ratzinger. He evoked both in his coolly received phrase, "the dictatorship of relativism." Though Ratzinger is often portrayed as a youthful liberal frightened by the chaotic 1960s into authoritarian rigidity, his writings suggest that he was "woke" not by the student riots of 1968 but by the Nazi riots of the 1930s. A background criterion silently guides his discernment of any theological proposal: Would a Christianity guided by this principle have withstood the spell of National Socialism? Already in his essay "Salvation Outside the Church?" (1965), Ratzinger casts doubt on the widespread belief that God cares not about the content but only about the sincerity of our beliefs. Should we not then have just encouraged Nazis to be good Nazis? After all, Ratzinger would later recall in a 1991 address delivered to the U.S. bishops in Dallas, even some Nazi consciences felt quite certain of the rightness of their cause. Having witnessed the rise of the original "alt-right," Ratzinger could not easily forget that unchecked relativism—private or collective—sooner or later shows its demonic face.
At least one person did notice the secret kinship, the penchant for fantasy common to both the social-constructionist left and the identitarian right: Joseph Ratzinger.
But Ratzinger did more than earn the right to say "I told you so" for having arrived earlier at conclusions voiced by today's chattering classes. His historical experience and rootedness in the Christian tradition allow him to chart the path for a return to "reality-based" thinking that is both more consistent and less naïve.
To take one example of Ratzinger's greater consistency, we might compare Andersen's and Ratzinger's respective attitudes toward abortion. Andersen considers the legalization of abortion to be one of the healthy innovations achieved when the "reality-based left" was still culturally ascendant. Ratzinger, in stark contrast, takes the defense of the right to abortion to be a paradigm case of flight into subjectivist fantasy. In Truth and Tolerance (2003), he meditates at length on pregnancy, because there the "basic shape of human freedom, its typically human character, becomes clear." No one is more dependent on another, more undeniably a "being-from," than a child in utero. And no one is more oriented toward another, more obviously a "being-for," than a pregnant mother, whose very bodily equilibrium changes to welcome the stranger. If we are honest, Ratzinger continues, we never outgrow this interdependence. Our nature is such that we exercise our agency only within a "network of services"—a freedom received "from" others on whom we depend and a freedom lived "for" others who depend on us. Summing up his reflections, Ratzinger observes:
It has thus become fairly clear that freedom is linked to a yardstick, the yardstick of reality—to truth. Freedom to destroy oneself or to destroy another is not freedom but a diabolical parody. The freedom of man is a shared freedom, freedom in a coexistence of other freedoms, which are mutually limiting and thus mutually supportive: freedom must be measured according to what I am, what we are—otherwise it abolishes itself.
The first good to be sacrificed to the idol of limitless freedom, in other words, will be reality-based thinking, which will invariably be followed by the immolation of freedom itself. The Catholic author Flannery O'Connor summed up the dynamic even more succinctly: "When tenderness is detached from the source of tenderness, its logical outcome is terror."
Magical Thinking
Ratzinger's prognosis perhaps proves especially apt in the United States, where the need to find constitutional support for abortion has led to some of the most fantastical jurisprudential reasoning in the history of the Supreme Court. The court reached the height of magical thinking with Planned Parenthood v. Casey (1992), which ruled that requiring spousal notification prior to abortion posed an "undue burden" on a woman's freedom. "At the heart of liberty," the plurality opinion reasoned, "is the right to define one's own concept of existence, of meaning, of the universe, and of the mystery of human life." If legal abortion was, as Andersen presumes, a triumph of the "reality-based left," it was a pyrrhic one.
Once the right to define reality became lodged somewhere in the body of law, it quickly metastasized. It resurfaced most recently in Packingham v. North Carolina (June 2017), where Supreme Court Justice Anthony Kennedy applied Planned Parenthood v. Casey's privatized model of freedom to the internet—the very medium Andersen and others credit with enabling the rise of the alt-right. We cannot deny registered sex offenders access to internet sites visited by children, Kennedy opines, not because the restriction is too ill-defined, but because it impedes access to an instrument of self-definition: "While we now may be coming to the realization that the Cyber Age is a revolution of historic proportions, we cannot appreciate yet its full dimensions and vast potential to alter how we think, express ourselves, and define who we want to be." If the Supreme Court now sees internet access, like abortion, implied in the right to define our reality, should abortion rights advocates complain when the alt-right jealously guards its constitutional freedoms? Or should they just hope that the construction of dark cyberscapes of white supremacy remains "legal, safe and rare"?
Besides earning higher marks for internal consistency, Ratzinger also shows far less naïveté about the prospect of settling upon a common "yardstick of reality." Andersen conjectures that religious belief makes the right more fantasy-prone than the left, whose secular proclivities make it more docile to the corrective influence of science and experts. Just how conspiracy theories came to hold sway over the irreligious right, Anderson does not explain. Such explanations might, after all, distract from the clarity of the distinction to be reinforced: faith lies on the side of irrationality and scientific expertise on the side of rationality.
Given this view, Andersen hardly feels the need to distinguish carefully within the mixed bag of florid religiosity to be found in the United States. "Much more than the other billion or so people in the developed world," he writes, "we Americans believe—really believe—in the supernatural and the miraculous, in Satan on Earth, in reports of recent trips to and from heaven, and in a story of life's instantaneous creation several thousand years ago."
Indicative of Andersen's tone-deafness to things religious is the fact that he places miracles and seven-day creationism, the existence of grace and out-of-body experiences all on the same level. He dismisses—really dismisses—everything immaterial as equally implausible.
Scientific Fideism
Ratzinger, of course, shows himself to be more nuanced. For him, the frontier between rationality and irrationality does not coincide neatly with the boundary between science and religion. Rather, it transects science and religion alike. In Truth and Tolerance, published long before Andersen sounded the alarm, Ratzinger was already cautioning against New Age spirituality and the Esalen Institute for their "completely irrationalist pattern of religion." He observed just a few years later in his much-criticized Regensburg Address (2006), moreover, that any religion unable to persuade through reason would inevitably resort to violence. His citation of a medieval Christian polemic against Islam distracted the world from this central message, which was to warn against irrationalism in all religions, Islam and Christianity alike. Ratzinger's exhortation implied that Islam could recover its philosophical legacy and was not necessarily irrational. This is certainly more generous than Andersen's operative presumption that religion, by its very nature, is disposed toward fantasy and coercive intolerance.
If Ratzinger insists that faith needs reason for its own health, he is no less insistent that reason—especially scientific reason—needs to be chastened by faith if it is to avoid its own excesses.
If Ratzinger insists that faith needs reason for its own health, he is no less insistent that reason—especially scientific reason—needs to be chastened by faith if it is to avoid its own excesses. Scientism, when unchecked, leads to the irrational belief that science can answer all questions. Ratzinger observed in an essay from the 1970s, "Farewell to the Devil?", that for every Galileo affair, in which the church seems to intrude overconfidently into the domain of science, there are as many cases where science's heedlessness of religious wisdom produces pseudoscience. He again mentions, in particular, the anthropology of National Socialism, whose doctrine of racial inequality then represented something like a scientific consensus. To understand just how established was the "science" of social Darwinism, with its teaching that different races represented different levels of evolutionary development, one need only recall that the Bronx Zoo once kept an African pygmy among its specimens. Elite U.S. institutions like Harvard taught it like dogma, crusading to abet natural selection by sterilizing undesirables. It has been revealed recently that not even Pierre Teilhard de Chardin's Christian evolutionary vision could resist the pull of eugenicist ideology.
Are today's explanations of every feature of human existence according to supposed evolutionary advantage—from consciousness to art to love—any more rational than the scientific racism of the first half of the 1900s? Few have been willing to admit scientific fideism as baldly as the evolutionary biologist Richard Lewontin once did:
We take the side of science in spite of the patent absurdity of some of its constructs, in spite of its failure to fulfill many of its extravagant promises of health and life.... [W]e are forced by our a priori adherence to material causes to create an apparatus of investigation and a set of concepts that produce material explanations, no matter how counter-intuitive, no matter how mystifying to the uninitiated. Moreover, that materialism is absolute, for we cannot allow a Divine Foot in the door.
Science, as soon as it inflates its materialist method into a philosophy of life, commits to a creed as impervious to disproof as that of any Wiccan coven or Charlottesville rally. The historical entanglements between scientism and racism certainly suggest as much.
Trumpism both terrifies and fascinates precisely because every attempt to denounce it reveals the internal inconsistencies in American culture. The religious right becomes tongue-tied explaining its support for a religious illiterate like Trump or a sexually predatory senator like Roy Moore. The secular left stammers to explain why it should oppose self-constructed identity movements like the alt-right. If Ratzinger were pondering the landscape of our civil society, he would doubtlessly agree with Andersen that America's right flank needs a dose of reality. But he would likewise remind Andersen's "reality-based left" that the greater part of reality escapes the microscope's gaze and the expert's prognosis.
Indeed, the fundamental reality to which Americans, both right- and left-leaning, must return is that of being God's creatures. Only when we accept the shape of human existence as something given by God, to be discovered collaboratively rather than defined privately, can we resist the encircling dictatorship of relativism.