Chilean abuse victims welcome Pope Francis' letter, call for zero tolerance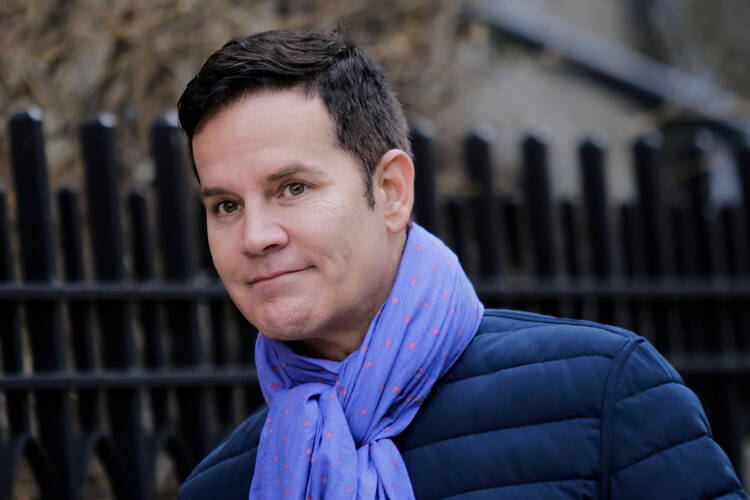 Juan Carlos Cruz smiles following a meeting with Archbishop Charles Scicluna of Malta, Italy, in late February at the Church of the Holy Name of Jesus in New York City. Pope Francis asked Archbishop Scicluna to investigate claims that Bishop Juan Barros of Osorno, Chile, covered up allegations of abuse committed by his former mentor, Father Fernando Karadima. (CNS photo/Eduardo Munoz, Reuters)
Victims of clergy sexual abuse welcomed Pope Francis' letter in which he apologized for underestimating the seriousness of the crisis in Chile.
James Hamilton, Jose Andres Murillo and Juan Carlos Cruz, victims of Father Fernando Karadima, released a statement April 11 saying they appreciated the pope's letter and were "evaluating the possibilities" for meeting with the pope.
"The damage committed by the hierarchy of the Chilean church, to which the pope refers, has affected many people, not just us," the victims said.
"The purpose of all our actions has always been about recognition, forgiveness and reparation for what has been suffered, and will continue to be so, until zero tolerance against abuse and concealment in the church becomes a reality," they said.
Pope Francis' letter, released by the Vatican April 11, asked "forgiveness of all those I have offended" and said he hoped to "be able to do it personally in the coming weeks."
In an interview with CNN Chile, Cruz said he was grateful for the pope's "unprecedented" apology and expression of shame, and he hoped to have a frank discussion with Pope Francis about the pain suffered by victims of abuse.
"We want to talk with him and humbly speak to him about forgiveness and tell him not only everything we have experienced, but also to speak with him about the situation that many people have suffered, what we have suffered. It happened not only in Chile but also in the United States, in Italy, in the whole world," he said.
Abuse victims alleged that Bishop Juan Barros of Osorno -- then a priest -- had witnessed their abuse by his mentor, Father Karadima. In 2011, Father Karadima was sentenced to a life of prayer and penance by the Vatican after he was found guilty of sexually abusing boys. Father Karadima denied the charges; he was not prosecuted civilly because the statute of limitations had expired.
During his visit to Chile in January, the pope sparked controversy when he pledged his support for Bishop Barros and said: "The day they bring me proof against Bishop Barros, I will speak. There is not one piece of evidence against him. It is calumny."
He later apologized to the victims and admitted that his choice of words wounded many.
A short time later, the Vatican announced Pope Francis was sending Archbishop Charles Scicluna of Malta and his aide, Father Jordi Bertomeu Farnos, to Chile to listen to people with information about Bishop Barros.
Juan Carlos Claret, spokesman for the parishioners in Osorno, said Catholics in the diocese "value the pope's willingness to restore trust. That is precisely the task that must unite all believers in Chile."
However, he said, "It is not possible to restore trust if there are no adequate and sufficient measures to effectively take care of the problem. In this sense, the departure of Bishop Barros is necessary but not enough. Now is the opportunity to assume and overcome the crisis of the church in Chile."
Claret added that the abuse of power must end for trust to be restored for sexual abuse victims, who feel that they were ignored and not taken seriously by the Chilean church.
Following the release of Pope Francis' letter, Bishop Santiago Silva Retamales, president of the bishops' conference and head of the military ordinariate, said the bishops of Chile would travel to the Vatican in the third week of May.
The bishops, he said, shared in the pope's pain.
"We have not done enough," he said in a statement. "Our commitment is that this does not happen again."
Regarding the pope's admission that he did not receive "truthful and balanced information," Bishop Silva said he was certain the authorities of the bishops' conference made the information they had at the time available to the pope.
In the past few months, Catholics in Osorno have become increasingly divided. Some continue to support Bishop Barros, while others hope for change.
"In Osorno, there are wounds that have not been healed, and we cannot do ecclesiastical work. This is an opportunity for the pope," said Father Americo Vidal, a parish priest in the troubled diocese.
Cruz told CNN Chile that, despite attempts by members of the Chilean hierarchy to cover up or dismiss abuse cases, he was grateful that the pope "has seen the truth" thanks to Archbishop Scicluna and Father Bertomeu's investigation.
"I think the pope found himself in front of something that they were trying to cover up and, with humility, he saw that he needed to correct it," he said.
"We have to really thank Archbishop Scicluna and Father Bertomeu for the work they have done," Cruz added. "Personally, they have helped me recover the trust in something that I thought I had lost for good. Not just for me; I know that other people were affected positively by it (their investigation). So, we have to really thank them."