Pope Francis presides over the final rites of Cardinal Law's funeral Mass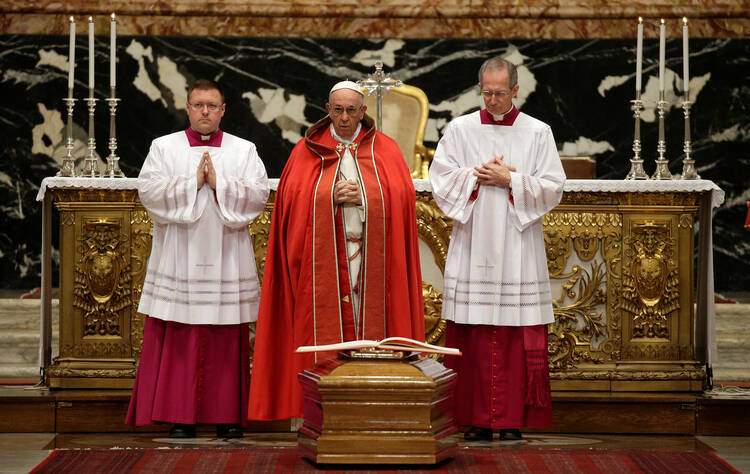 Pope Francis prays near the casket of Cardinal Bernard F. Law at the end of his funeral Mass Dec. 21 at the Altar of the Chair in St. Peter's Basilica at the Vatican. Cardinal Law, who resigned as archbishop of Boston in 2002 when it became clear he had knowingly transferred priests accused of sexually abusing children, died Dec. 20 in Rome at age 86. (CNS photo/Max Rossi, Reuters)
Pope Francis presided over the final rites in the funeral Mass for Cardinal Bernard Law, symbol of the Catholic Church's failure to protect children from sexual abuse.
The dean of the college of cardinals, Cardinal Angelo Sodano, celebrated Law's funeral Mass on Thursday behind the main altar of St. Peter's Basilica. Following the typical protocol, Francis presided over a final prayer, a blessing with incense and the sprinkling of holy water around Law's coffin.
U.S. Ambassador-designate Callista Gingrich and her husband, Newt, as well as some other members of the diplomatic corps were in attendance, along with the Vatican foreign minister, Archbishop Paul Gallagher.
Turnout was otherwise limited, with the basilica ushers stacking extra rows of empty seats before the Mass began.
One of the opening prayers read: "O God, who chose your servant Cardinal Bernard Law from among your priests and endowed him with pontifical dignity in the apostolic priesthood, grant, we pray, that he may also be admitted to their company forever."
Law, who died Wednesday at age 86, resigned as archbishop of Boston in 2002 after revelations that he covered up for dozens of priests who raped and sexually molested children, moving them to different parishes without telling parents or police.
The scandal, exposed by The Boston Globe and memorialized in the Oscar-winning film "Spotlight," then spread throughout the U.S. and world, with thousands of people from all continents coming forward in ensuing years with claims their priests sexually abused them when they were children.
The late cardinal's successor, Cardinal Sean O'Malley, held a press conference on Wednesday at the Archdiocese of Boston's headquarters. He expressed disappointment that Cardinal Law remained in such a high profile position following his resignation—and said he understands the anger some feel that Cardinal Law was afforded a funeral Mass inside Saint Peter's Basilica, during which Pope Francis offered the final blessing.
Cardinal O'Malley, a member of the pope's sex abuse prevention commission, said that he thinks "it's unfortunate that [Cardinal Law has] had such a high-profile place in the life of the church, but I think going forward that decision would not be made, but unfortunately we're living with the consequences of that."
St. John Paul II's decision to promote Law to archpriest of a major Rome basilica in 2004 reinforced the impression that the Vatican still had not grasped the scale of the problem, the trauma it caused its victims, and the moral credibility it had lost as a result.
When pressed further if it was appropriate for Cardinal Law to have held a position of prominence in Rome—Pope John Paul II appointed him archpriest of a major Roman basilica in 2004—Cardinal O'Malley said, "I can't imagine that happening today. I think there's been enough growth and consciousness of this problem in the Holy See that that would not happen."
Francis has inherited that legacy and has promised "zero tolerance" for abuse. But his own record has been criticized in some quarters, with critics pointing out that he has given the issue less urgency than his predecessor, Pope Benedict XVI. Just this week, Francis' commission of experts to advise the church on keeping children safe was allowed to lapse after its initial three-year mandate.
Cardinal Sodano was John Paul's powerful secretary of state at the time of Law's downfall and would have been instrumental in the decisions the Vatican took in those years to deal with the burgeoning scandal.
But the cardinal himself has a tainted legacy, having been a key supporter of the Rev. Marcial Maciel, the founder of the Legion of Christ religious order who sexually abused his seminarians and fathered three children. It was only after John Paul died and Sodano was sidelined that Benedict ordered Maciel to live a lifetime of "penance and prayer" for his crimes.
Cardinal Sodano, who presides over all funerals for Rome-based cardinals, said in his homily, "unfortunately, each one of us can sometimes lack in fidelity to our mission. That is why, at the beginning of every Mass, we say the 'Confiteor,'" the prayer that begins, "I confess to almighty God and to you, my brothers and sisters, that I have greatly sinned."
The pope read the prayers in Latin, sprinkled the cardinal's casket with holy water and blessed it with incense. But he made no remarks about the cardinal or his life.
This story includes reporting from Nicole Winfield at the Associated Press and Catholic News Service. This story will be updated.