A better way to teach teenage boys about the Virgin Mary
The Feast of the Immaculate Conception has been a regular source of angst for me as a teacher at an all-boys Jesuit high school. Aside from posing an arcane, if weighty, theological concept, the celebration of the Virgin Mary's sinless birth offers to me little by way of personal access or invitation. I can only imagine what 1,000 teenage boys make of it as they gather in respectful, compulsory attendance for Mass in a darkened auditorium. Where the energetic Mass of the Holy Spirit kicks off the school year with goblets of fire on the altar, and the Thanksgiving Mass calls students to be generous with stark images of global poverty, this holy day just feels like "church."
Examining paintings taps into a vulnerability that teenage boys are generally reluctant to reveal.
Talking about the Immaculate Conception in class presents its own challenges. The absence of a female voice in our discussions carries an obvious cost: before we even begin class, the woman is established as the jarring "other." If I hope to inspire sympathy in the boys for the complexities and burdens experienced by women, celebrating the spiritual stainlessness of a woman who would then up the ante with a virgin birth does not help.
Surprisingly, I have found Marian art to be a fruitful avenue of engagement in the classroom. Examining paintings, some chosen by the students and others by me, taps into a vulnerability that teenage boys are generally reluctant to reveal.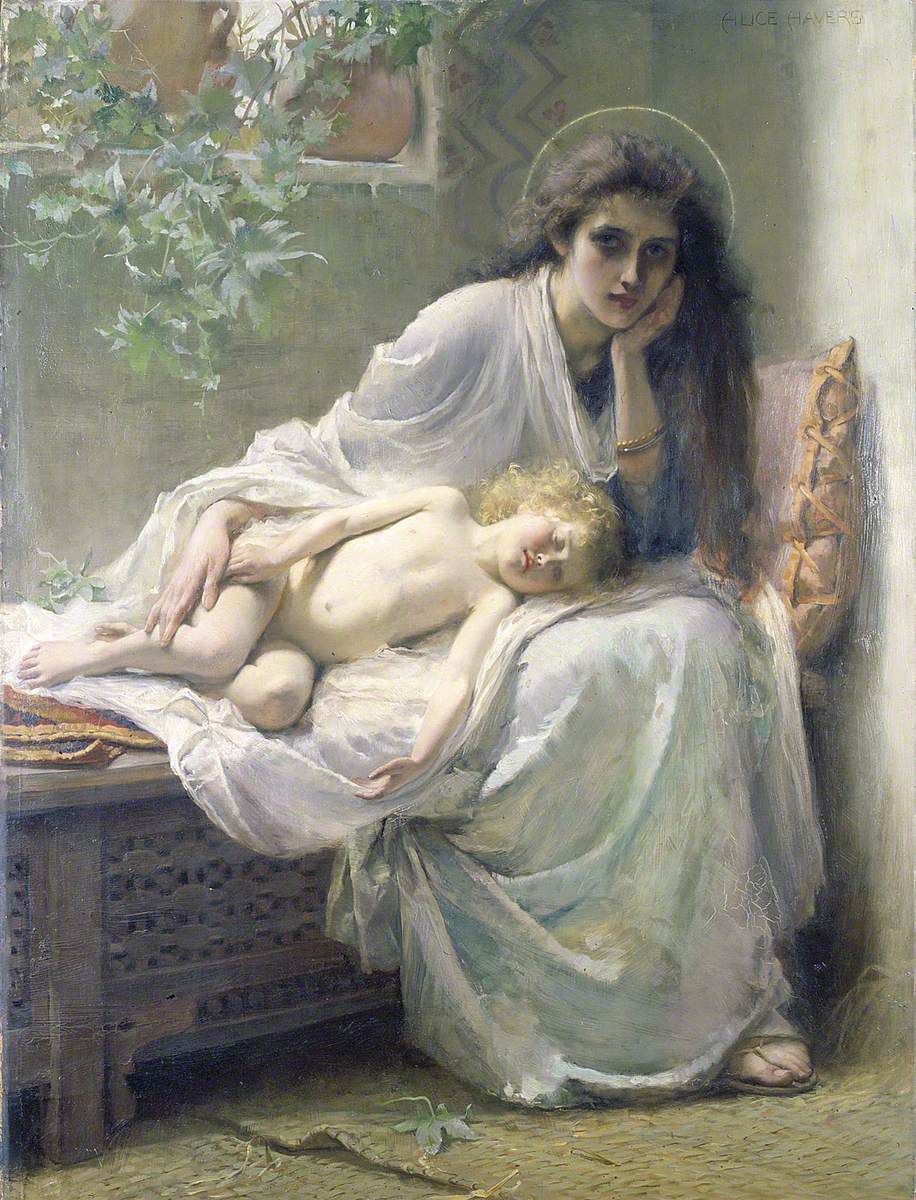 One year, a 12th-grade student in my British literature class gave a short presentation on Alice Havers's painting "But Mary kept all these things and pondered them in her heart." By then, I had participated in hundreds of student painting presentations, but I had not encountered this work or artist. My student wrote: "I love how this painting shows a more human approach to both Mary and Jesus. The bags under Mary's eyes show that she still struggled with everyday parental duties, especially the struggle of consoling a waking child in the middle of the night, as I'm sure you have had experience with."
I had a newborn at home at the time, and this painting of a harried Mary and peacefully napping babe tugged at my heartstrings. My student's comments revealed an awareness of and a connection to the piece's subject. In the class discussion that followed, students noted that the wrinkled mat and fallen leaves suggested the child had been running and climbing. They linked Mary's tousled hair to frustration, the bangles on her wrists to a desire to still feel like a desirable woman, and the darkness of her face (in contrast to the child bathed in light) to a feeling of underappreciation.
"The painting creates a feeling of 'Oh, crap, this is going to be really difficult, but I am going to love it.'"
One student remarked that Mary seems to gaze right at viewers as though we had just entered her home. He added that she conveys an awareness of the comic tragedy of her child finally falling asleep only to pin her down. These points delighted me so much that I decided to show the painting to other classes, this time with a handout of specific questions for them to consider as they examined it. The most common response to these questionnaires was that the painting "challenged" their images of Mary. It "humanized" her. My favorite response noted the faint smile on her face and read, "The painting creates a feeling of 'Oh, crap, this is going to be really difficult, but I am going to love it.'"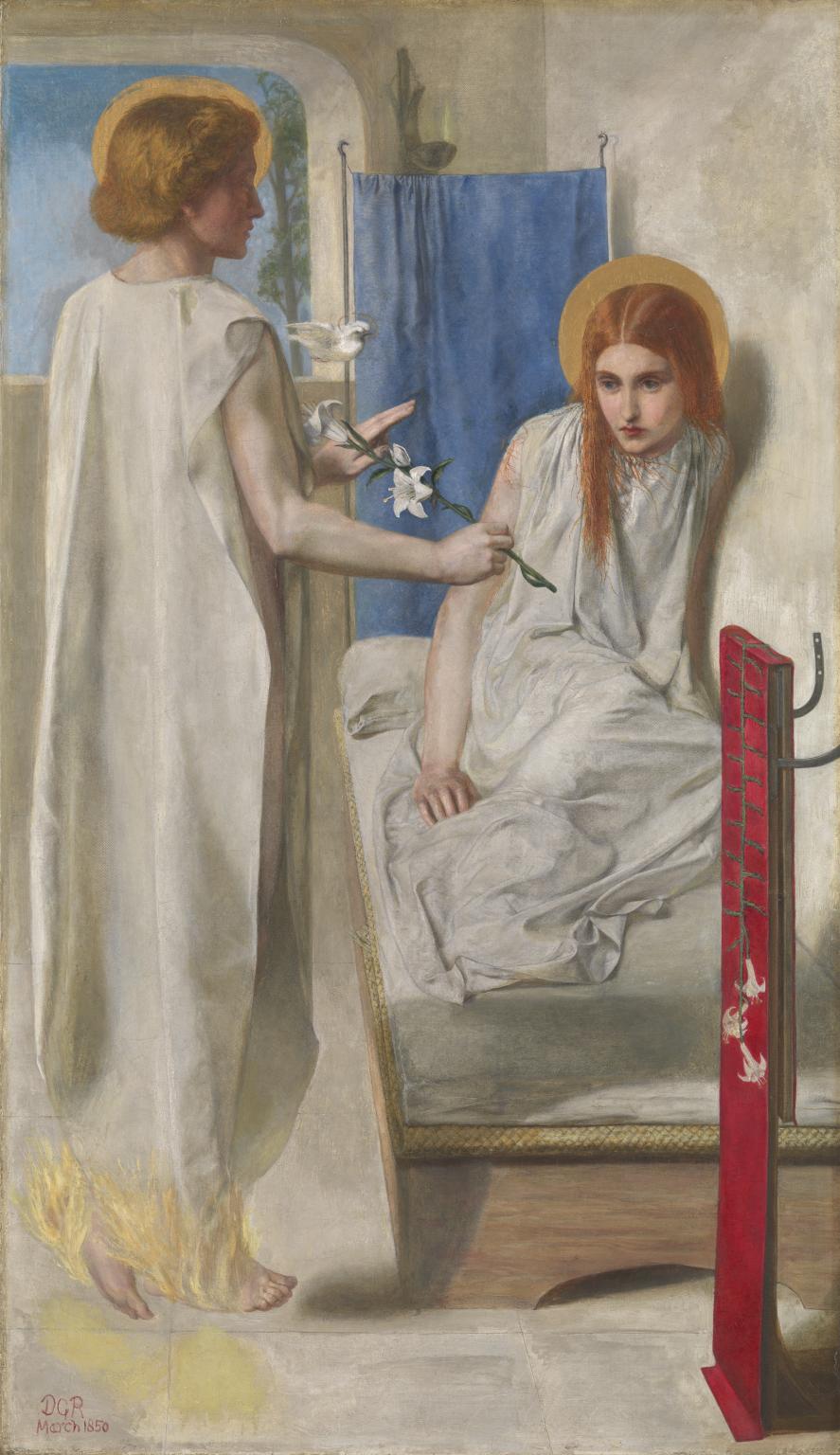 I then tried the questionnaire with Dante Gabriel Rossetti's "The Annunciation." Figuring that the subject matter would be readily apparent, I did not tell the students the name of the painting before projecting it onto the screen. Some students got it right away, but many did not. One common interpretation saw the painting as an apology. One student wrote, "At first glance, it just looks like a guy apologizing to a girl and bringing her flowers." Another saw "Joseph attempting to ask for Mary's forgiveness...and reluctance from Mary to accept the apology." A third wrote: "Mary looks afraid but left with no option. It looks like the angel is calming her down."
While the uneasiness on Mary's face indeed dominates the canvas, I had never thought of the painting as portraying an apology. "Be it done to me according to your will" so often resounds from the lectern with unbridled confidence and urgency. That Mary might have needed a minute to process, to shudder or even to push back to the point of prompting an apology from the angel Gabriel radically changes the dynamic. We are invited to meet a recognizably human figure who fears and recoils—and yet still draws our reverence. It is a concept worth emphasizing with our young men.
"Mary looks afraid but left with no option. It looks like the angel is calming her down."
Another image of Mary that I find increasingly compelling is Edvard Munch's presumptive "Madonna." Munch creates a balanced tension between the active and the passive. His painting's eroticism conveys a figure both deliberately engaged and also willing to follow. The moment, though, is entirely Mary's, pairing erotic ecstasy with the singularity of her position in history. I have not shared this painting with my students, but the questions it raises are relevant to our discussions.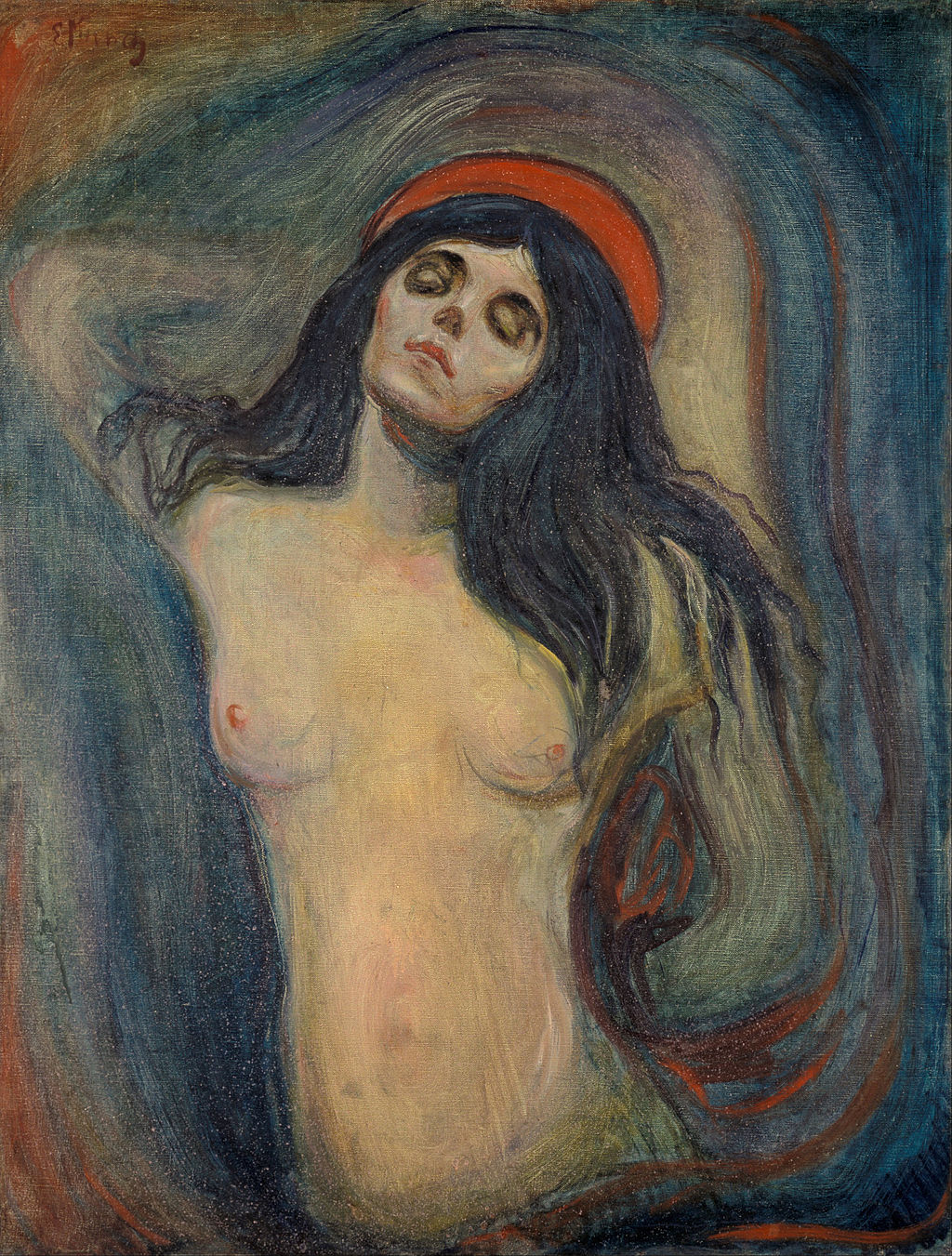 The painting portrays a moment of ecstasy. Mary would inevitably have had times when the realization of her role approached the sublime. This sublimity, however, has at its center the human condition. Munch's Mary is an adult and a partner, one who has made and continues to make choices. She is vulnerable, but she shares her vulnerability willingly. To me, this figure is aspirational and worth celebrating. Munch's Mary, as with those of Havers and Rossetti, meets us on our journeys, sacred but accessible.
I am coming to see that my own spiritual curiosity and growth both tend to seek the human within the sacred. These paintings, while only three among many potential others, have offered me, and my students, the chance to begin exploring. John Ruskin writes that no good work can be perfect and that the demand for perfection is a sign of misunderstanding in art. This paradox, which he anchors in the Christian belief that people are made in the image and likeness of God, nudges us to look for the meeting of the divine and the human. But this junction demands that the human be, in fact, human. My hope for our young men is that they might pursue the sacred not by holding themselves or the women in their lives to an artificial standard of perfection but by recognizing the beauty within the struggle.