Following Pope Francis, Catholics and Protestants in the U.S. mark the Reformation
For three Christian communities in Marlborough, Mass., a day of ecumenical worship and community service has been 500 years in the making.
Last week, the congregations of three churches—two Protestant and one Catholic—marked the quincentenary of the Protestant Reformation, which is traced back to when Martin Luther published a list of 95 grievances against the Catholic Church.
Following Luther's declaration, centuries of war ensued between Catholics and Protestants, but representatives from various Christian traditions are using the anniversary to focus on commonalities rather than division. Events have already taken place at the highest levels of Christendom, such as when Pope Francistraveled to Sweden last year to participate in a prayer service commemorating the start of the year-long anniversary, as well as in less visible locales, including the commemoration in Massachusetts.
The Rev. Kazimierz Bem, pastor of the Congregationalist First Church in Marlborough, a city of 40,000 about an hour west of Boston, told America that the event focused on what unites the three denominations. A shared Communion service was not possible, he explained, as Catholic guidelines restrict the participation of non-Catholics in the Eucharist. In a way, he said, this obstacle allowed the organizers to get at the heart of what unites Christians: baptism.
"We know what our traditions, we know what our differences are, but we also know what unites us."
"We know what our traditions, we know what our differences are, but we also know what unites us," Mr. Bem said. "We weren't making any weird compromises about our faiths, which sometimes happens in bad ecumenism. While differences are substantial in certain places, we're united in one baptism."
The day began with about 60 members from each of the three churches gathering inside First Church for a renewal of their baptismal vows.
During the service, the Rev. Marc Bishop, a Catholic priest and pastor of Immaculate Conception parish, preached a message of unity.
"I tried to preach on the commonality of baptism, the understanding that we're all called to pray for each other, we are called to share the message of Christ as prophets and use our gift and talents in service to one another," Father Bishop told America.
This was the first time Father Bishop preached in a Protestant church and Mr. Bem noted it was just the second time a Catholic priest preached at First Marlborough since its founding in 1666. The first time was in the 1970s. "I guess that one time wore out any ecumenical fervor that existed," he joked.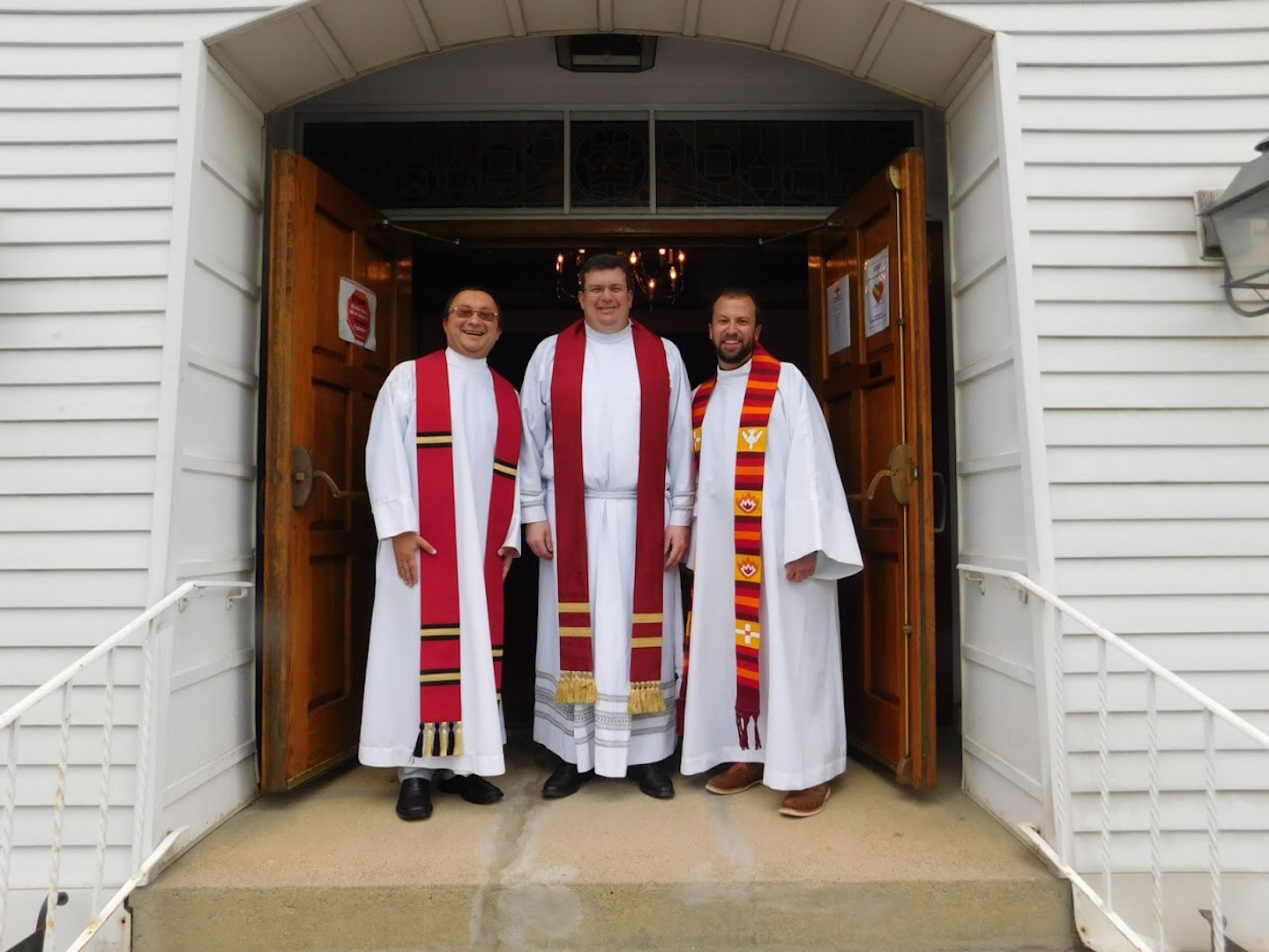 Father Bishop said Catholics and Protestants in the community already work together on various civic projects, whether in schools or shelters, but said their motivation for being involved, their faith, often goes unnoticed.
"A lot of [that volunteering] flows from their baptism," he said. "This event let them look each other in the eye in a faith context and recognize each other."
The event in Massachusetts was just one of many taking place throughout the United States. Similar prayer services were held earlier this year inWisconsin andNew Jersey, and more are scheduled to take place leading up to the date of the anniversary, Oct. 31. (The event in Marlborough was notable in that it included representatives from the Catholic and Lutheran churches, as well as a Congregationalist, a situation that speaks to Mr. Bem's focus on ecumenism.)
How Catholics and Protestants view these events marking the Reformation may differ slightly based on how they see the Reformation. The Protestant Mr. Bem, for example, said the day was a celebration, whereas Father Bishop, a Catholic, called it a commemoration.
The Rev. Joseph Graumann, pastor of Saint Stephen Lutheran Church, said participating in the event was "a no brainer" and that he hoped it served as a "visible witness to the work we've done to help repair the brokenness of the church."
As to whether the anniversary is a time to celebrate the birth of Protestantism or a time to mourn continued Christian division, Pastor Graumann suggested it could be both.
"Lutherans love paradox. We say that we're both 100 percent saint and 100 percent sinner. In some ways this commemoration reflects that paradox," he said. "We confess the brokenness in the church and we confess that the Reformation was certainly a time when our brokenness got the best of us. But we can then come together in hope, both forgiven in baptism and forgiven in Christ, to work together to witness to God's love."
Rob Campbell, an official with the Evangelical Lutheran Church in America, is equipping local communities with resources to mark the anniversary. He said in addition to prayer and community service events, other initiatives marking the start of the Reformation are also in the works, including a Martin Luther-inspired hip-hop album and a piece of musical theater depicting the life of the reformer.
Just decades ago, Catholics and Protestants were all but forbidden from praying together and marriages between a Catholic and a Protestant were celebrated in secret.
Campbell said the ecumenical events show that Lutherans "want to have positive relationships, in this case, with Catholics in our communities."
Just decades ago, Catholics and Protestants were all but forbidden from praying together and marriages between a Catholic and a Protestant were celebrated in secret.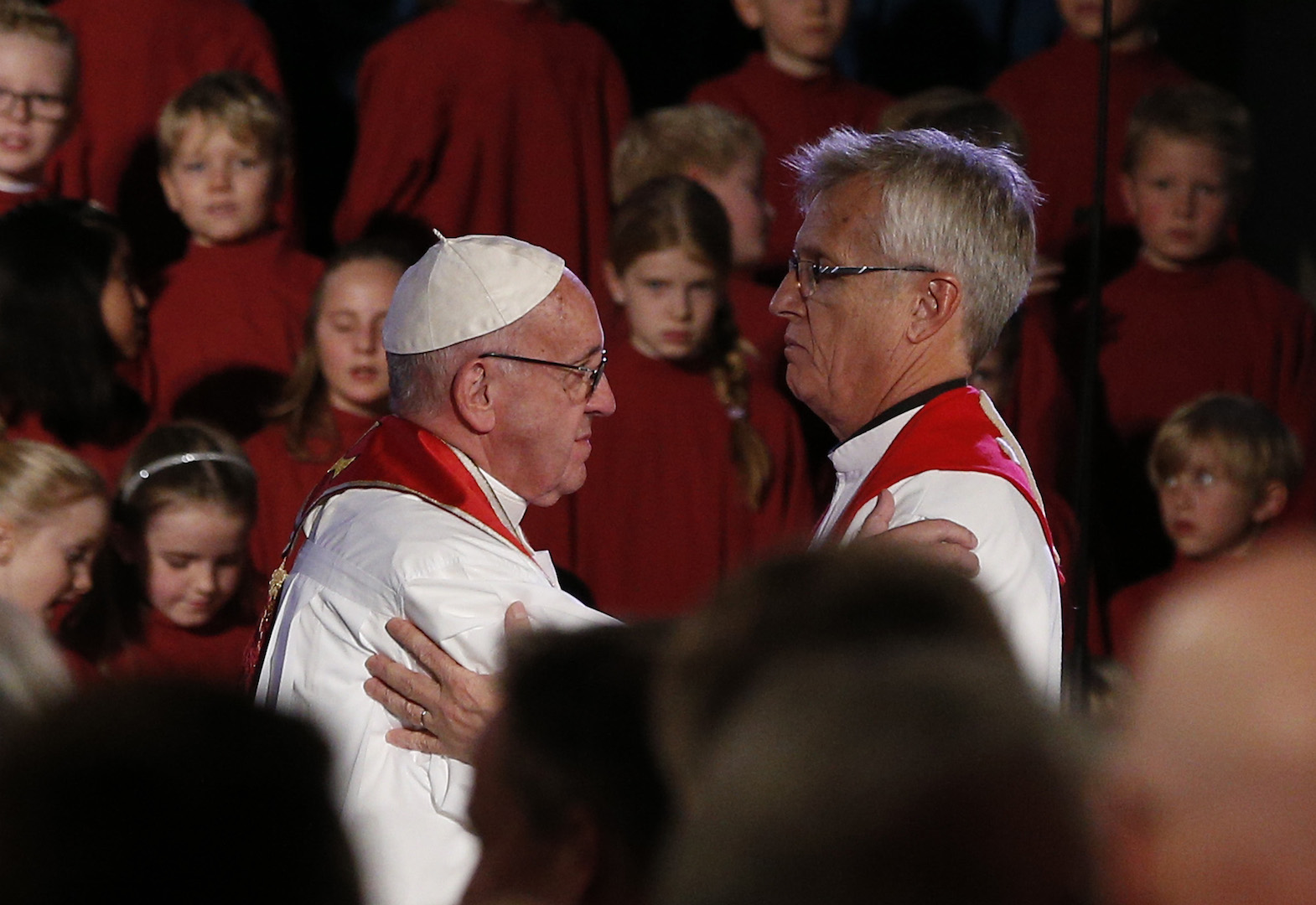 But relations between Catholics and Lutherans have improved in recent decades, especially following declarations from the Second Vatican Council that prompted renewed interest in ecumenical dialogue. Last year, the E.L.C.A.ratified a document highlighting the many areas in which the two faiths agree. Elizabeth A. Eaton, who heads the E.L.C.A. body of bishops, said at the time, "Though we have not yet arrived, we have claimed that we are, in fact, on the way to unity."
During his visit to Sweden last year, Pope Francis said in a joint-statement with Bishop Munib Younan, head of the Lutheran World Federation, that the two churches would continue to work toward removing obstacles that prevent Catholics and Lutherans from sharing in the Eucharist.
Mr. Bem, who was born in Poland to a Catholic father and a non-religious mother, said that when he lived in Kuwait in the 1990s, he noticed that denominational differences among Christians were not as pronounced as they are in Europe and the United States.
"In certain contexts, while the differences aren't unimportant, you're viewed simply as Christians," he said. "That was very interesting to me to observe that in some places Christians are lumped into one group, which means other people see similarities that we don't."
That insight prompted him to seek ways that Christians of varying stripes could work together on the local level in order to bring about "small, grassroots ecumenism."
"There seems to have been an ecumenical winter and there was nothing happening on the local level," Mr. Bem observed. "If the movement toward unity is going to go anywhere, it has to catch fire locally."
The day continued with community service, as members of the three churches hosted a potluck lunch on the town green for the community, dubbed the "Feeding of the 500," a play on Jesus feeding the 5,000 and the 500th anniversary. Afterwards, the leftover food was brought to local shelters. The event concluded with choirs from the three churches hosting a concert inside Immaculate Conception, which attracted about 150 people.
The three pastors said they have no immediate plans to work together on future events, but that they are open to the idea.
"At the very end," Mr. Bem recalled, "I said to Father Marc, 'We should do this more often than every 500 years.'"