Can owning a dog make you a better Catholic? Mine did.
It started out with an inside joke. My spouse and I, with our advanced education in theology and religious studies, discovered that if you replaced "God" with "Dog" in a lot of Bible verses, they became startlingly apt commentary on our lives with our own newly adopted dog. "I am The Dog, Your Dog," for example. "You shall have no other dogs before me…for I am a jealous Dog." Our hound Bosco, named after St. Don Bosco (because we're Catholic enough to name the dog for a saint but not Catholic enough to avoid possible biblical sacrilege) is notoriously antisocial around other pups.
Soon we were pairing pictures with verses and posting them on Facebook. From Joshua 1:9 we pulled "Do not fear nor be dismayed, for The Dog, your Dog, is with you wherever you go," along with a shot of Bosco happily peeking through the shower curtain. Him staring lustfully at a ham on the counter was met with Jeremiah: "Thus says the Dog of hosts, the Dog of your house: Heap your burnt offerings upon your sacrifices; eat up the meat!" And my own favorite, from Micah:
What is good has been explained to you:
this is what The Dog asks of you:
only this, to act justly, to love tenderly,
and to walk humbly with Your Dog.
Accompanying it, a picture of Him, sniffing away, tethered to me by his knotted red leash. I have learned many a lesson in humility trying to drag that dog away from happily frolicking squirrels and apparently delicious-smelling bird carcasses.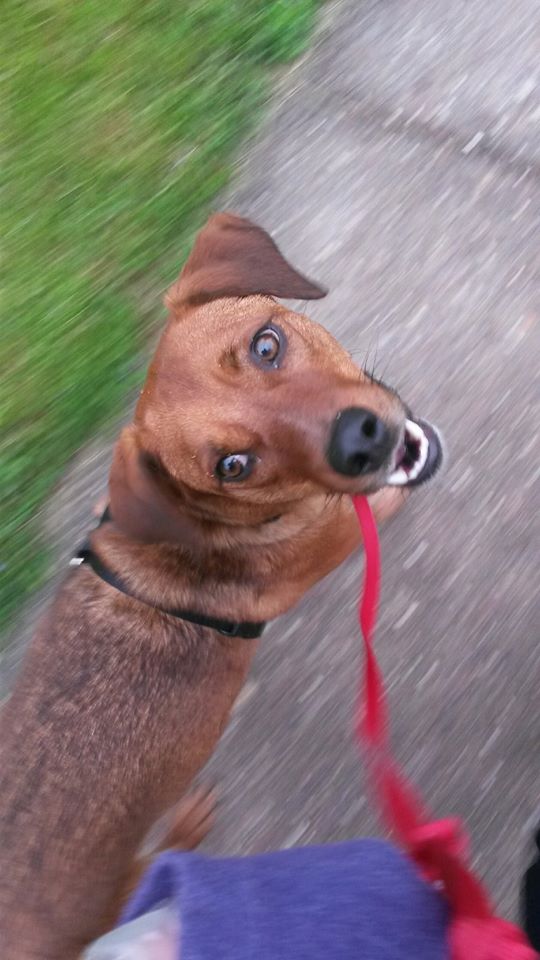 I quickly found myself poring over the Psalms, reading them with greater intensity than I ever had in my adult life, searching for the wisdom of The Dog.
Strangely, the more we found ourselves searching for dogvotionals, the clearer it became that our strange brown mutt was indeed serving as a spiritually helpful analogue for God. Eternally loving and quick to forgive? Check. Uncannily all-knowing, especially about all matters food-related? Check. Profound otherness and incomprehensibility? Very much check.
A bit more seriously, The Dog has pushed our limits in helpful ways. His drive to make friends with every human he sees has forced me to socialize with neighbors that I otherwise would only have waved at. His sharp mind has forced us to spend hours on training and reinforced the importance of practice. We have to exercise with him. A lot. And some nights when, grumbling, I have to take him outside for one more bathroom break before bed, I get the chance to look up at the stars that I otherwise rarely notice and wonder for a few seconds at the enormity of the universe.
The Dog has taught us more about brokenness and forgiveness than anything else.
But those are mostly practicalities. The Dog has really taught us more about brokenness and forgiveness than anything else. We got him from a rescue after he had been bounced through at least four homes and shelters in the past year; we know nothing of his history except what we can piece together from his odd behaviors. We were monumentally disappointed in him and ourselves when weeks of meticulous obedience classes didn't improve his fear of other dogs; it seemed to make it worse. We agonized over how to "fix" this part of his personality, and only gradually came to accept that this is who The Dog is and that we might love him better by not putting so much pressure on all of us.
As spouses and partners, we have learned to offer each other endless grace for the mistakes we make with him. We are still learning the strange but precious gratification of waking up every morning to a creature that is ceaselessly joy-filled at the rising of the sun and only wants to share it with us. I can hold a grudge about his noncooperation with nail trimming for far longer than he can; his quickness to forgive makes me realize how silly it is to hold onto frustration. He has made me confront how insufferable I am when sleep-deprived and how demanding I can be of others, and, miracle of miracles, The Dog has loved me anyway. The brokenness he brings out of me he also seems to not notice. He has given me the chance to wonder at the radical belief that I might be worthy of love precisely as I am.
I do not worship my dog (though I do praise him enthusiastically, often for tasks as astounding as urinating on bushes and sitting down when asked), but I can look into his happy brown eyes and see through him something of the bigness and lovingness of God. His presence in our lives has given me opportunity after opportunity to choose compassion over irritation and to accept, even treasure, the brokenness of myself and others. Slowly I find myself understanding the wisdom of Proverbs 19:21: "You can make many plans, but The Dog's purpose will prevail." Indeed it has, and I am grateful.