Myanmar and Holy See Establish Diplomatic Relations
The Vatican announced today that Myanmar and the Holy See have agreed to establish diplomatic relations. It broke the news after Nobel Peace laureate Aung San Suu Kyi, state counsellor and de facto leader of the country, formerly known as Burma, met Pope Francis in private audience this morning, May 4. This was the Nobel Peace laureate's second meeting with Francis, and like the previous one in 2013, it took place in the pope's private library.
Speaking to America, Archbishop Paul Gallagher, secretary for relations with states, expressed the Holy See's satisfaction at the establishment of diplomatic relations with Myanmar and said, "this long period of working to achieve this goal has finally borne fruit and it is an indication of the standing of the Catholic church in Myanmar." The Vatican archbishop added that "the Holy See now encourages the government and the people of Myanmar to continue in the democratic direction that they have taken in recent years."
Today's announcement came as no surprise because on Mar. 10, Myanmar's parliament unanimously approved the Holy See's proposal to establish diplomatic relations. The proposal was presented on Feb. 8. when Archbishop Paul Tsang in-Nam, the apostolic delegate to Myanmar and nuncio to Thailand (where he resides), accompanied by Cardinal Charles Bo, archbishop of Yangon, met with Aung San Suu Kyi at her residence in Naypyidaw, the country's administrative capital.
Myanmar thus becomes the 183rd country to establish diplomatic relations with the Holy See. Significantly, it has done so before Vietnam, which has a joint-working group with the Holy See to reach this goal, and China, which is engaged in negotiations with the Holy See, the agenda of which has not yet included diplomatic relations.
Today, Myanmar's Catholic church has some 700,000 members spread over 16 dioceses, served by a native clergy of 19 bishops, 793 priests, 333 religious men, and 1819 women religious. It has many vocations to the priesthood and to consecrated life for women, as well as a vibrant laity. It is a church of the poor and works for the poor and the minorities. Pope Francis created the country's first cardinal when he gave the red hat to Archbishop Charles Bo, Feb. 2015, and now the country has shown its appreciation for the church by establishing diplomatic relations with the Holy See.
This morning, Francis welcomed Ms. Suu Kyi in the "Sala del Tronetto" (the little throne room) where he normally greets heads of state. They talked together in private for 23 minutes, and then she presented her 5-person delegation (four men and one woman) to him. Next, they exchanged gifts. Both leaders looked very happy and relaxed at the end of their private conversation, and before bidding farewell they had another private, intense personal exchange and then she bowed to him.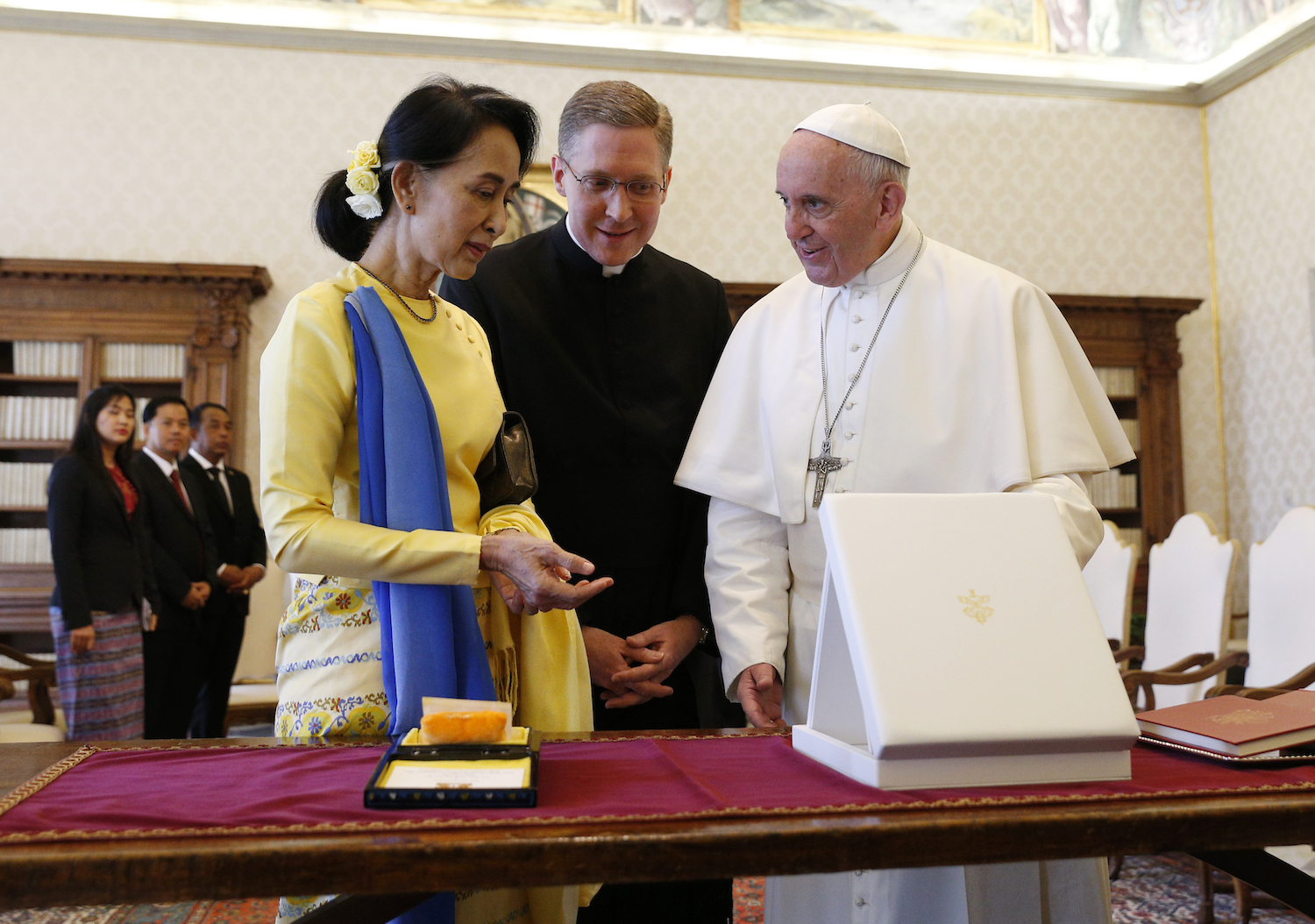 Ms. Suu Kyi presented the pope with a traditional alabaster gift, while Francis gave her the three major documents of his pontificate—on the family, on the care of creation, and on the joy of the Gospel—together with a highly meaningful round bronze casting, called a tondo, that a Vatican text explained as follows:
The work is meant to represent the words of the Prophet Isaiah: "The wilderness will become a fruitful field" (Is 32:15). The dry, thorny branch that blossoms and bears fruit symbolizes the passage from selfishness to sharing, from war to peace; it is a parable of the change that takes place when men and women open their hearts to the authentic values of growth and social harmony. The tondo is not perfect, but missing some parts, as a sign of the commitment demanded of everyone.
Even more significantly, perhaps, he gave this Nobel Peace laureate a copy of his message for the World Day of Peace 2017 on "Non-Violence: A Style of Politics for Peace."
Since Pope Francis and Ms. Suu Kyi's first encounter in Oct. 2013, her party, the National League for Democracy, won the elections in Nov. 2015 and she has become the de facto leader of the country. Barred by the constitution (approved under military rule) from becoming president, the new parliament specially created for her the post of "state counsellor" giving her extensive powers. She is also minister for foreign affairs.
Aung San Suu Kyi is the daughter of General Aung San who led Burma to independence from Britain on 4 January 1948. She valiantly opposed the military rule of her country that lasted from 1962 until 2011 and because of this she spent the last 15 years under house arrest. The military changed the country's name to Myanmar in 1989. She was awarded the Nobel Peace Prize in 1991.
Hailed worldwide as a champion of human rights, today she and her government are being criticized for failing to act on the allegations of crimes by the country's security forces against Rohingya Muslim minority in Rakhine state, including killings, torture, rape, the razing of homes. The Rohingya face official and social discrimination in Myanmar, and most of them do not have citizenship and are regarded as illegal immigrants from Bangladesh even when their families have lived in the country for generations.
Human rights groups have criticized Aung San Suu Kyi for her silence on these crimes by the military, and in December 2016, a group of fellow Nobel laureates wrote an open letter to the UN security warning of a tragedy "amounting to ethnic cleansing and crimes against humanity" in Rakhine state.
On February 8, Pope Francis asked the 7000 pilgrims present at his public to join him in prayers "for our Rohingya brothers and sisters who are being chased from Myanmar and are fleeing from one place to another because no one wants them."
Then in March, the United Nations Human Rights Council voted to send a fact-finding mission to investigate, but Aung San Suu Kyi rejected its decision, saying it did not correspond to the situation on the ground. She assured everyone that she is working towards reconciliation in the area, and her government has set up its own investigation into possible crimes in Rakhine and appointed Kofi Annan, former U.N. secretary general, to head a commission to work for healing divisions between Buddhists and Muslims. Observers commenting on this criticism point out that her position and that of her government is delicate since the military still have enormous power in the country and she has to move with prudence.
Myanmar is a predominantly Buddhist country with an estimated population of 54.8 million people and 135 different ethnic groups. 88 percent of its population are Buddhist, over 6 percent are Christian (among them more than 700,000 Catholics), and some 4.2 percent are Muslim (particularly the Rohingya).
It is the largest country in mainland Southeast Asia, bigger than Vietnam and the Philippines put together, but somewhat smaller than Texas. It shares borders with Bangladesh, China, India, Laos and Thailand, and although its people are poor today, this is nonetheless a land rich in natural resources with a bright future.
Christianity in Myanmar has a long and complicated history, having first arrived in Burma in the 16th century with the Portuguese, but organized missionary activity only began in 1722. The Catholic hierarchy was established in 1951. Historically, there have been few conversions to Christianity from among the majority of the population who are Buddhists; instead, most converts have come from ethnic minorities—the Karen, the Mon and Ah Khar, Kachin, the Kayah and the Chin.
During World War II, the Japanese army invaded Burma and expelled or interned all expatriate priests. Many were killed, churches and church institutions were destroyed. When Japan capitulated, the British colonial rulers returned but not for long. Burma gained independence on 4 January 1948.
From 1951-62, U Thu, a staunch Buddhist was Prime Minister, and declared Buddhism the state religion. The ethnic minorities resisted this and some, especially the Karen and Chin who were mainly Christian, tried to separate from Burma.
In 1962, General Ne Win came to power in a military putsch, and in 1965 confiscated all the Catholic Church's schools and hospitals and the following year expelled all expatriate priests, leaving only 77 native priests to care for Burma's 160,000 Catholics.
In 1988, a military junta came to power after brutally crushing the student uprising, and attempted to suppress separatist ethnic movements. When national elections were held in 1990, the National League for Democracy led by Aung Sang Suu Kyi won 59 percent of the vote, but the military annulled the results and placed her under house arrest. Following the approval of a new constitution in 2010 and new elections, the country prepared for the transition to civilian rule for the first time in modern history, and this came with the Nov. 2015 elections won again by the N.L.D., an event warmly welcomed by the church there.