Bright and early every Monday morning, Selam Bisratemerges from her apartment on the island of Malta carrying her infant son, while her wide-eyed, 12-year-old daughter walks nearby, her hijab and dress as brilliant and spotless as her mother's.
Hurrying down a winding street of ancient buildings, they come to a parking lot, where a skinny young man sits in a red shuttle bus. For the next hour they will hurtle through roundabouts and 1,000-year-old side streets on their way to the Paulo Freire Institute, a literacy apostolate sponsored by the Society of Jesus.
Advertisement
Ms. Bisrat (whose name has been changed for security reasons) is not from Malta but Ethiopia. She came here with her children as refugees in 2013 following her husband, who arrived in 2008 and fought for five years to obtain refugee status. Under Malta's family reunification program, the families of people found to be legitimate refugees are able to join them. But the situation is complicated; rather than recognize family members as refugees in their own right, the government classifies them as dependent family. This is supposed to give them the same rights and access to services, but in the midst of it all, the institutional, bureaucratic agencies—including agencies of the government itself—frequently do not understand that.
Their ambiguous status keeps these families permanently anxious. If a refugee dies or there is some need for separation, it is not clear whether the family would have the right to stay. As if to highlight that possibility, their state identification cards are good for only three years at a time. At the same time, once claimed by Malta as legitimate refugees, families are not allowed to move somewhere else. They gain the right to travel within the European Union (though sometimes E.U. countries will refuse their visa, citing concern they might stay), but they have to come back to Malta within three months. Many asylum seekers express a hope that they actually will not get status in Malta, so that they will have the opportunity to apply elsewhere in the European Union or in the United States, which takes a number of asylum seekers from Malta every year.
A Place to Call Home
On the way to the institute, Ms. Bisrat is joined by others like her, mostly young women who have come from places like Syria, Somalia, Libya and Eritrea. Some have stories similar to hers—the constant threat from dangerous political situations and the hardship of years spent waiting to hear from their husbands. Others have been through even worse. But while their driver fights to find passage through Malta's often-nightmarish traffic (think the most notorious freeways of Los Angeles crammed into every major thoroughfare of an island, with drivers who pay little or no attention to the street signs), here they all are now, visiting and playing with their babies, while a few teenagers play on their phones. (No matter what they have seen or been through, a teenager remains a teenager, thank goodness.)
Among the biggest challenges that all of these women faced upon arriving in Malta, and still today, is their living situation. Talking to asylum seekers in Malta, you hear often about the amazing opportunities afforded to friends and family in other E.U. countries—the housing provided in Germany, the vocational opportunities in Sweden, language studies, schooling. Here there is universal health care, but much of the rest they have to find for themselves. Initial housing options for asylum seekers consist of a number of "open centers," where the set-up ranges from rooms in converted schools or army barracks to groups of converted shipping containers.
The conditions in Malta today are nothing like the traumatic, overcrowded, barbed-wire camps one sees on the news. The flow of asylum seekers here has dropped dramatically in recent years, as people traveling by boat have started being taken to nearby Italy instead. According to the U.N. High Commissioner for Refugees, just over 2,000 asylum seekers arrived in Malta by boat in 2013. Between January and June of 2016 there were just five people, all on one boat. So whereas in 2010 more than 2,200 people lived in Malta's open centers, as of May 2016 the number was down to 539.
The conditions in Malta today are nothing like the traumatic, overcrowded, barbed-wire camps one sees on the news.
But finding adequate housing remains difficult, particularly for families like these. Ms. Bisrat and her husband have three children. They need more space than a one-bedroom apartment can provide. But a laborer's salary can barely support such a residence, especially when water, electricity and food must also be purchased. Refugees with families talk about having to choose between things like medicine and food. Landlords nervous or unwilling to rent to refugees only make the challenges greater.
The Jesuits of Malta were not unfamiliar with these problems. And they felt challenged by the words of Pope Francis. "We were reflecting as a province on how can we give some response to this invitation of the pope to host some refugee families," recalls Paul Chetcuti, S.J., superior of one Jesuit community. "We decided to do something."
Opening Doors
In 2015 Jesuitprovince officials began looking into offering housing for refugee families in need for one year at a time. For guidance they looked to Jesuit Refugee Service Malta. Run by Katrine Camilleri, a lawyer who has fought for many years on behalf of refugees—indeed, every refugee you meet seems to have a story about how Ms. Camilleri has helped them—J.R.S. Malta offers a wide variety of services, from legal and psychological to employment advice and literacy. Seen from the outside, it is a humble operation, just a small suite of offices adjoining the cafeteria of a local Catholic school. But within one finds great warmth and a hive of activity. The youthful staff is much like Ms. Camilleri herself: ultra-competent, passionate and dedicated to helping any people who come through the doors, whether for a C.V. or for psychiatric help.
Having heard again and again the stories of families unable to find adequate housing, J.R.S. Malta developed "Communities of Hospitality," a program that tries to match empty property owned by religious communities with families in need.
As it turned out, Loyola House, the Jesuit community where Father Chetcuti was superior, had a perfect space: a real apartment, with its own entrance and exit, and plenty of room. Father Chetcuti sat down with his community—24 mostly elderly Jesuits—and presented the idea.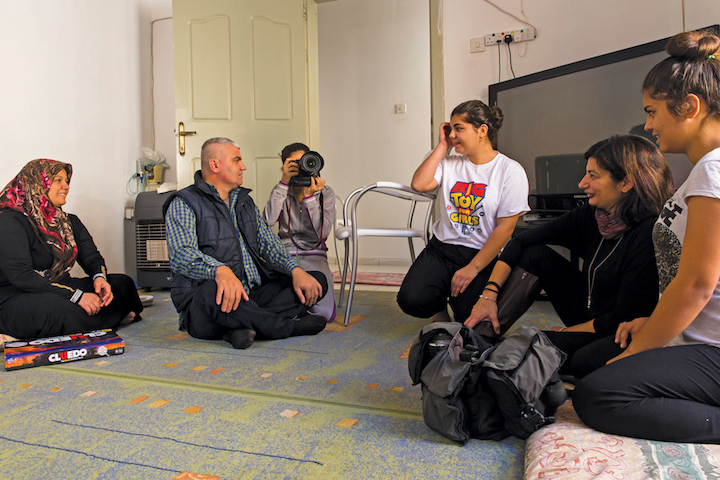 There were, of course, many questions about how this might affect their community. But the meeting was more notable for the willingness of the Jesuits to consider the idea. "I was positively surprised," Father Chetcuti remarks. "The community was much more open to the idea than I expected. No major objection was brought forward."
With that, Loyola House opened its doors."They were warmly welcomed," Father Chetcuti recalls, describing the community's first lunch with the Bisrats, "even if at the beginning nobody was fully at ease." The apartment was set up in such a way that both the family and the community could have their privacy. But some community members volunteered to get supplies for the family and to visit; the children are allowed to play in the community's garden.
"They ask us if we have any problems. Sometimes even they help the children to do their homework," Ms. Bisrat says. "They give us a lot of morals, virtue, by saying and by practice. They tell us to be strong and to live our lives."
For the Jesuits, too, the arrangement has proven a blessing. "I was 45 years in India and two years in Kenya," says George Camilleri, a Jesuit brother who oversees the men in the province infirmary and often visits Ms. Bisrat's family. "It helps me to be with them, because I myself feel like an outsider." He also notes how positive the presence of the children has been on sick members of the community. "When they see those young children around, they feel so happy."
"The whole idea is not as unsettling as it seemed at the beginning," notes Father Chetcuti. "Most of what we learn of the refugee issue in Malta is through the media, so it remains an impersonal reality. But when we come in contact with actual persons, children and their families, it becomes a personal story. And the impact is very positive." "I hope that now I can say I have some friends from Ethiopia. I love them, and I think they know and love me, and I take that as a great gift," he said.
Moving Forward
Lacking vocational and language opportunities, resources for child care or even just peers, it can be very difficult for wives like Ms. Bisrat to venture out of their homes into the community. Their husbands often have been in Malta for years, have jobs that occupy them all day and have at least a basic understanding of how to get things done. Their children go to school and immediately begin catching up. But the wives of refugees here are often isolated, without voice, forgotten.
Most of what we learn of the refugee issue in Malta is through the media, so it remains an impersonal reality. But when we come in contact with actual persons, children and their families, it becomes a personal story.
This is why Ms. Bisrat and her companions take this helter-skelter bus ride every Monday, Wednesday and Friday morning to Paulo Freire. In partnership with J.R.S. the institute is offering a set of basic English and cultural orientation classes. There are occasional field trips, as well, and celebrations, all aimed at helping the women begin to feel at home in this new country, to feel that it can be their place—to feel they have what it takes to go out and make their way, and that even here in this strange land they have people who understand their situation and can help them.
Today, after the van arrives and the mothers have trundled their children and baby carriages into the waiting arms of the institute staff, they climb the stairs to a little classroom filled with shelves of children's books. On the walls, the carefully crafted words of children are next to shapes cut from craft paper. A retired primary school teacher waits for them. Once they are seated, she leaps in without delay, starting with words related to riding the bus, then days of the week, then the correct pronunciation of specific letters. It is all sort of like the van ride, woolly and wide-roaming, happy to turn down whatever nook or cranny comes along the way.
On the surface it can be hard to tell what is sinking in. As with anyone learning a foreign language, there is that stricken look that comes over the students' faces when they are asked to speak.
It is ironic, really. In the big picture, the challenge of learning English is nothing compared to what these women have already seen, the homes and countries and friends they and their families have already lost. And yet in their eyes you can see it: the anxiety born of a great and burning desire to take all of this in, to learn everything and get it just right. And just as J.R.S. and the institute hoped, being together creates an instant bond. They are constantly stopping to help one another, to translate, to share what they know. They might have each come to this country carrying a great burden, but it is clear here they no longer carry it alone.
At the end of the lesson the ladies gather their prams and their children and climb back onto the van for another hour's obstacle course/bumper-car ride, flying past little shops and wide stoops where old Maltese men cluster, watching the world go by with intense curiosity.
At their stop Ms. Bisrat and her children hop out, her daughter quietly carrying her son. She smiles and waves, and takes her family home.