From 'Death of a Salesman' to 'A Raisin in the Sun,' theater explores the Black American dream
"The American dream is at the expense of the American Negro," went the famous proposition debated by James Baldwin and William F. Buckley at Cambridge University in 1965. Their fraught exchange was recently restaged at New York's Public Theater, in a production by Elevator Repair Service, as well as by a touring troupe called the American Vicarious. It's not hard to see why this historic debate—which Baldwin won handily, even as Buckley's needling objections have shown remarkable staying power in our politics—rings with fresh resonance in an age of Black Lives Matter and resurgent white supremacism, not to mention the salutary historical reframing of the 1619 Project and the fierce backlash it provoked.
The status of the descendants of enslaved Africans in the United States has long been a kind of a proof test of purported American ideals of freedom and equality. And this contested status has been the fuel not only of activism but of art. In three revivals of 20th-century stage classics currently running in New York, the strivings for Black economic independence and self-determination are dramatized in a range of tragic and hopeful registers. On Broadway, August Wilson's "The Piano Lesson" showcases a family's bitter struggle over an inheritance that links them to their servitude in the South but also to the heroic sacrifices of their forebears, while Arthur Miller's "Death of a Salesman" has been reconceived with the Lomans as a Black family, giving the play's critique of a system that measures a man by his economic worth a stark new emphasis.
'Death of a Salesman,' 'The Piano Lesson' and 'A Raisin in the Sun' showcase the strivings for Black economic independence and self-determination.
Meanwhile, Off-Broadway, also at the Public, is a striking new revival of Lorraine Hansberry's "A Raisin in the Sun," the 1959 play that put a Black family's multigenerational struggle for a piece of the American dream centerstage. The first play by a Black woman to appear on Broadway, it has been revived there twice—once in 2004 starring Sean "Puffy" Combs, again in 2014 starring Denzel Washington—as well as in countless regional theaters.
Indeed, until August Wilson came along, "Raisin" had the unenviable status of the singular canonical work(i.e., the one Black play most white theaters would trot out, often for Black History Month). Thankfully, in the last few decades there has been no shortage of exciting new work by Black writers, as well as heartening attempts to recover overlooked works from previous decades, and last season on Broadway exhibited the fruits of both efforts, from Alice Childress's "Trouble in Mind" to Lynn Nottage's "Clyde's."
But "Raisin" is no dusty relic, as the Public's new staging by Robert O'Hara brings to light. Most productions center Walter Lee Younger, the 35-year-old Chicago chauffeur who lives in a distressed two-bedroom apartment with his mother, wife, sister and son, and whose plans for financial independence hinge on the life insurance check the family will receive after the death of his father. But in O'Hara's staging, the often misdirected energies of Walter (Francois Battiste) are cast into sharp relief by the indomitable will of matriarch Lena (Tonya Pinkins), the pointed criticism of sister Beneatha (Paige Gilbert), and the stoic suffering of wife Ruth (Mandi Masden).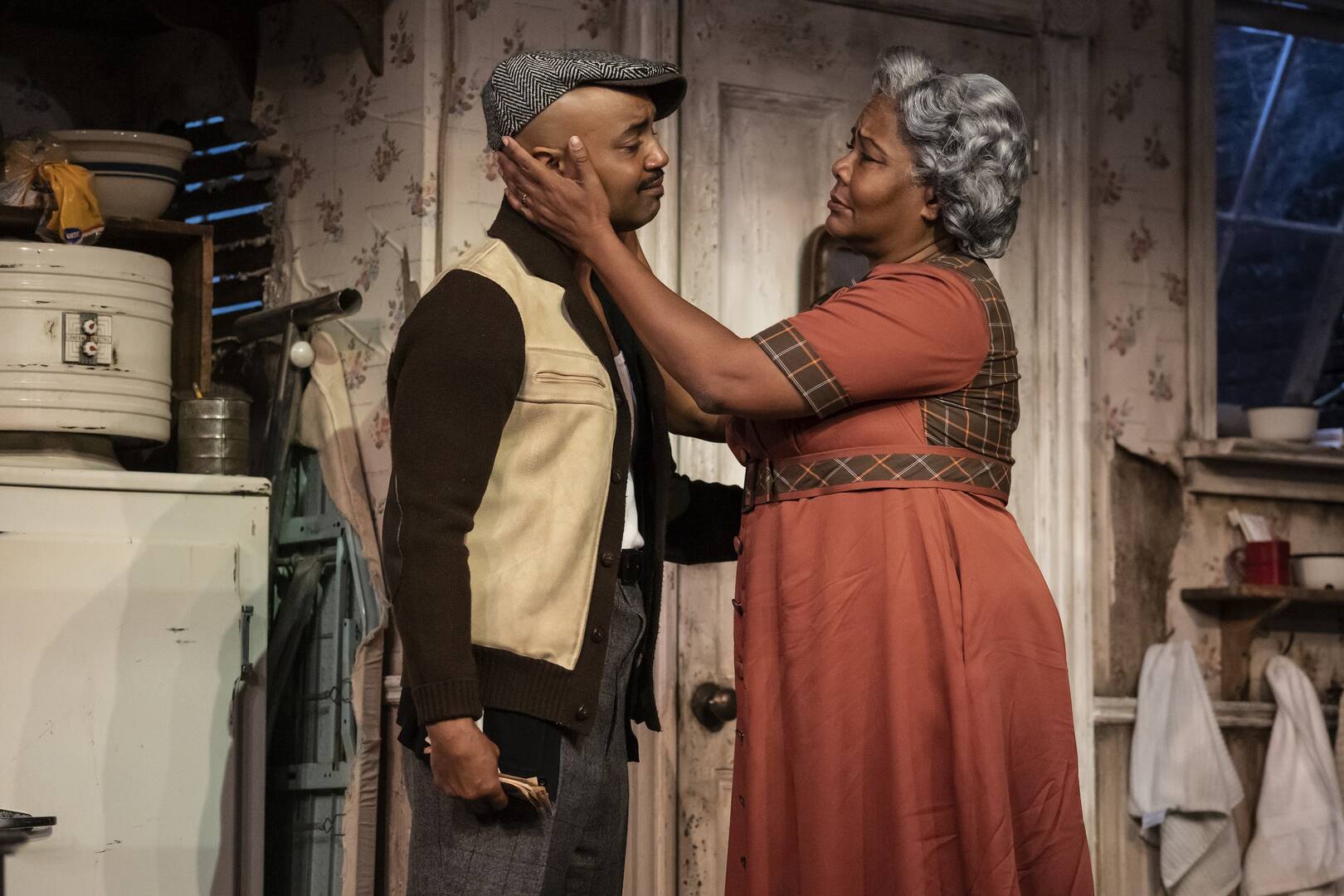 O'Hara has some other innovations up his sleeve, occasionally breaking the fourth-wall naturalism of Hansberry's original without, to my mind, breaking the play's spell. The director Miranda Cromwell adds some similarly expressionistic touches—floating set pieces, musical interludes—to her production of "Death of a Salesman," though in that case the effect is to signal that this new production shouldn't be read entirely literally. Would a Black salesman in 1949 really face professional rejection only due to fatigue and awkwardness? And would he really inflate his sons' expectations of success in a white-run world without any qualifiers or caveats?
The point, though, is to put Miller's themes—the pitiless logic of competition, the spiritual emptiness of materialism—into a bracing new metaphorical frame, and by this measure the production is a resounding success. It is also worth celebrating that this new production reintroduces audiences to the still surprising contours of a play which, like "Raisin," has been a well-worn staple of regional theaters and high school reading lists.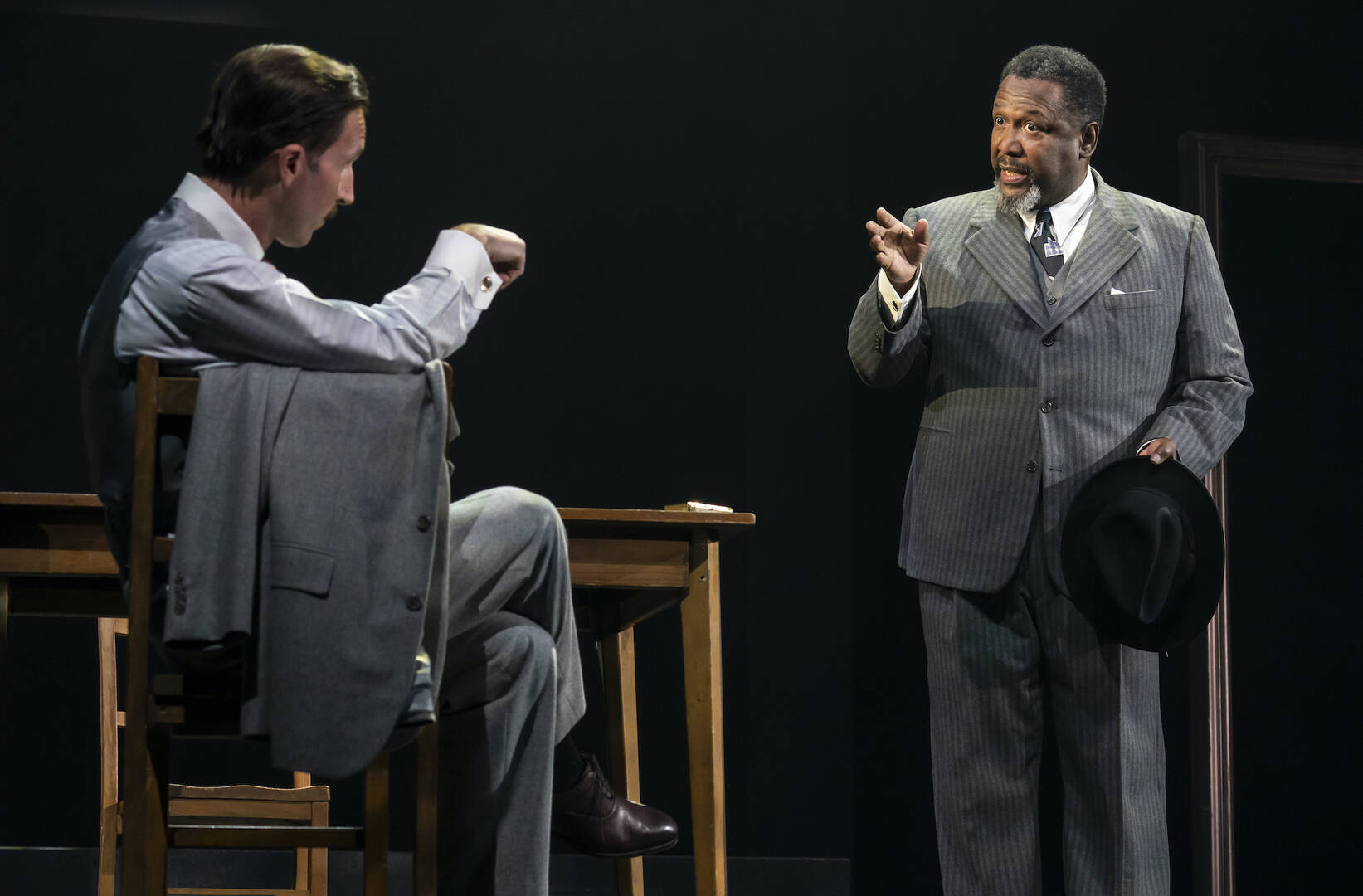 As Willy Loman, Wendell Pierce walks the role's tightrope of self-delusion with both touching aplomb and wrenching despair. I happened to see Pierce in the audience for "A Raisin in the Sun" the night I attended, and if I hadn't already noticed the links between the two plays, his presence made me see them everywhere. Both Willy Loman and Walter Lee Younger are misjudged men with thwarted ambitions who chafe at the anonymity and squalor of urban living; both have supportive, long-suffering wives they in turn misjudge and disappoint. And both pin their hopes of rescue on a life insurance policy. The difference, of course, is that Miller's play ends in tragedy and Hansberry's in triumph (though O'Hara's production attaches a chilling but hardly inapt asterisk).
The misdirected ambitions of another man, Boy Willie, stirs the action of "The Piano Lesson," set in 1936. Arriving from Mississippi at the Pittsburgh home of his uncle Doaker (Samuel L. Jackson), Willie (John David Washington) has a scheme to sell the family piano so he can buy the land his family once toiled upon as slaves and later sharecroppers. But this plan meets the fierce opposition of his sister, Berniece (Danielle Brooks, in a luminous performance), not least because the piano is no mere instrument; it features hand-carved friezes of their ancestors, and possibly houses their spirits as well.
Indeed, with its ghostly portents and guns pulled reluctantly from their hiding places, "The Piano Lesson" is probably the closest Wilson ever got to melodrama, and the play is directed here by LaTanya Richardson Jackson as a deeply satisfying crowd pleaser. But its points stick with us, and its dialogue with these other great American plays is a rich one: As in "Raisin" and "Salesman," its characters are animated by a common desire for the self-realization this nation has always promised but unevenly delivered. They dream not of a blank check but of the fighting chance to build a life of dignity and purpose. As Linda Loman laments of Willy's mismatch with his life's work, "He was so wonderful with his hands," and Lena Younger says of her late husband, "He always said a man's hands was made to make things, or to turn the earth with—not to drive nobody's car for 'em."
Wilson's Boy Willie has a similar thought, but with an open question as a kicker: "Got these big old hands capable of doing anything. I can take and build something with these hands. But where's the tools?"