Broadway is (finally) embracing Black writers. But the work of diversifying theater is just getting started.
As anyone seriously following the American theater could tell you, much of the most exciting work made over the past decade has been authored by playwrights who are not white, from Lauren Yee to Alexis Scheer to Jackie Sibblies Drury. But aside from "Hamilton," you would barely know this from the shows that have made it to the theater's commercial capital, Broadway. By my count, fewer than 30 of the productions that have opened on Broadway over the previous 10 seasons were by non-white writers—less than a season's worth, which is typically about 40 shows.
Of course, no theater anywhere has had a typical season for some time now. While a deadly pandemic raged across the country, a racial reckoning in the wake of George Floyd's murder gripped international attention. Broadway theaters responded to the first crisis by shutting down for more than a year—a historic first—and have only begun to reopen in recent months with stringent vaccine and mask requirements in place.
Can Black writers flourish in a marketplace dictated by white tastes?
Producers' response to the Black Lives Matter moment, meanwhile, has been to program nearly as many plays by Black writers in the 2021-22 season as had appeared on Broadway in the entire past decade: 10 of them, versus just 15 between 2010 and 2020. This almost dizzying number has brought some of the most talented writers now working to their widest theater audiences yet, and in one case, showcased a writer long overdue for the spotlight. This is all cause for celebration.
But this bumper crop of Black shows has also raised some thorny questions about representation in a commercial marketplace still dominated by white tastes, let alone one that is only just awakening from a shutdown. It is always the case that art in this arena, fairly or not, gets value judgments based on commercial performance. But the implicit sense that this panoply of shows must not only somehow make up for the previous scarcity of Black voices on Broadway but also make bank at the box office, lest producers shy away from similar gambles in the future, is a unique and unjust pressure. After all, most shows that make it to Broadway don't make a profit, no matter who writes them, so why not take more chances on more diverse writers?
It is always the case that art in this arena, fairly or not, gets value judgments based on commercial performance.
The result of this gamble so far has been as fascinating a season as I can recall, in which even the apparent failures have been interesting. It kicked off in September at the August Wilson Theater with Antoinette Nwandu's "Pass Over," a reimagining of "Waiting for Godot" with shades of Exodus and absurdism. As a play, it is a bit of a trick, a house of cards built atop a liberal audience's shared preconceptions about police violence against young Black men. But its infectious trickster spirit, realized in a finely tuned production directed by Danya Taymor, made it a fitting welcome back to Broadway.
Next was "Lackawanna Blues," a one-man show authored and performed by Ruben Santiago-Hudson, with live guitar accompaniment from Junior Mack, at Manhattan Theatre Club's Friedman Theatre. This old-school narrative about Santiago-Hudson's youth in a Buffalo, N.Y., boarding house, under the tutelage of a powerful matriarch called Nanny, was a quiet triumph, handily demonstrating why Santiago-Hudson, a stunningly versatile performer, has also been such a first-rate director (he has helmed a number of August Wilson plays, including "Jitney" on Broadway).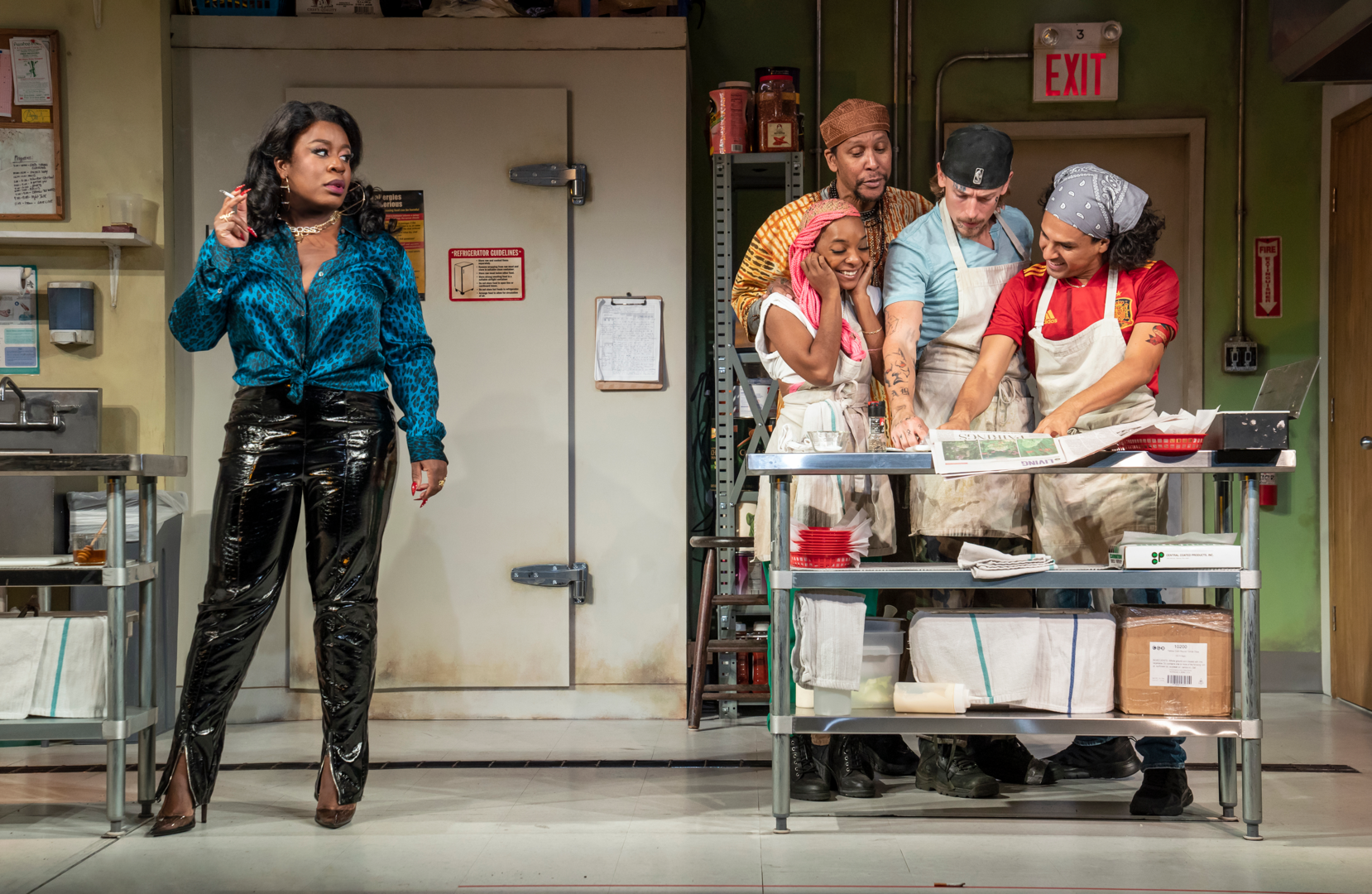 The next two shows that opened in this unofficial Black season, "Chicken & Biscuits" and "Thoughts of a Colored Man," offered, if nothing else, truth in advertising: Their titles give a fair idea of what to expect onstage. Douglas Lyons's "Chicken & Biscuits," which ran for seven weeks at Circle in the Square, was a crowd-pleasing genre piece set at the funeral of a family patriarch. Highlighted by the performances of Norm Lewis as a kindly, bloviating pastor and Ebony Marshall-Oliver as a larger-than-life hairdresser, it didn't reach a wide audience and divided critics. But I wouldn't be surprised if its life in regional theaters is long.
Keenan Scott II's "Thoughts of a Colored Man," still running at the Golden Theatre, plays like a sort of male version of Ntozake Shange's 1975 choreopoem "For Colored Girls Who Have Considered Suicide/When the Rainbow Is Enuf" (slated for a Broadway revival in March). It has bracing moments of connection, especially at the intersection of class and race, as in one striking late scene between an affluent gay man (Brian Terrell Clark) and a bitter grocery clerk (Forrest McClendon). But despite a brisk staging by Steve H. Broadnax III, much of it felt to me dubiously poetic and awkwardly preachy.
We must recognize that this is the place where the work begins, not where it ends.
Soon to join this roster of plays will be Dominique Morisseau's gritty "Skeleton Crew," and already running are a revival of Jeremy O. Harris's tendentious "Slave Play" and "MJ the Musical," a biomusical about Michael Jackson with a book by Lynn Nottage. In the meantime, though, Nottage has contributed one of the season's highlights thus far, the allegorical workplace comedy "Clyde's," which opened recently at Second Stage's Hayes Theatre. Uzo Aduba stars in the title role as the officious boss of a truck-stop sandwich stand whose kitchen staff consists entirely of the formerly incarcerated. As these diverse workers bicker and bond over cuisine, aspiration and romance, the play's kitchen-sink realism gives way to something weirder and deeper. The author of both heavy dramas ("Ruined," "Sweat") and buoyant comedies ("By the Way, Meet Vera Stark"), Nottage has never interlaced her gifts as winningly.
Like "Clyde's," the season's best play was written by a Black woman adept at both comic and tragic registers. Alice Childress's "Trouble in Mind" was a hit Off-Broadway in 1955, but plans for a Broadway run were scrapped by white producers when she would not soften its satirical bite. Now in its much belated Broadway showcase at Roundabout's American Airlines Theatre, "Trouble in Mind" reveals itself as a masterwork of its time that also speaks, as classics do, to ours. As we watch a middle-aged Black actress, Wiletta Mayer, navigate the fraught rehearsal process for a terrible, ostensibly liberal play about the evils of lynching, we bear witness to the agonizing unseen labor borne by people of color in workplaces where their experience and voice isn't valued, if it's reckoned with at all. It should go without saying that this is hardly a matter of ancient history.
Though director Charles Randolph-Wright's production pushes some of its points too hard, the play emerges unscathed. And as played by the actress LaChanze, who somehow miraculously combines dazzling sparkle with extraordinary gravity, Wiletta emerges as both a figure of conscience and a corrective lens with which to view this transitional moment. "We have to go further and do better," she tells her colleagues after her showdown with a white director. As Broadway returns to in-person theater with Black artists at the forefront, we must recognize that this is the place where the work begins, not where it ends.
Correction, Jan. 4: The play "Skeleton Crew" was originally misidentified in this review as "Skeleton Key."