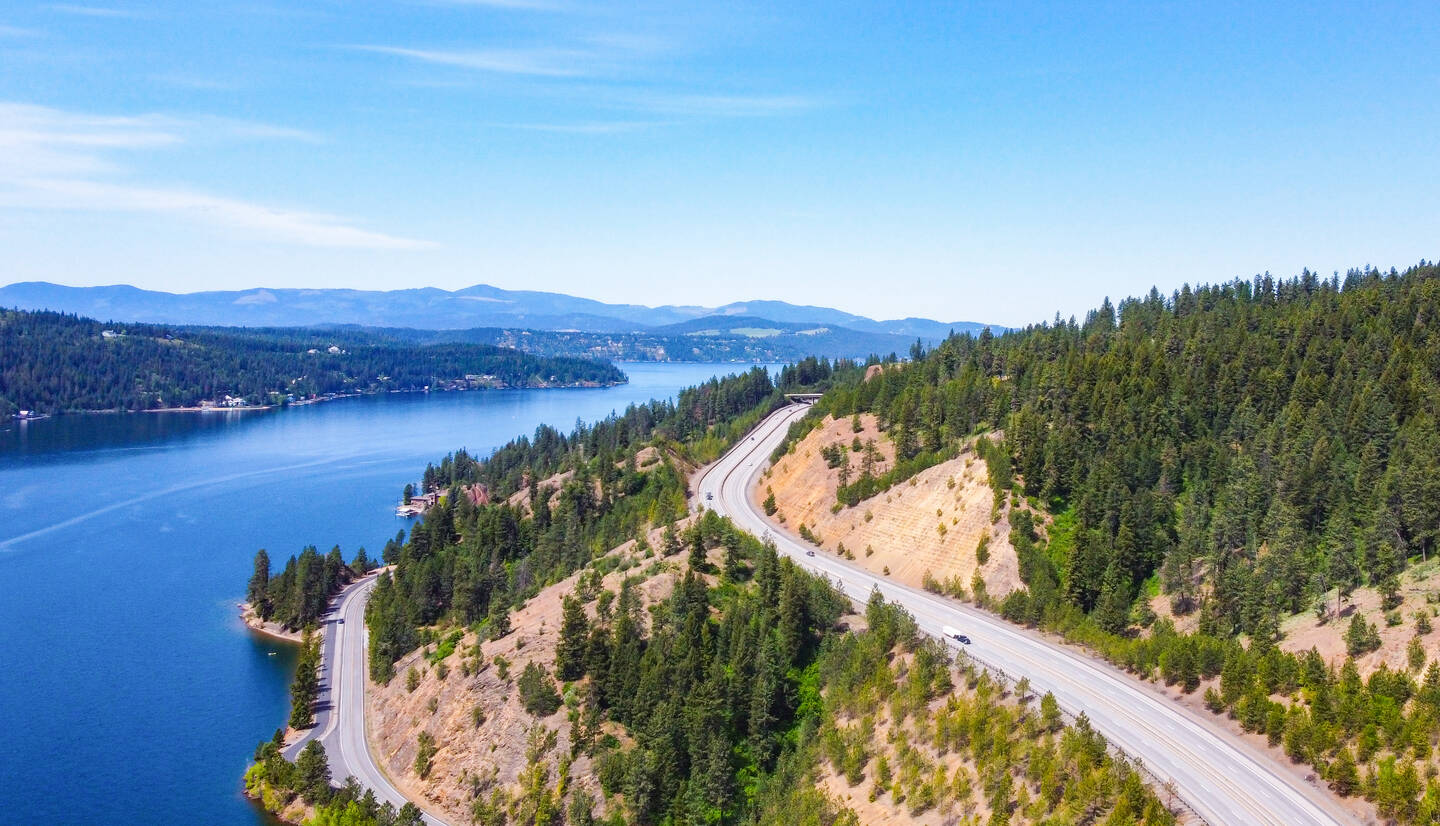 On the road again: William Least Heat-Moon's 'Blue Highways' turns 40
Blue Highways is one of those rare books that continues to define a generation. An autobiographical travelogue written by an author seven years too old to be a baby boomer, it nevertheless appealed strongly to that generation and became a metaphor for life as a journey—a very Catholic idea.
The year of his journey was 1978. He was Bill Trogdon, or William Least Heat-Moon, according to his Osage lineage. He was 38 then, on an extended road trip in a Ford van following a somewhat circular route around the United States, sticking to the highways marked in blue on his old road atlas.
This is how he memorably put it, at the start, from behind the wheel: "The first highway: Interstate 70 eastbound out of Columbia, Missouri. The road here follows, more or less, the Booneslick Trail, the initial leg of the Oregon Trail; it also parallels both the southern latitude of the last great glacier in central Missouri as well as the northern boundary of the Osage Nation."
There was a bit of John Steinbeck's Travels With Charley in Heat-Moon's Blue Highways.
Do you remember road atlases? The roadways in blue were the older roads that had been made somewhat unnecessary by the appearance of red ones, according to the maps. But it was the blue highways that connected American towns before those interstates allowed us to bypass them. Heat-Moon's book was about not bypassing people, but truly meeting them, another very Catholic idea.
There was a bit of John Steinbeck's Travels With Charley in Heat-Moon's Blue Highways; like Steinbeck, its author was not even remotely a Catholic, nor particularly religious, but his spiritual sensibilities came to define American aspirations, if not actual Americans. Bill Trogdon was, in fact, a slightly depressed out-of-work teacher, separated from his wife, wanting to see something of the country he didn't know.
A decade later, he reprised the style of Blue Highways, but from the perspective of walking the ground, in PrairyErth, a book that Bill McKibben praised as "the deepest map anyone ever made of an American place." Reviewers compared it to Walden. Heat-Moon was our new Thoreau.
Blue Highways: A Journey Into America was one of the truly extraordinary books of the late 20th century. It spent 42 weeks on The New York Times best-seller list. Robert Penn Warren called it "a masterpiece," which was about the best blurb an author could get in 1982. I was in high school at the time. I didn't read it until one summer during college; and from that moment on, I wished I could see the world the way Heat-Moon saw it.
Blue Highways: A Journey Into America was one of the truly extraordinary books of the late 20th century.
I recently heard that Heat-Moon is still alive, living quietly somewhere near Columbia, Mo. He is now 82. He makes the news only every now and then. Seven years ago, for instance, he and his wife Jan made a public gift of $1.6 million to the University of Missouri for libraries and scholarships in the university's School of Health Professions.
While rereading his book for the third or fourth time, I really wanted to talk with him. A writer recently said to me when I told him who was the subject of my latest writing, "The younger me learned much about traveling and writing from that book that I still use today." He expressed my own feelings. I had heard that Heat-Moon was famously reluctant to grant interviews—to my surprise, he agreed.
I know spiritual directors, pastors, religious educators and spiritual writers for whom Blue Highways was a formative book. It felt aspirational to the spiritual quest, and in the way that Heat-Moon records simple conversations with ordinary people, it speaks with a moral conscience about what most of us miss or have always missed. He showed us how to live deeply in a place with roots, or simply how to find connections when the progress of life seems to promote only fragmentation.
A Curious Interview
However, curiously, Heat-Moon himself was not then, and is also not now, a religious person. His laconic answers to my questions put a damper on my enthusiasm.
I started out by asking:
When you agreed to this interview, I told you I wanted to ask first and foremost about the portion in Blue Highways that resonated with anyone interested in Catholic religious life, and contemplative monasticism in particular: your encounter with Trappist monks in Conyers, Georgia. I count a few Trappists as good friends, and one of my mentors, M. Basil Pennington, was once the abbot of that community. But that was long after your visit.
I told him that the conversations he had with Brother Patrick Duffy have stuck in the memories of many who read Blue Highways. Duffy was a police officer in the Bedford-Stuyvesant section of Brooklyn with a lifetime of experiences before becoming a monk.
"Tell me why a man becomes a Trappist monk?" Heat-Moon asked him in Blue Highways.
Duffy said a lot of things, almost avoiding the question, until coming out with, "I began to want a life—and morality—based not so much on constraint but on aspiration toward a deeper spiritual life." He had worked with aspiration as a cop in New York, and by helping some Franciscan friars in their ministries.
Still, he wasn't able to come out with a clear answer to Heat-Moon's question. And then, "I was moving away from things and myself, toward concerns bigger than me and my problems, but I didn't really find a harmony until I came here." I felt like I understood him perfectly.
I wasn't going to get a start out of him. This Heat-Moon is a circumscribed character.
I later read in an obituary of Duffy that his priestly ordination was in 1981. Years after Heat-Moon's visit, Duffy ended up leaving the monastery to become a diocesan priest, serving happily in Santa Fe, N.M., before dying in 2013 at 78. "I'm just curious," I asked Heat-Moon, "did the two of you ever talk again after the book came out?"
"We did not," the author said. "And, by the way, long after meeting him, I heard that Duffy told a few folks that his appearance in Blue Highways had become 'a pain in the ass.'"
"Arriving at Duffy's monastery," I said to him, "you describe yourself thus:
I was here out of curiosity, a spiritual voyeur, an ecclesiastical window peeper. What's more, such cloistered spirituality made me suspicious. Dubious about men who sought changelessness to release them from uncertainty and turmoil, I questioned a faith that has to be protected by illusory immutability.
I asked him: "Did your talk with Duffy and the other monks change your mind? Today, do you see Christianity, or Roman Catholicism specifically, with a similar critique? I wouldn't blame you if you did."
Heat-Moon told me, "As much as I admired the monks' quest and almost envied the comfort it brought them, they only enlarged my consideration of their existential views."
"I have spent a lot of time at the Monastery of the Holy Spirit myself," I explained some more. "Many monks there were friends of mine, particularly 10 or 15 years ago. One of them, Father Anthony Delisi, you also quote by name in Blue Highways. He was a character. Sicilian. I was once involved in publishing a book of his about prayer. He's also now gone. But I can easily imagine him answering your questions in the roundabout ways that Father Duffy did."
Heat-Moon mentioned in Blue Highways that he had started and stopped reading Thomas Merton's The Seven Storey Mountain. "I just recently published a short biography of Merton with St. Martin's Press," I said to him. "You began to read Merton's autobiography again while staying at the monastery in Georgia. What was it about Merton that failed to catch your attention then?"
I wasn't going to get a start out of him. This Heat-Moon is a circumscribed character. His only response was simply, "I don't recall other than to say I was curious about his thinking, but what he said about it proved, for me, not to lead deeper into my questions."
I kept trying: "Have you returned to any reading of Merton, or authors like him, in the 40 years since Blue Highways?"
"I have not. Religion for me today carries little intellectual allure."
Why was I bothering? Sometimes a book lives a life far outside the confines of its author. But I didn't want to give up just yet.
I asked him: "We encounter American religion in many forms throughout Blue Highways. I realize you wrote about the people you met along the way, but you also must have been interested to meet and talk with those who exhibited a religious passion? You must have sought them out, right?"
"In Brother Patrick, yes."
"May I ask, then, where were you religiously when you were writing? And how would you describe where you are today?"
"Religion then was of interest to me only when I met someone who could elaborate logically his views."
So I pivoted to another specific example that anyone familiar with Blue Highways will remember.
"I'd like to talk about Arthur O. Bakke, who seems almost like a character out of a Flannery O'Connor story," I said. "A hitchhiker, you picked him up—the ideal setting for an O'Connor story about a misfit religious figure. Then, to everyone the two of you meet together, Bakke says 'Salvation is just around the corner' or 'Jesus is coming sooner than you realize.' He was a Seventh-Day Adventist self-appointed missionary, and clearly a mystic."
"I never did see any mysticism in Bakke's thinking," the author said.
"But you and Bakke share the hospitality of a stranger, in his home, the first night you're together," I said. "Bakke leads a kneeling prayer in the living room, and you describe, with embarrassment, losing your balance and falling over. You don't mention any unwillingness to join in the prayer, however. Were you a willing participant?"
"Yes, out of respect for our host."
"Did you ever hear from Bakke after Blue Highways published?"
"Yes. He wanted money for his role in the book. Of all the people I spoke with on the Blue Highways tour, this self-proclaimed Christian was the only person to do that."
Heat-Moon told me: "I, as do we all, come from cosmic dust which, sooner or later, will be my destination."
The morning after that kneeling prayer, Heat-Moon recorded this bit of conversation in Blue Highways, and I told him that I loved how he hears and remembers the ways that people speak:
I felt up to it that morning, so I asked about his work.
"Jesus hitchhikes in me. That's the work. Luke fourteen: twenty-three."
"I don't know the Bible by numbers."
I then reminded Heat-Moon of what happens next in Blue Highways: Bakke pulls out his Bible and begins to read aloud. Soon, Heat-Moon asks him, "Tell me how you came to believe. Is it too personal?"
Which then led me to ask my author, perhaps impertinently: "Mr. Heat-Moon, do you believe? What do you believe? Is that too personal?"
"I believe in numerous things, especially science," he said.
I still didn't want to give up, but perhaps I should have. "There is one more character I want to remind you of: Fred Tomlins, the experienced pilot of 225 combat missions in Vietnam who flew you over Palouse, Wash., and the Snake River Canyon in a rented Cessna 150," I said. "The two of you talk about absent clarity, and Fred reminisces about his time in Vietnam, saying that sometimes he misses it: 'Not the war—I'm talking about the flying and how things were clear cut. Like the work. We all wanted just one major thing—stay alive long enough to get back home.'"
Fred then talks about game shows on TV and drinking margaritas as the things one might stay alive for. But rereading this passage all these years later made me want to ask Heat-Moon: "Has your view of life and 'what's next,' changed over time? Where are you now? Is there a sense in you that you've stayed alive long enough to get back home, and that home may be a life after this one?"
Heat-Moon told me: "Probably not a life such as many people imagine. I, as do we all, come from cosmic dust which, sooner or later, will be my destination. But dust is also a temporary destination, one more way station in what may be eternal movement."
So I simply said thank you. Was it giving up? Maybe so.
I was grateful to speak with an author whom I admire. But his answers to my questions left me unsettled. I wasn't bothered by his lack of faith—I hadn't been expecting faith or religiosity. But I had imagined a seeking heart and mind behind those obviously seeking eyes. William Least Heat-Moon's conversations with fellow travelers helped to create the term we still use, "spiritual seeking"—one last very Catholic idea. That I didn't find.
He was looking into the distance, now as before, but this time, it seemed, without much hope. In Blue Highways, when he stops to fill the Ford with gas for the last time, the pump attendant asks, "Where you coming from?" Heat-Moon says, "Where I've been." And the attendant responds, "Where else?" I guess that's where he wants to leave it.