One hundred million people worldwide now have Calm on their smartphones, a meditation app that monetized doing absolutely nothing. The app's popularity skyrocketed during the pandemic, as anxieties ran high and finding peace and quiet proved harder to do. Calm provides mindfulness meditations, breathing exercises and bedtime stories to encourage users to take some time to chill out.
My screen-time calculator attests that I could afford to do more of nothing. At an average of five hours per day, by the end of this year I will have spent 76 days on my screen, and not much of that time has gotten me much closer to God. When I was tasked with identifying the best Catholic prayer apps, I was grateful for the opportunity to turn my screen time into soul time.
I wondered at first, why not just try Calm's non-religious meditations? A soft voice from a reflection called "Sitting in silence with God" on the Hallow app I had just downloaded answered that question: "The goal of prayer and of any session in Hallow is never to remain in ourselves but always to lift our hearts and minds up to God to talk with him, to listen to him, and to recognize his presence in us."
I was grateful for the opportunity to turn my screen time into soul time.
With that in mind, here are my picks for the top three Catholic prayer apps.
Hallow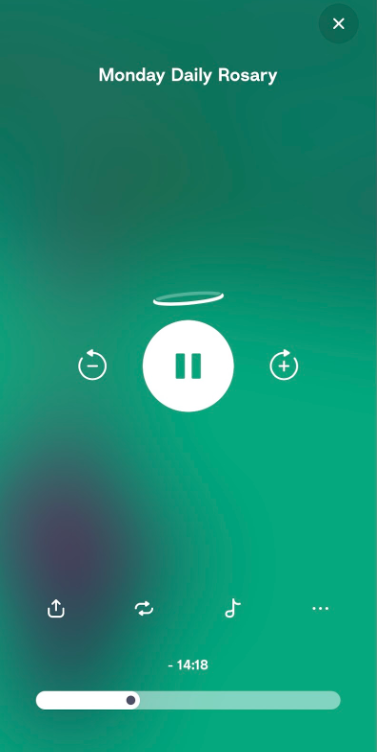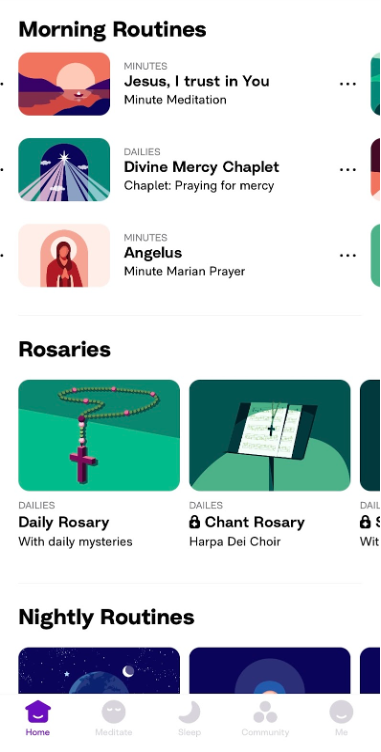 Hallow takes first place because the sleek, Spotify design-inspired package provides enriching content and the ability to connect with friends in the Catholic social media space.
The app supplies hundreds of prayer options. Traditional guided prayer techniques give you a partner with whom to recite the rosary, novenas and the Divine Mercy chaplet. There are also more open-ended prayers like Christian meditations and the Examen. Hallow also organizes prayers by theme in "Praylists," so you can focus on cultivating a disposition of gratitude, patience or forgiveness.
Some of their content features familiar Catholic faces. Bishop Robert Barron offers "Sunday Sermons," Fr. Mike Schmitz gives homilies, Emily Wilson tells St. Paul's conversion story, Jason Evert reads "Psalms of Hope" (Psalms 40-46,) and Chika Anyanwu reads the "Comfort, My People" passage from the Book of Isaiah (Isa 40-44).
Hallow takes first place because of its design, content, and the ability to connect with friends in the Catholic social media space.
Hallow has by far the most attractive design of any Catholic app I could find, owing to its modern aesthetic of minimalistic, colorful images and a breathable layout. Its similarity to popular apps for music streaming made using it more intuitive and inviting.
The app runs for $8.99 per month or $59.99 per year ($4.99 per month), but you can access about a third of their content without paying any subscription fee. After using the app I think the subscription would prove worthwhile for access to morning offerings, sleep meditations and acoustic worship music, along with other locked content.
What sets Hallow apart from the other apps I tried was the ability to personalize the app and connect with friends. You can set goals for how often you want to pray, track your prayer "streak," join a family, parish or school and share reflections and prayer intentions with your group. The Hallow community tab has the feeling of a sincere, soul-enriching Twitter feed.
Laudate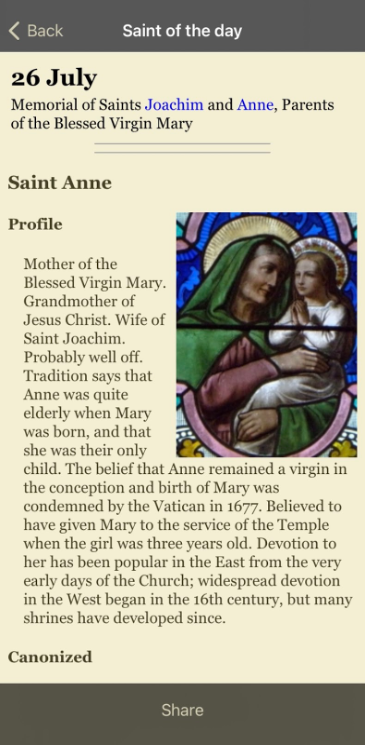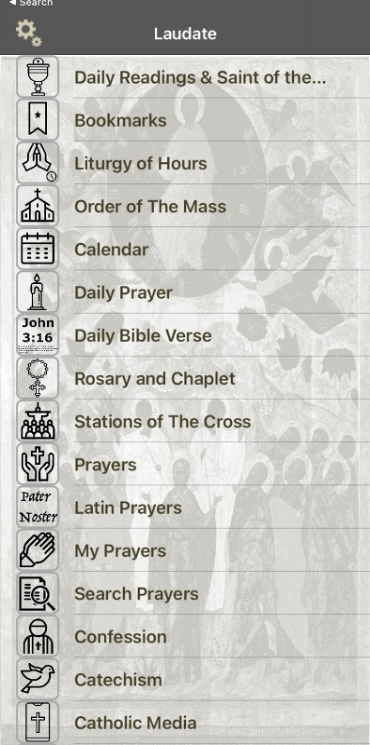 Laudate is the all-inclusive buffet of Catholic apps, with daily readings, the Liturgy of the Hours, the Order of the Mass, the rosary, Stations of the Cross and links to live Catholic media. Not enough for you? How about the entire New American Bible and the Catechism?
It ranks second after Hallow for me because I am more inclined to listening than reading, and its design is a bit outdated and clunky. It has no shortage of content though. What's more, it is completely free.
The app offers no capacity for personalization except the ability to bookmark content, so I would recommend it to people who know what they want from their prayer app instead of those who are looking for a guide or starting point.
Laudate is the all-inclusive buffet of Catholic apps.
I see Laudate fitting into my prayer life as more of a reference than a strict prayer guide. You would need to be fairly well-versed in Catholic prayer to navigate this app effectively. It would be helpful to use it before or during Mass to read explanations about the priest's actions, or before confession for an examination of conscience. If you are interested in learning about the saints, Laudate also offers thorough information about the saints on each of their feast days. (On Hallow, the "Daily Saint" feature is only accessible through the premium version.)
In the words of Coco Chanel, "It's not about the appearance, it's the essence." Laudate is the very essence of a prayer app.
Pray As You Go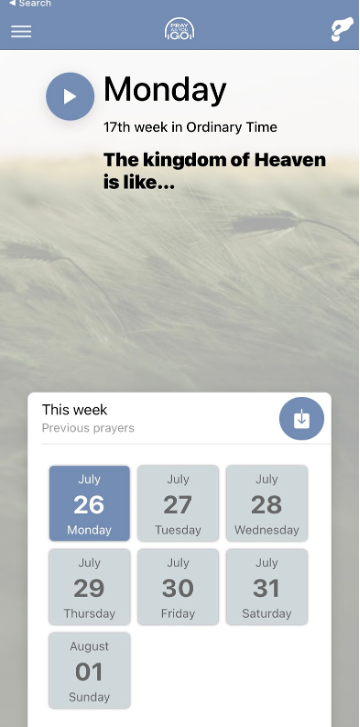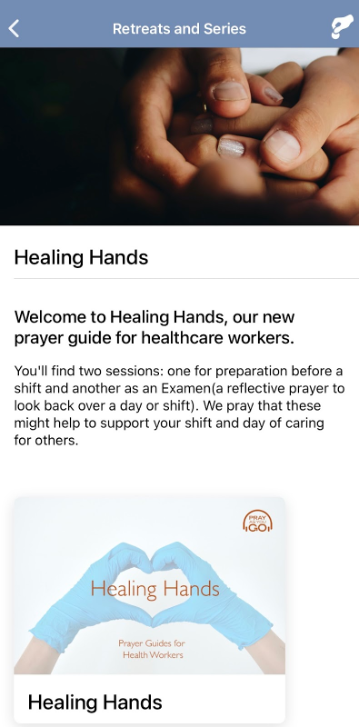 If you are prone to indecision like me, the free app Pray As You Go offers a refuge from information overload. It provides one practical prayer session per day and about one fifth of the content of Hallow and Laudate.
Each prayer session includes introductory music, the day's Gospel reading and a reflection. A ministry of the British Jesuits, the prayers are written by Jesuits and others trained in Ignatian spirituality. The 10 to 13 minute audio sessions encourage you to consider moments throughout the day where you found or could look for God's presence, and they fit easily into a daily walk or commute.
The free app  offers a refuge from information overload.
Pray as You Go also offers reflections on specific struggles like loneliness and addiction. You can find audio retreats for married couples, health care workers and people spending time in nature and other groups or situations. These series provide space to step out of day-to-day life and into a deeper prayer experience.
And if you are not sold already, the Pray as You Go reflections are read by men and women with soothing British accents.
Honorable mentions:
DivineOffice: Sanctify your day with guided Liturgy of the Hours.
Reimagining the Examen: For people looking for a thematic reflection on the day's readings.
Relevant Radio: CompilesCatholic podcasts about news and prayer.
Happy praying. May your screen time be fruitful.