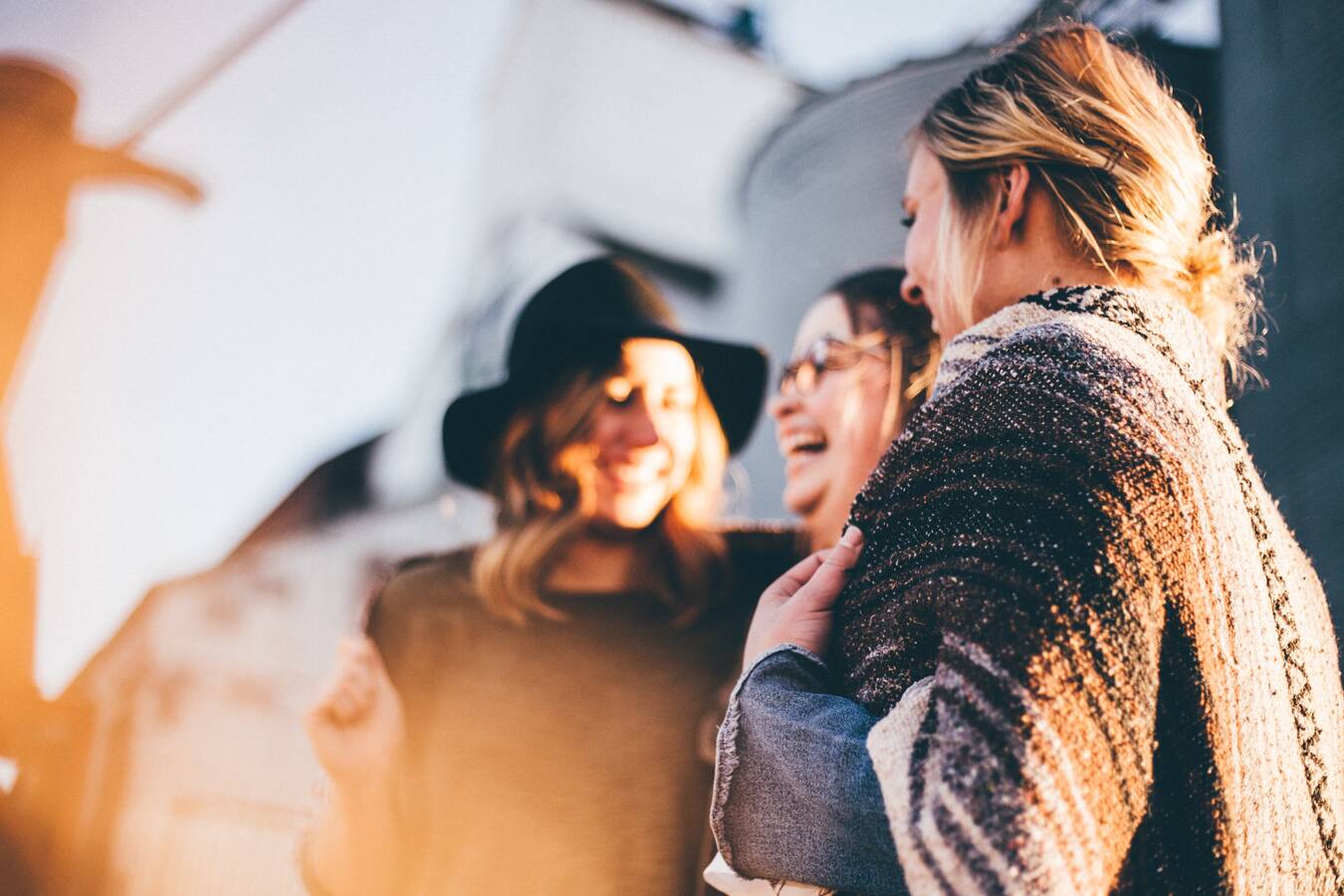 Friendship is a place of sacrifice—and sanctification
There is a way of praising friendships that unintentionally undermines them. We often picture friendship as our refuge—romantic relationships bring drama, work brings hassle, family is chaos, but with friends you can relax. You're understood. Friendship is "The Golden Girls," where every tiny comic tiff is resolved by the end of the half-hour. Friendship is sweet because friendship is easy. Friendship is safe, because friendship is too small to really hurt you.
This is not the only Christian model for friendship. It isn't even the most obvious Christian model. The greatest friendships in the Bible are sites of sacrifice. Jonathan, having made a covenant of friendship with David, gladly sacrifices personal safety, his relationship with his father and the kingship. Jesus identifies friendship with discipleship and with his own sacrifice for us on the cross, in Jn 15:13-15 (of course it's in John, the Gospel of the "beloved disciple"): "No one has greater love than this: to lay down one's life for one's friends. You are my friends if you do what I command you." That model, in which friendship can be the site of our sanctification because it is a site of sacrifice, animates much of St. Aelred's dialogues, Spiritual Friendship. For Aelred, friendship is sweet (he himself was called a "honeycomb" because of his tenderness toward his monks) but it also requires painful honesty, loyalty in spite of faults and selfless love.
'Big Friendship: How We Keep Each Other Close' by Aminatou Sow and Ann Friedman offers a defense of sacrificial friendship.
As contemporary secular writers notice how attenuated our concept of friendship has become and look for ways to build lives where friendship is central, they are also rediscovering the sacrifices common to deep friendships. A new book, Big Friendship: How We Keep Each Other Close, by Aminatou Sow and Ann Friedman, gives one of the best defenses of sacrificial friendship I have read in a long time.
Sow and Friedman ditched the comfort-food ideal of friendship long ago. They can write honestly about the beauties of friendship because they have also confronted some of its pain. Much of the book discusses how friends "stretch" you—and stretching hurts as it strengthens. In a glossy, hashtaggy voice, Sow and Friedman describe what it is like to live friendship for better and for worse. They sometimes sound like Insta influencers, but their questions go beyond the advice-column staples ("How can I make friends in my 30s?") into cultural critique of the marginal role friendship plays in our institutions and imaginations: "It can be extremely hard to figure out the right amount of growth and sacrifice to be devoting to a friendship, because we're not taught that friends are worth stretching for at all."
Sow and Friedman are echt millennials. They started "the first culturally relevant policy nerd blog." Their envisioned reader relates to dismissive references to the Eucharist (Friedman was raised Catholic) and thrills to the words of "This American Life." But beyond the blank, unholy podcast of it all, being millennials means they are attuned to the economic pressures on modern friendship. They know how crucial a friend's love and admiration is when unemployment makes you feel worthless. They found their own friendship strained by work and the distance they had to move to find work; they know they were only able to repair their bond because they had more money and leisure than many in their generation.
St. Aelred distinguishes between "carnal" and "spiritual" friendship, but he understood that at least at the beginning, most of us mingle the two.
Big Friendship opens with this friendship—once so close that they got matching tattoos of interlocking circles—already on the rocks. Sow and Friedman have booked a spa weekend together in the hopes that tandem mud baths will rekindle that BFF spark. When the weekend fails, the pair go to actual couples therapy for their friendship.
It was so easy at the start! St. Aelred distinguishes between "carnal" and "spiritual" friendship, but he understood that at least at the beginning, most of us mingle the two. Sow and Friedman bonded over trashy TV and cute handbags, but they also shaped one another in deeper ways: Together they learned to comfort, to encourage, to listen, to forgive and to seek forgiveness. They became "inextricable."
Sow and Friedman were there for one another through mourning and chronic illness. The love and understanding they offered one another helped them learn what to look for in romantic relationships. They had keys to each other's apartments. They were each other's emergency contact.
Sow and Friedman were there for one another through mourning and chronic illness.
Much of the language they had for this inextricability was borrowed from romantic partnerships: "We gave wedding gifts jointly, signed, 'Love, the Sow-Friedmans.'" Partly this is just because many forms of love resemble one another. Sow and Friedman even had their own limerence, the early period of obsessive infatuation that the lovestruck sometimes suffer. But partly we struggle for ways to explain the depth of a "big friendship" because these relationships have been pushed out of the public sphere: Friendship is for children; but once you can reach the YA shelves, messy love triangles are where it's at.
Sow's experience of chronic illness exposes some of the features of modern friendship that make it at once vulnerable and resilient. Friedman couldn't be there for her physically because she had taken a job on the other side of the country. She sent care packages and urged Sow to video chat, but as Sow felt helpless in the face of pain, Friedman faced her own helplessness against distance. When I talk to people who are seeking to build lives centered on friendship, this is one of the central concerns they raise: What if one of us has to move? Most friendships will not function as an economic unit, and so friends are more likely than spouses to be separated by distance.
But friendships have the advantage that, unlike marriage, they are not exclusive. Some people will always have one BFF, but others will be able to bring several people into an equal intimacy. When Friedman could not be at Sow's bedside, Sow's friend Shani could; their relationship too seems familial. In the acknowledgments Sow writes, to Shani, "I know that you are my home."
Supporting the "friendweb" trains you to put your friend's needs first, not your own insecurity or fear.
Sow and Friedman urge friends to support one another's other friendships. Supporting the "friendweb" trains you to put your friend's needs first, not your own insecurity or fear. Friedman longed to be with Sow when she was hospitalized—but instead she learned to be grateful that others could take care of the woman she loved.
Their most Insta-friendly term is "Shine Theory": "I don't shine if you don't shine." This phrase is their proverb against envy. It is their version of the motto of America's first Black women's club, the National Association of Colored Women, "Lifting as we climb." And it is also a declaration that friendships strengthen our other commitments and loves: "Without friends, it's much harder to get through periods of family transition, like the death of a parent, the arrival of a baby, or an estrangement from a sibling." Against the idea that we have limited resources to spend on love, they argue that our friends make it possible for us to give more in all the other areas of our lives.
If friendship can be so life-sustaining, how did it become so limited and marginal? Sow and Friedman talk to the historian Stephanie Coontz, who says that friendship slowly came to seem like a threat to the emerging ideal of "companionate marriage." Basically, if your husband is supposed to be your best friend, your BFF becomes a distraction. And as Western cultures increasingly identified intimacy with sexuality, all same-sex love started to look too much like homosexuality. Coontz is right that homophobia damaged same-sex friendship; if we want more life-shaping friendships, we need to create communities where people are not scared to be thought gay. But Coontz's account starts too late—in the 16th century, when public honor for friendship was already fading fast. Looking earlier would uncover two different models of love that could illuminate what Sow and Friedman have experienced together.
In the ancient world, pairs of men or women could promise lifelong love and companionship.
In the ancient world, pairs of men or women could promise lifelong love and companionship. They could merge their families. We see this in the Iliad, when two warriors refuse to fight one another because their grandfathers swore friendship, and inthe Hebrew Bible in the vows of David and Jonathan and the promises of Ruth to Naomi. Alan Bray's 2006 The Friend explores the public promises medieval and early modern friends could make to become kin. Sometimes these bonds were called "wedded brotherhood," which "the Sow-Friedmans" might appreciate. These older models suggest that friendship could take on greater public meaning without losing its private sweetness.
These bonds were exclusive: David had only one vowed friend. To understand the jealousies and sweetnesses of the "friendweb," we might turn to a different model, the monastery. In the Cistercian monastery where Aelred penned Spiritual Friendship, friendship was both sacrificial and down-to-earth: Aelred was popular enough that he had to manage his friends' jealousy, their tendency to say, as the character Walter does in Spiritual Friendship, "Gratian has had sufficient attention." ("Walter" was based on a real monk, who wrote Aelred's biography and is endearingly proud of being the jealous guy from Spiritual Friendship.)
Sow and Friedman's biggest insights are the focus on healing rifts between friends—and the attention to the specific challenges facing interracial friendships. Seemingly small racial slights become microcosms of all the ways that Sow, who is Black, has to guard herself in friendships with white people. She dreads what Big Friendship calls "the trapdoor," the moment in which the white friend will side with the white world. And after some such "incident" comes the fear that even mentioning it will get you accused of overreacting. Silences replace safety—until an outside event forces a painful reckoning.
Big Friendship handles race adroitly. It is less well-equipped to handle the complexities of upward mobility.
Big Friendship describes in detail this reckoning in Sow and Friedman's friendship. Friends may fear that honesty about the hurts and disappointments of even a deep interracial friendship will weaken the friends' bond. Sow and Friedman, by contrast, show that accountability, listening, apology and reconciliation strengthen friendships—and make possible the honesty that is another name for intimacy. This is true in spite of the "harsh reality" that the "stretching" isn't equal in these friendships: "It's likely that the nonwhite friend is going to feel more negatively stretched, while the white friend gets to have a 'learning experience.'"
Big Friendship handles race adroitly. Its peppy social-media voice is less well-equipped to handle the complexities of upward mobility. Sow and Friedman, having experienced some of the precariousness of the contemporary economy, treat material success as an uncomplicated good rather than as a source of moral danger. St. Aelred says "friendship...cushions adversity and chastens prosperity." But Sow and Friedman show only the first. Out of friendship they "assured each other that it was OK to want more, to ask for more"—but is that still what you need once you have become the boss?
"Shine Theory" attempts to offer upward mobility to everyone, but money is privilege, and privilege cocoons. The richer you get, the harder it is to offer intimacy, understanding and realistic support to friends who have less money. Sow and Friedman note this dynamic in the celebrity friendship of Oprah Winfrey and Gayle King, but their ideal of mutual empowerment bars them from naming power as a temptation.
For models of sacrificial, chastening friendship, Sow and Friedman might turn to fictional meetings of Alcoholics Anonymous. The characters in Dan Barden's 2012 neo-noir The Next Right Thing know friendship is more duty than choice for them. Without the bonds forged in the rooms, they will die.
AA's Fifth Step, in which an alcoholic shares with one other person "the exact nature of our wrongs," shapes the novel's plot. On a symbolic level it becomes a kind of sacrament of friendship. To receive someone's worst self is an honor; to share your own is a necessity. Both roles are pledges of lifelong love.
The Fifth Step is a chronicle of abuse of power. It is a reminder that the biggest friendships are the ones that remind you, as they say "in the rooms" of AA, to stay right-sized.